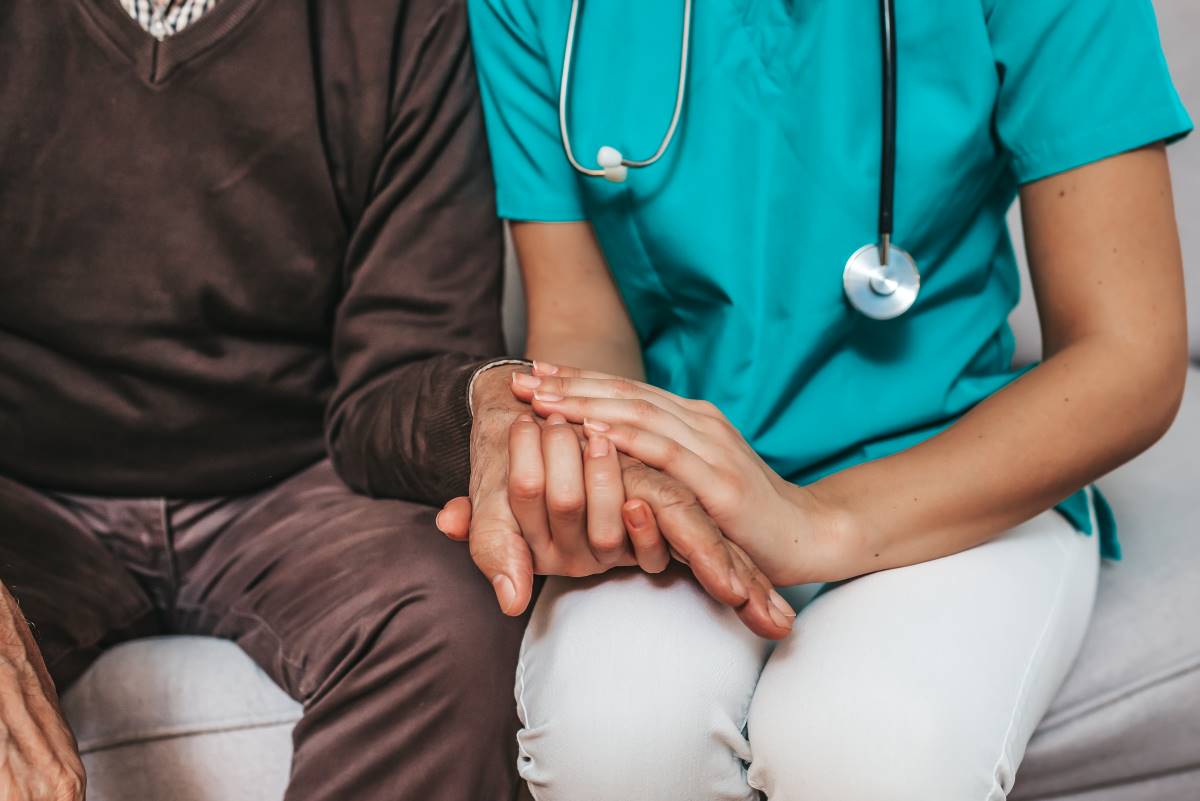 Thriving As We Age: Improving the Quality of Long-Term Care for Older Adults
Researcher:
Kirsten Corazzini, PhD, FGSA
Professor

Corazzini left UMSON in March 2022 to accept a dean position at the University of New Hampshire.
Areas of Expertise:
"My research has focused on improving the quality of long-term care, in particular for individuals in residential long-term care settings," Corazzini says. She often works with older adults, most of whom have some cognitive impairment and stay in nursing homes or assisted living settings for several months to several years. Specifically, her research addresses how to ensure the clinical expertise of registered nurses makes it to the front lines to inform how care occurs.
The BIG Idea:
The big question Corazzini's work seeks to answer is "How is it that we, as health care professionals, can support and recognize what matters most to the older adults who are in residential care settings, their family members, and the staff who care for them?" she says. By finding out what outcomes matter most to them, Corazzini can then determine how providers can ensure those outcomes through the care that is provided, she explains.
We're used to tracking quality of care when it comes to falls, pressure ulcers, and pain levels, Corazzini says, but "what we often fail to ask residents in nursing homes is 'What brings you joy? Do the people here know who you are? And do you feel like you have meaningful connections with friends here?'"
Through her work, Corazzini seeks to connect "how we pay attention to really important health care outcomes and how to support a sense of thriving even in the context of having pretty significant functional limitations or impairments."
Through her current Alzheimer's Association-funded research project, Advancing Person-Centered Dementia Care in Low Resource Contexts, Corazzini's work is focused on thinking about these outcomes and how to capture and measure them in the context of low-resource residential care settings, such as those in rural areas and parts of Baltimore.
"Paying attention to what matters to residents and their caregivers isn't necessarily costly, it's just historically not how we've thought about it," she explains. "This research is a way of flipping it around and asking how we can support relationship building with residents even in low-resource contexts, particularly focused on residents who have Alzheimer's and related dementias."
Why does the research matter?
Figuring out how to support and honor the personhood of our most vulnerable citizens — in this case, older adults in nursing homes — is a core component of nursing.
Corazzini's work also impacts the field of gerontology in terms of valuing older adults as humans, regardless of their physical or cognitive functioning. "This is a way of trying to shift the paradigm from thinking about aging as a period of frailty, decline, and adverse outcomes to one that is characterized by resilience and thriving, even in very difficult circumstances. We could improve care systems with this approach, by demonstrating that it's possible and feasible," Corazzini says.
Who does the research matter to?
"It matters to all of us," Corazzini says. "We all have older adults in our lives who have cared for us or for whom we care, and all of us are aging. Figuring out how to advance gerontological nursing care is fundamental."
Specific to her ongoing research project, Corazzini is focused on engaging stakeholders in the low-resource nursing home context, including family members, the staff in nursing homes and long-term care settings, and the residents themselves.
What are the clinical applications of the research?
To inform how to improve person-centered care, Corazzini is working on designing a means of collecting data about dementia care across multiple low-resource nursing home settings, including personhood in dementia, thriving of older people, dementia quality of life, and adult social care outcomes.
Nursing homes often serve residents whose care is primarily provided and paid for by Medicaid, Corazzini explains. "You have to think carefully about how to parsimoniously choose, on top of the already federal- and state-mandated set of data collection, what else must occur to track quality," Corazzini explains. When collecting more data measures, Corazzini is carefully considering "What will the staff be able to use, and what will residents and families also value and care about most?"
Corazzini's research goal is to have a feasible and acceptable data collection protocol for key measures of persons in dementia care that can then be scaled up across care settings. This can be done by comparing data from nursing homes in different parts of the country. "We would have the capacity to learn across settings to help each other grow in quality," she says.
Furthering the reach of her work, Corazzini's 1.5 year, $237,500+ research grant from the Alzheimer's Association is a part of a larger effort by the WE-THRIVE international research consortium to advance person-centered care in residential long-term care settings. The consortium includes collaborators across over 12 countries, inclusive of low and middle income countries. "Together, we'll be able to learn across settings and are committed to sharing and advancing the same core ideas in our research," Corazzini says. "We collaborate, we support each other in putting together our research studies, and we write scientific papers together, and are always welcoming of new collaborators."