Getting Big Data to Get Along
‌Our Researcher: Susan Dorsey, PhD, RN, FAAN
By Dan Mezibov
(from the fall 2018 issue of Nursing For/um magazine)
‌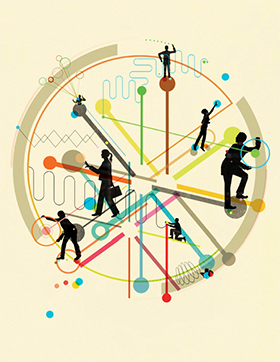 Do researchers all speak the same scientific language? Not necessarily, especially when they collect data differently.
The various ways researchers define demographic data (such as age, ethnicity, and marital status), symptom and self-management data (such as intensity of pain), and other patient characteristics can hinder investigators' ability to test hypotheses across studies conducted at different sites. Too often, small sample sizes from single sites and other limitations make it difficult to draw meaningful conclusions.
"You're not comparing equal measures," says Susan Dorsey, PhD '01, MS '98, RN, FAAN, professor and chair of UMSON's Department of Pain and Translational Symptom Science. What's more, the average large study requires 12-18 months to secure funding and another five years to complete, Dorsey explains. With the use of a common set of measures that have been identified up front combined with biospecimens banked across many studies, "it is possible to get an answer to my question in one year instead of eight, at much less expense," she says.