(above) Luana Colloca, MD, PhD, MS, associate professor, presents a TEDx Talk exploring the role of the placebo reflex in the neurobiology of pain.
On the Virtual Road to Pain Relief
Our Researcher: Luana Colloca, MD, PhD, MS
By Dan Mezibov
(from the spring 2022 issue of Nursing For/um magazine)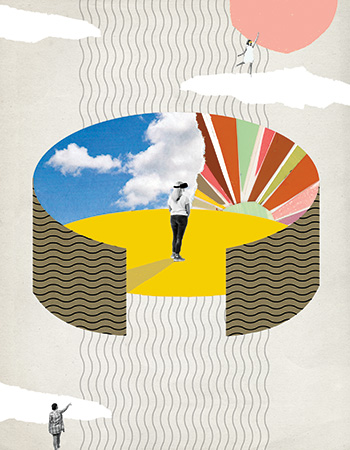 What if relief for your debilitating chronic pain was, quite literally, just within sight?
Only about a decade old, research that immerses patients in a 360-degree, 3D world of soothing sight and sound has transformed virtual reality (VR) from a booming entertainment experience into a promising tool for managing pain.
Recent studies have shown VR's effectiveness in reducing several types of acute pain, such as from dental procedures or during bandage changes in patients suffering severe burns. However, using VR to alleviate chronic pain remains a subject of investigation.
In a novel $3.5 million collaboration, investigators at UMSON and at the University of Maryland, College Park (UMCP) are examining VR's potential to increase tolerance to chronic facial pain from temporomandibular disorders (TMD), a set of conditions associated with pain and inflammation in the face and neck. Funded by the National Center for Complementary and Integrative Health, the five-year study is following 300 patients to explore how VR's visual and auditory stimulation in the brain affects long-term improvements in tolerating pain.
This pioneering work is one of several VR and placebo studies taking place at UMSON in the research laboratory of Luana Colloca, MD, PhD, MS, professor, who is among eight faculty from the University of Maryland, Baltimore (UMB) and UMCP selected as inaugural MPower Professors in 2021; the accompanying $150,000, three-year awards are intended to quicken the pace of discovery through collaborative research between the two institutions. The selected faculty have demonstrated collaboration on strategic research that would be unattainable or difficult to achieve by UMB or UMCP acting independently of one another and have embraced the
mission of the two universities' MPowering the State program – to strengthen and serve Maryland and its citizens.
Colloca's interdisciplinary lab, which involves experts from nursing, medicine, psychology, physics, music, and engineering, was among the first to discover that simply anticipating a therapy's benefit – a phenomenon known as the "placebo effect" – generates "real neurobiological responses and not merely biases," she explains.
Using an app and VR experiences developed by co-investigator Amitabh Varshney, PhD, dean of the UMCP College of Computer, Mathematical, and Natural Sciences, and his team, Colloca's TMD patients are fitted with headsets and digital goggles that transport them to an assortment of calming environments, such as swimming undersea with marine life or being on stage during an opera performance. Weekly sessions in the lab and at home last for 6 - 20 minutes, include guided instructions on relaxation and meditation, and continue for up to six months. For their in-home VR experiences, patients wear wrist monitors to capture their heart rates and other physiological responses and then log into an online portal to record their mood, anxiety level, and resilience to pain.
The investigation is still ongoing, and Colloca and her team are establishing whether it is VR alone or VR with guided instructions that increases someone's tolerance to pain. However, the study builds on her previous research examining VR's impact on heat sensitivity, which suggested that "VR immersion affects multiple sensorial systems" and improves mood, reduces situational anxiety, and eases pain unpleasantness "when patients perceive the VR experience as enjoyable," she points out.
Given the country's ongoing opioid public health emergency, "finding low-risk, noninvasive, nonpharmacological interventions that can effectively reduce the use of pain medication is of the utmost importance," Colloca says. Leveraging VR's immersion technology "might empower TMD patients with new, accessible, and affordable therapeutic solutions.