Raising the Gambian Research Bar
Our Researcher: Veronica Njie-Carr, PhD, RN, ACNS-BC, FWACN
By Dan Mezibov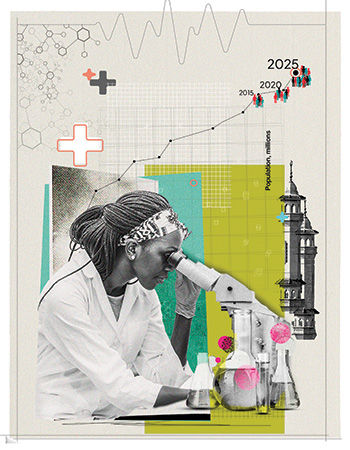 It is the smallest nation on the African mainland and one of the poorest in the world. Located along the West African coast, its dense population – projected to reach nearly 3 million by 2025 – continues to face rising heart disease, diabetes, and other noncommunicable diseases, serious obstacles to maternal and women's health, and an insufficient supply of health care providers.
Gambia's research capacity to deal with these challenges is "weak," notes a recent report from the Global Challenges Research Fund, following 24 years of dictatorship that destroyed much of the government's infrastructure, including research. In 2016, the former British colony returned to a democratic government, and the transformational changes that resulted have stimulated new opportunities for research in academic, health care, and other institutions.
To continue that growth, UMSON's Veronica P.S. Njie-Carr, PhD, RN, ACNS-BC, FWACN, associate professor, has been awarded $1.18 million from the Fogarty International Center of the National Institutes of Health to strengthen capacity in health research ethics and methodology in the country. The Fogarty International Center supports and facilitates global health research conducted by U.S. and international investigators, builds partnerships between health research institutions in the United States and abroad, and educates the next generation of scientists to address global health needs.
As part of the five-year project, faculty from UMSON and from the University of The Gambia (UTG); the Medical Research Council, Gambia Unit; and the University of Maryland School of Medicine (UMSOM) will collaborate to extend the work of the University of Maryland, Baltimore President's Global Impact Fund (PGIF) to develop a research ethics and methods certificate program in Gambia as a foundation for subsequent expansion to a master's program. Njie-Carr serves as co-principal investigator (PI) with UMSOM's Henry Silverman, MD, MA, professor, and UTG's Jainaba Sey-Sawo, PhD.
The PGIF seed grant supported the beginning work on developing Gambia's capacity efforts, such as holding virtual workshops and conducting surveys to gather data for the Fogarty grant application. The Fogarty award will fund tuition and fees for the health professionals, research committee members, and scholars in the certificate and master's programs in addition to professional development programs for trainees, such as mentoring, grant writing, regional conferences, and travel to the United States to observe best practices. The PIs on the project will also serve as faculty, educating others to ensure the project's sustainability.
"We are keenly cognizant of the importance of utilizing best evidence in caring for patients to promote positive outcomes," Njie-Carr says. "Gambian health professionals and academics will undoubtedly benefit from the Fogarty award as the country strengthens its research enterprise and capacity development efforts."
Njie-Carr, a member of the Gambian diaspora, teaches, mentors, and supervises academic faculty, nurse leaders, and graduate nursing students in UTG's Department of Nursing, where she is a consultant on curricula and research activities. Her interest in supporting the next generation of academic scholars led to her work in building capacity in low-to-middle-income countries, where she has a strong track record developing, implementing, and evaluating education and research programs.
"We live in a culture where people think if you ask questions, you're not smart enough," Njie-Carr explains, adding that many young Gambians have never had an opportunity to be mentored. The PGIF and Fogarty awards, she says, will help build a cadre of new researchers "with the guidance, support, and mentorship to go higher and rebuild a research enterprise with scientific integrity and rigor."