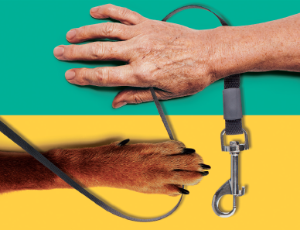 Following Commands: UMSON Studies Military Veterans with PTSD as They Train Service Dogs
By Patricia Fanning
Todd, Laura, Lucy. From the sound of it, the two military veterans could be mentioning relatives or teammates. Yet their tone is more like that of teachers, recalling star pupils or the class clown who later shaped up. Charles, Dewey, Shannon.
All those named are indeed pupils — canine ones. They are service dogs in training, and the classroom is usually a field among farms in Boyds, Md. The students are Golden or Labrador Retrievers that are bred, trained, and placed by Warrior Canine Connection (WCC), a nonprofit organization serving veterans and military families.
The two veterans, both women, bonded with the dogs during research conducted by the University of Maryland School of Nursing (UMSON) in partnership with WCC. The study's purpose is to understand how canine interaction, motivated by a desire to help other veterans, affects stress in veterans with post-traumatic stress disorder (PTSD).
Principal Investigator Erika Friedmann, PhD, associate dean for research and professor at UMSON, seeks to establish the health impact by measuring physiological and post-traumatic stress symptoms of veterans enrolled in the study as trainers.
"A large number of veterans suffer from PTSD. It's important to develop ways to help them that are complementary to other treatments," says Friedmann, observing that individuals respond differently. "There are many modalities."
Friedmann and collaborator Cheryl Krause-Parello, PhD, of Florida Atlantic University, are leaders in the field of anthrozoology, the study of human-animal interactions. They published evidence last year that dog walking affected stress indicators in veterans with PTSD and suggested further inquiry. Previously, in a 1995 study of heart patients, Friedmann found that pet ownership and social support are predictors of survival.
Friedmann's latest study, "Evaluating the Efficacy of a Service Dog Training Program for Military Veterans with PTSD," began in 2019 when UMSON received a $438,787 grant from the Eunice Kennedy Shriver National Institute of Child Health and Human Development.
So far 40 veterans have enrolled out of 60 expected to enter by early next year. Participants are paid for their time, and the research team follows strict COVID-19 pandemic safety protocols.
Eligible veterans are randomly assigned to one of two paths: an eight-week, online education course in service-dog training or eight weeks of hands-on dog training. They are encouraged to continue as volunteers with WCC, whose trainers expertly guide human-canine matchups.
For each group, researchers use surveys and biomarkers to assess impact. The dogs, too, see veterinarians to check well-being.
Veterans wear a device to measure heart rate variability and submit separate saliva samples. One sample gauges cellular aging; the other reveals levels of cortisol, a stress hormone.
Previous Articles