Meeting the Needs of 21st Century Nursing: 2002-2012
The first decade of the 21st century saw the University of Maryland School of Nursing tackle the demands of a rapidly evolving nursing profession. Under the direction of Dean Janet D. Allan, the School of Nursing advanced its national leadership in nursing education, introducing new specialties and degree programs tailored to an ever-expanding scope of practice. By 2010, the School of Nursing had risen to 7th place in the U.S.News & World Report ranking of all graduate nursing programs in the nation and five of its nine master's specialties were ranked in the top 10.
Through innovative partnerships and strategic use of resources, Dean Allan increased enrollment by more than 35 percent in response to Maryland's shortage of entry level nurses, advanced practice nurses, and faculty. The School retained its place at the forefront of nursing research, launching two research centers of excellence and three developing centers of excellence. During Dean Allan's tenure, the School rose from 58th to 19th place among schools of nursing receiving research funding from the National Institutes of Health's National Institute of Nursing Research.
On left: Dean Emeritus Janet D. Allan, PhD, RN, FAAN, appointed in 2002
New Specialties and Programs
In 2004, the School of Nursing launched Maryland's first nurse anesthesia master's specialty in response to the state's shortage of anesthesia providers. The Clinical Nurse Leader master's option, also the only one of its kind in the state, was introduced in 2005. The Doctor of Nursing Practice program, which started in 2006, offered an evidence-based, practice-focused doctorate to prepare students for clinical, management, faculty, and leadership roles.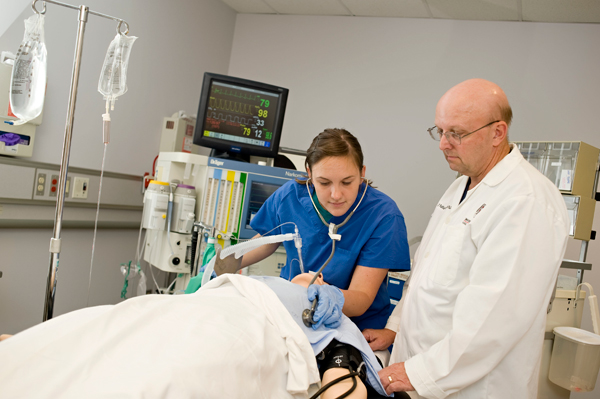 Joseph Pellegrini, PhD, CRNA, director of the School of Nursing's Nurse Anesthesia master's specialty, with student Chelsea Nistler
Advocacy
In its early years, the School of Nursing's contribution to nursing advocacy was mainly through the efforts of its alumni. Beginning in 2001, the School took a more active role, holding a legislative reception at the Governor Calvert House in Annapolis, where 300 faculty, students, staff, and alumni mingled with government officials to raise awareness of challenges facing the nursing profession. The commitment to advocacy continued through the decade. School of Nursing faculty and students participated in the annual Advocacy Day in Annapolis and testified in Washington, D.C. on nursing and health care issues. In 2009 and 2010, the School hosted sessions for legislators, state and federal officials, and other key stakeholders to increase understanding about nursing education and nurses' roles in the health care system.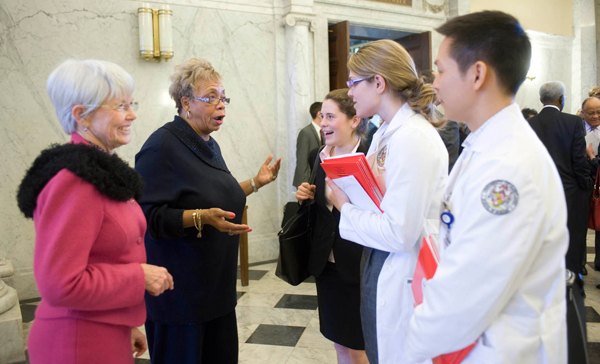 School of Nursing students spoke with nurse legislators Addie Eckardt, RN, and Shirley Nathan-Pulliam, RN, in Annapolis in 2011
Online Learning
Online courses rose to the forefront of higher education in the first decade of the 21st century. The School of Nursing adapted to the new demands of students and offered a wide array of courses online. In 1998, the School offered its first Web-based course and soon began to offer an entirely Web-based RN-to-BSN degree option. By 2011, 32 courses across several degree programs, including the Health System Leadership and Management and Nursing Informatics master's specialties, were offered online.
Partnerships
Throughout its history, the School of Nursing has focused on partnerships with local hospitals. In 2007, the School joined with the University of Maryland Medical Center (UMMC) to launch the University of Maryland NURSING partnership, which enabled nurses at UMMC to maintain their clinical careers as well as pursue advanced degrees, undertake research, or teach, while School of Nursing students benefitted from increased clinical instruction from practicing UMMC nurses who had expertise in subspecialties such as trauma, neurocare, oncology, intensive care, and infectious disease.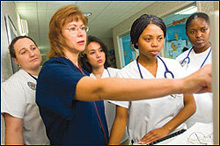 Cynthia Fox, MS, RN, instructs a group of second-semester juniors from the School of Nursing in their clinical rotation in adult health as part of the University of Maryland NURSING partnership.