Dean Gipe and a New Academic Model: 1952-1965
I assure you that with your strong cooperation, we will become a school of national importance.
Florence M. Gipe writing in the Bulletin of the Nurses' Alumnae Association, 1947
The national wave of reform that swept nursing education after World War II had a profound and lasting impact on the School of Nursing. At the center of this remarkable chapter was Florence M. Gipe, who served as director (1946-1952) and first dean (1952-1966).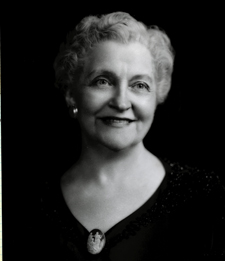 Dean Gipe's successful efforts to raise admission standards, upgrade facilities, and better prepare clinical instructors culminated in the creation of the state's first baccalaureate (1952) and graduate (1954) programs in nursing. As dean of an autonomous, accredited college within a state university system, Dean Gipe began adapting academic models to serve the special and evolving needs of nursing education. Under Dean Gipe and her successors, School of Nursing students were socialized into a profession that demanded the ability to think critically, learn new skills, and assume leadership.
On left: Florence M. Gipe upon earning her doctoral degree, 1952. Photograph by Bachrach Brothers, Baltimore, Md.
"You train dogs, you educate nurses." – Dean Gipe
An innovative educator and determined reformer, Dean Gipe rarely concealed her disdain for nursing's training school legacy. At a time when most nursing students attended diploma programs, Dean Gipe bent over backwards to support "her girls" in the baccalaureate program.