Seeds of Change: 1920-1951
In the 1920s the pace of educational reform quickened, and nursing skills became more scientific. Under longtime superintendent Annie Crighton (1922-1943), the School of Nursing slowly increased classroom instruction, introduced a five-year academic program, opened a nurses' residence, and saw a steady growth in enrollment.
By the 1940s, these modest improvements could not offset the limitations inherent in a hospital training school. Wartime demands required the need for better funding, modern facilities, and a full-time nursing faculty.
Conflicting Demands
…unless we receive about forty preliminary students this fall I cannot see how we shall manage to care for the patients and give the nurses the proper training. (Annie Crighton, 1925)
Like superintendents before her, Annie Crighton struggled to attract students and maintain educational standards while staffing University Hospital.
The First Five-Year Graduates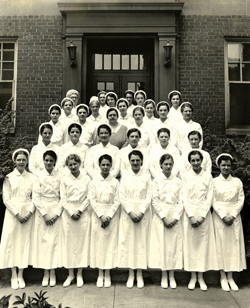 The Class of 1934 in their graduate "whites" with Superintendent Annie Crighton on the steps of Parsons Hall, June 1934. Among the group are the first graduates to earn a Bachelor of Science and diploma in nursing: Ada Conklin, Myra Lewis, Kathryn Matzen, Isabelle Seipt, and Lois Steinwedel. Over the next two decades, more than 150 women followed their lead.
Learn by Doing
In the 1940s, nursing students learned to do things the "University Hospital way." And, in an age of reusable material, they spent many hours cleaning syringes and catheters; sharpening needles; inspecting, washing, and patching gloves; and preparing bedpans and urinals for sterilization.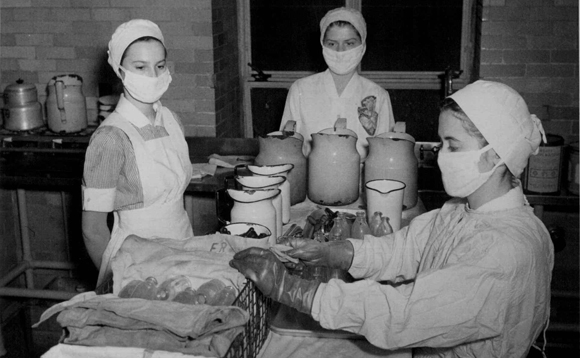 Parsons Hall
The first unit of Louisa Parsons' home, known as Parsons Hall, was dedicated on Nov. 16, 1922 and named, at the urging of the Nurses Alumnae Association, for the School's first superintendent. Many alumni remember Parsons Hall fondly as the place they lived and made lifelong connections with their fellow nursing students.
Parsons Hall was home to nursing students until it closed in 1984. The building was demolished in the 1990's.