RN-to-MSN: Registered Nurse to Master of Science in Nursing
Maximize your studies—and your career trajectory—with the RN-to-MSN.
Ranked Among the Best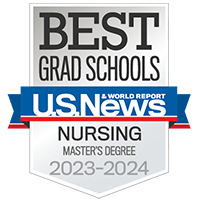 The RN-to-MSN is an accelerated path to earning both your Bachelor of Science in Nursing (BSN) and Master of Science in Nursing (MSN) degrees.
Take courses online and choose to specialize in one of three areas:
The RN-to-MSN combines elements of the BSN and MSN programs by substituting the master's core courses for BSN electives. Six credits (two classes) completed during your BSN coursework will be applied to the master's portion of the program, reducing the overall cost of your education.
Program Snapshot: RN-to-MSN
Length
As little as 2 years
Format
Varies by specialty
In State Tuition: $873.00/credit
Out of State Tuition: $1,549.00/credit
Commission on Collegiate Nursing Education
This option is designed for:
registered nurses with a baccalaureate degree in another discipline
registered nurses who do not have a baccalaureate degree but possess the background and the interest in pursuing leadership and specialty preparation at the master's level.
What you'll learn:
This program combines our BSN program with the master's specialty of your choice. You'll complete the master's core courses in place of BSN electives, jump starting your master's degree before you finish your BSN and saving you both time and money.
You'll choose one of three master's specialties:
Community/Public Health Nursing (CPH): Make a difference for patients and communities by discovering and addressing the root causes of our most significant health care issues.
Health Services Leadership and Management (HSLM): Gain the skills to lead with confidence in today's complex health care environment. You can concentrate on one of three areas: Leadership and Management, Education, or Business.
Nursing Informatics (NI): Building on your nursing experience, you'll develop expertise in clinical informatics. Learn to develop, deploy, and optimize health care information systems; leverage health care data to improve the quality and safety of patient care; enhance clinician workflow; and help lower health care costs — to impact entire health care systems.
Full-time and part-time options are available. You can:
take courses online (HSLM and NI specialties only)
attend class at UMSON in Baltimore
take some courses at the Universities at Shady Grove.
You must complete the full course of study within six years to earn the RN-to-MSN.
More Information About the RN-to-MSN Program:
UMSON gave me the opportunity to grow more professionally than I thought was possible. In addition to the practical evidence-based courses, the mentors I acquired during my time in the program were key to my success in transitioning knowledge learned into knowledge and skills practiced in an educational role in nursing practice.
Jaime Van Allen, BSN '14, MS '17
UMSON is an affordable, nationally ranked nursing school with the flexibility of learning online and using the state-of-the-art campus resources. This program has the option of stopping after earning the BSN degree, if needed, which is not true with some RN-to-master's programs. In addition to having this degree, I now have an ongoing network of resources through my fellow students and professors.
Karen Corson, MS '16, BSN '14