MSN: Nursing Informatics
There's still time to apply.
We are still accepting applications for fall 2019. Apply now.
Be the connection between patient care and technology.
Ranked No. 1 in the nation. Competitive in-state tuition — even for some out-of-state students. Take courses online from anywhere.
Improve patient care and outcomes through the development, implementation, and evaluation of information technology. Increasing demand for the adoption of electronic information systems is creating a growing need for nursing informaticians in health care organizations and in businesses that develop and sell health care information technology.
What is nursing informatics?
According to the American Nurses Association, nursing informatics is a "specialty that integrates nursing science with multiple information management and analytical sciences to identify, define, manage, and communicate data, information, knowledge, and wisdom in nursing practice. [It] supports nurses, consumers, patients, the interprofessional health care team, and other stakeholders in their decision-making in all roles and settings to achieve desired outcomes. This support is accomplished through the use of information structures, information processes, and information technology."
-Nursing Informatics: Scope and Standards of Practice, 2nd Edition, ANA 2015
Our Master of Science in Nursing graduates have stellar reputations in the health care informatics job market and are in high demand; they have gone on to work in hospital settings or for businesses, nonprofit organizations, and government agencies as:
systems analysts
clinical data analysts
clinical informatics experts
health care and business executives
consultants
business owners
faculty members
and more.
The American Medical Informatics Association estimates that up to 70,000 health informatics specialists will be needed in the next few years. A national nursing informatics workforce survey by the Healthcare Information and Management Systems Society found that half of nursing informaticians earn an annual salary of more than $100,000.
The nursing informatics field is progressive, constantly changing, and has a significant impact on the future of the health care industry and beyond.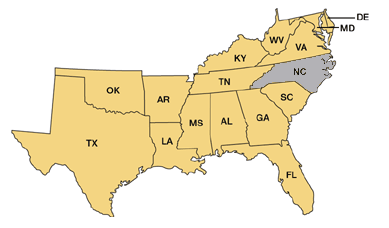 Live in one of the yellow states? You may be eligible to pay Maryland in-state tuition for this program.

Through an agreement with the Academic Common Market, you may be eligible to pursue this Master of Science in Nursing degree at UMSON at an in-state tuition rate. Our faculty will help place you at a practicum site convenient to you.
How the Program Works
The program requires 40 credits and 135 practicum hours.
Full-time and part-time plans of study are available.
Complete this program in as little as two years (five semesters).
You can get started on this Master of Science in Nursing degree while you gain experience in the field. Take 1-2 online courses as you work full time to get a jump-start on your education and your career.
Flexible learning from anywhere:
All nursing informatics courses are available online.
Your advisor will develop an individualized plan of study that fits your schedule.
Advisors can connect with you via email, telephone, Skype, or in person.
For the required practicum, you and your practicum instructor will arrange a mutually agreeable site in a location convenient to you.
If you reside in a state belonging to the Southern Regional Education Board, you may be eligible for in-state tuition rates (see the sidebar for more information).
Save Time and Money
If you're currently a registered nurse with an associate degree, you can save 6 credits (one full semester) when you enroll in UMSON's RN-to-MSN, an accelerated path to both the Bachelor of Science in Nursing (BSN) and this MSN specialty.
What You'll Learn
As a student in the nursing informatics specialty, you will be able to:
analyze nursing information requirements
design system alternatives
manage information technology
identify and implement user-training strategies
evaluate the effectiveness of clinical and/or management information systems in health care.
You will also be prepared to be a leader in the conceptualization, design, and research of digital information systems in health care organizations and in the informatics industry.
What You'll Do
Upon graduation, you will be an Nurse Informatics Specialist.
Your unique qualifications as a nurse and an informatician will allow you to connect interdisciplinary health care teams and serve as a leader in health IT teams.
Your role could involve developing, deploying, and optimizing health care information systems; leveraging health care data to improve quality and safety of patient care; enhancing clinician workflow; and helping to lower health care costs.
Our nursing informatics graduates work in many areas:
The majority work in hospital settings.
Many work for health IT vendors and health care analytics fields.
They also work for federal agencies – such as the Centers for Medicare and Medicaid Services –or for consulting firms.
Many experienced Informatics Nurse Specialists have their own businesses and consult with various health care sectors, such as the Department of Defense.
And many either become an educator or incorporate teaching into their professional careers.
Many of our students are hired as informaticians while they are still in the program, especially by their practicum sites.
More Information About the Nursing Informatics Specialty:
Further Your Education
Additionally, UMSON's Nursing Informatics Certificate is for nurses in an UMSON graduate program or with a master's degree in another specialty area or field who are looking to gain essential knowledge and skills in nursing and health care informatics.
UMSON is also home of the annual Summer Institute in Nursing Informatics Conference.
This program is not eligible for F-1 or J-1 student visa sponsorship by the University of Maryland, Baltimore, due to the amount of online courses.
"I was a bedside nurse for 10 years, and I really felt like I could make a difference going into informatics. I help the patients, as well as the clinicians on the floor, in terms of better patient safety and more efficient workflow for the clinicians."
Michael Yates, MS '14 Application System Analyst, University of Maryland Medical System