MSN: Community/Public Health Nursing
Make a difference for patients and communities by addressing the roots of our most significant health care issues.
Community and public health nurses solve real-world health problems by merging their clinical knowledge with community involvement and outreach efforts. With a strong focus on population health, social justice, and evidence-based programs, our Community/Public Health Nursing master's specialty will prepare you to assume a leadership role in addressing large-scale health challenges that impact entire communities.
Earning a Master of Science in Nursing degree in this specialization will equip you with the advanced practice skills to develop, deliver, and evaluate public health efforts that are realistic and culturally sensitive. The program's coursework and your individualized practica will lay the groundwork for you to collaborate successfully with communities and stakeholders to become the best community and public health advocate that you can be.
Additionally, you can further increase your potential with:
The nursing profession is in need of community and public health nurse leaders who can positively impact the determinants of health in Baltimore and beyond.
Program Snapshot
Length
As little as 2 years
Format
Blended (face-to-face and online)
In State: $824/credit
Out of State: $1,461/credit
Commission on Collegiate Nursing Education
We are strongly committed to collaborating with and serving the needs of our neighbors.
Our faculty maintain strong connections with more than 50 community and public health programs at the federal, state, and local levels, including nonprofit and hospital organizations.
As a University of Maryland, Baltimore student, you'll also have interprofessional opportunities that allow you to work with students from other professions to promote better outcomes for vulnerable populations.
What You'll Learn
Our Community/Public Health Nursing MSN specialty prepares you to make a difference for patients and communities by focusing on:
health promotion and disease prevention
health needs of select populations in community contexts
epidemiology, program planning, and evaluation
grant writing, organizational analysis, and social marketing.
How the Program Works
The program can be completed in as little as four semesters.
Full-time and part-time options are available.
Coursework includes:

five online courses
five face-to-face courses
two practicum courses (315 total service-learning hours)
You'll work with an advisor to determine a practicum placement that is tailored to your interests and career goals.
Save Time and Money
If you're currently a registered nurse with an associate degree, you can save 6 credits (one full semester) when you enroll in UMSON's RN-to-MSN, an accelerated path to both the Bachelor of Science in Nursing (BSN) and this MSN specialty.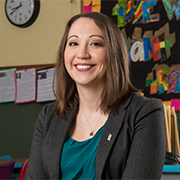 "I feel every day that I'm at Paul's Place and with students that I'm making a difference," says alumna and UMSON Assistant Professor Kelly Doran, PhD, RN. "I love my research. I really feel like it's going to help the community." Read more.
What You'll Do
Upon graduation from this Master of Science in Nursing program, you'll be able to lead population health and public health efforts in a variety of roles and settings. Our graduates are employed by:
local and state health departments
federal and state agencies
nonprofit and research organizations
hospital-based community programs
nongovernmental agencies
schools and school systems
universities and colleges (as faculty).
More Information About the Community/Public Health Nursing Specialty:
I attribute my successes and career advancements to the strong foundation I got from the CPH program and the mentors that have been there throughout my nursing and public health journeys.
Carolyn Nganga-Good, MS '07
With such variety in the curriculum — from environmental health to global health to social determinants of health — this program offered valuable content and experiences to expand on my nursing knowledge and practice.
Cara Cook, MS '15
I apply [my Community/Public Health education] in my daily work by addressing health disparities, improving access to care, collation building, and advocacy for vulnerable populations.
Charlotte Wallace, MS '15, BSN '99
Given that my work is at the forefront of public health, I am constantly applying my knowledge of community/public health nursing to my role as program supervisor.
Oluwatosin Olateju, MS '15
[This program] gave me the tools needed ... but most importantly, the passion that is needed to tackle the big problems that affect populations in Baltimore, day after day.
Katie McElroy, PhD '16, MS '10, BSN '98