Online MSN: Health Services Leadership and Management
Ranked Among the Best

‌Lead with confidence in today's complex health care environment.
Complete the top-ranked program entirely online.
‌When your career goals are to lead in health care or to become a nurse educator, you need hands-on experience to develop the necessary skills to be successful in today's health care environment.
‌Our Master of Science in Nursing specialty in Health Services Leadership and Management offers leading-edge courses, personalized mentorship, and individual placements in a practicum that supports your career goals and takes you beyond your current place of employment to push you to refine advanced nursing leadership and nursing administration skills. Placements are with leaders at hospitals and health care systems, universities and community colleges, national and state agencies, and more.
Program Snapshot
Length
As little as 2 years
In State Tuition: $873.00/credit
Out of State Tuition: $1,549.00/credit
Commission on Collegiate Nursing Education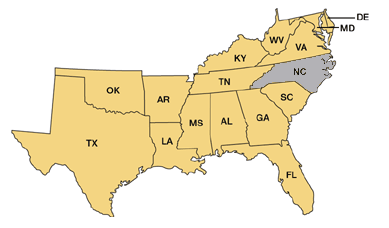 ‌
Live in one of the yellow states? You may be eligible to pay Maryland in-state tuition for this program.
Through an agreement with the Academic Common Market, you may be eligible to pursue this Master of Science in Nursing degree at UMSON at an in-state tuition rate. You'll complete the program online, and our faculty will help place you at a practicum site convenient to you.
How the Program Works
As a student in this Master of Science in Nursing program, you'll complete master's core courses and the Health Services Leadership and Management core courses. Following completion of the core courses, you'll concentrate on one of three focus areas:
Leadership and Management: a customized plan of study that allows you to support your personal career goals by defining and honing the nursing leadership skills you need to succeed in a variety of health care settings and roles
Education: a way to maximize your career goals by creating a dual pathway to advancement; you'll focus on the knowledge and skills you need to excel as a nurse leader and as a clinical instructor or faculty member, because you never know where your career might take you. You may want to pursue a position as a nurse manager now, but eventually you may want to pursue options beyond the clinical setting — especially given that the nursing shortage has led to a tremendous demand for nurse educators, which our dean discusses in this CNN Money article.
Business: a dual MSN/MBA option that allows you to blend your health care background with business skills and expertise, positioning you to take on nursing administration roles in a health care system and for senior management-level decision-making on financial, strategic planning, resource management, and governance issues. It is a good fit for students who have ambition to pursue senior administrator/executive leadership roles (unit director, senior director, or eventually C-suite positions).


Your MSN will be awarded by the University of Maryland, Baltimore; your MBA will be awarded by the University of Maryland Robert H. Smith School of Business or the University of Baltimore Merrick School of Business.
This dual degree requires 66-72 credits and can be completed part time over as many as seven years.
This program can be completed entirely online.
Save Time and Money
If you're currently a registered nurse with an associate degree, you can save 6 credits (one full semester) when you enroll in UMSON's RN-to-MSN, an accelerated path to both the Bachelor of Science in Nursing (BSN) and this MSN specialty.
What You'll Do
Leadership and Management: You'll be prepared to lead patient care teams in a variety of health care settings, such as acute care, ambulatory, long-term, or home health care. As part of that role, you'll support positive change in the health care industry and collaborate with other health care professionals and managers to maximize patient and organizational outcomes.
Education: You'll be prepared to serve as both a manager or administrator of health care services and a clinical instructor in a health care setting or faculty member in an academic setting. You might also contribute to professional development in a clinical setting, for example as an education coordinator in a hospital.
Business: Your business background prepares you to contribute to the development of new approaches to providing health care services. You might work in finance, marketing, or HR within a health care organization or serve as the director of operational services, a finance officer, a chief nursing officer, or a consultant. Learn more about the dual MS/MBA option.
More Information About the Health Services Leadership and Management Specialty:
With my newly acquired leadership skills, I can now make significant contributions to reaching organizational goals while ensuring greater clinical outcomes.
Zivago Bunting, MS '17
I originally went into leadership feeling like becoming a nurse manager of a unit would be a great career achievement, but as I went through the program, as I learned about opportunities in leadership that exist, those horizons broadened.
Greg Raymond, MS '10, BSN '05