Connie L. Siewitkzi: A Distinguished Career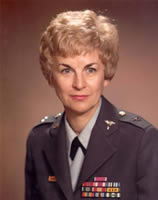 Connie L. Slewitkzi began her 30-year career with the Army Nurse Corps in the late 1950s. A graduate of the Army Command and General Staff College, as well as the U.S. Army War College, Slewitkzi served at numerous stateside posts and overseas in Hawaii, Korea, Vietnam, and Europe. In 1983, 12 years after earning a BSN from the School of Nursing, she was promoted to the rank of Brigadier General and appointed Chief of the Army Nurse Corps. Slewitkzi retired in August 1987 and later served as the School of Nursing's Director of Development.
On left: Brigadier General Connie L. Slewitkzi, BSN ' 71, ca. 1983.
Gift of Brigadier General Connie L. Slewitzki, USA, Retired.