World War I
The United States entered World War I in April 1917, nearly three years after war broke out in Europe. Unlike earlier wars, World War I was a global conflict demanding the rapid mobilization of troops, nurses, physicians, and materiel.
Over the next two years, more than 20,000 trained nurses joined the military, the majority as members of the Army Nurse Corps. Forty-five School of Nursing graduates served during World War I, 31 in foreign service and 14 at home. Because military regulations required that nurses be between 25 and 35 and unmarried, those who traveled overseas tended to be recent graduates. Two graduates died during their service, Charlotte A. Cox, 1908, and Judith Viberg, 1918, both from illness.
Army Hospital Formed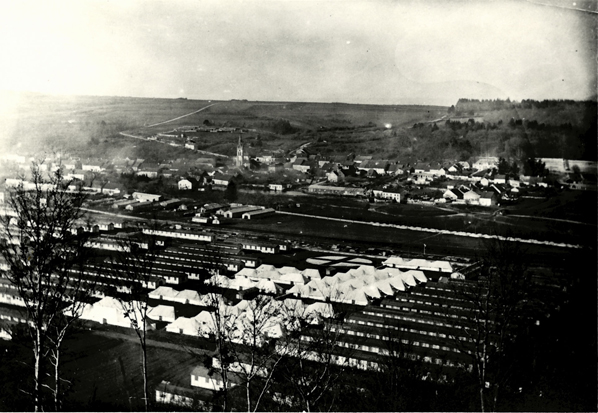 U.S. Army Base Hospital No. 42, Bazoilles-Sur-Meuse, France, ca. 1918.
Alumni Association Collection.
In April 1918, 30 School of Nursing graduates were mobilized through the American Red Cross to form U.S. Army Base Hospital No. 42. The unit, numbering 100 nurses, 35 officers, and 200 enlisted men, opened its hospital in Bazoilles-Sur-Meuse, France, in July 1918, to receive wounded soldiers and send surgical teams to the front during military drives. Over the next 10 months before demobilization, the hospital treated 8,000 patients.
Anna C. Robinson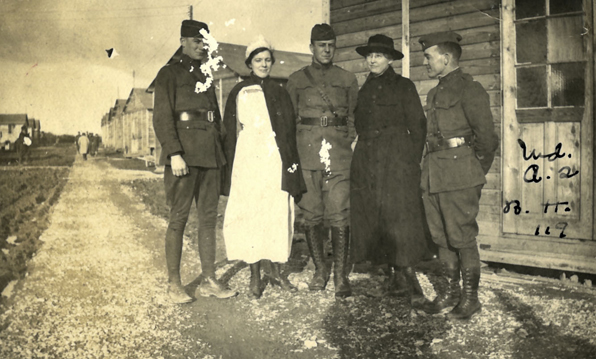 Gift of Anna C. Robinson class of 1917.
Anna C. Robinson brought her personal camera to use during her WWI service in Europe. She had enlisted as a Red Cross nurse separately from the rest of the School of Nursing graduates and was stationed at Base Hospital No. 69 in Savenay, France. Among the subjects of her pictures are machine gun nests, French colonial troops on parade, and this photo of Robinson (second from left) standing with a number of Army officers, including Edgar Allen Poe's grandson (far right).
Ellen C. Israel
We were measured & fitted for our dark blue serge suits & big coats on Thursday a.m. & Thurs. afternoon our raincoats & grey uniforms. Friday a.m. we had our shoes fitted, two pair of tan shoes, 1 pr. of black & a pr. rubber boots for each nurse....the long coat is lovely, I think, tho I look like a walking monument in it, but that is a small matter.
Ellen C. Israel writing to her family from a nurses' mobilization station in New York City, June 16, 1918.