World War II
In April 1940, following the outbreak of war in Europe, the U.S. Surgeon General asked the University of Maryland to help form a Medical Reserve Corps. Two years later, dozens of School of Nursing graduates were activated for duty with the 42nd and 142nd General Hospitals and went on to serve in Australia, the Philippines, Fuji, and Japan. Eventually, more than 150 graduates served in various branches of the armed forces, both at home and abroad. Louise Hollister, Class of 1939 and a member of the 142nd General Hospital, suffered a severe brain hemorrhage in August 1943, becoming the only School of Nursing casualty of the war.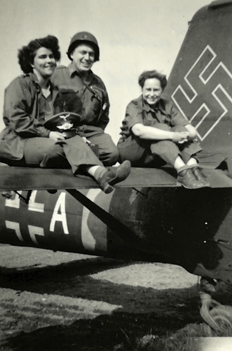 Many of the patients came directly from the forward areas....on litters, tired, hungry, dirty, and unshaven.
Lt. Margaret E. Bennington, ANC, Class of 1939, writing in the Bulletin, 1945
Doris V. Whitehurst, Class of 1935, entered active service with the Army Nurse Corps in March 1944, just before her 31st birthday. Whitehurst's two-year tour included a year in Europe with the 165th General Hospital and 134th Evacuation Hospital. In May 1945, she helped liberate Jewish prisoners from the Nazi concentration camp at Buchenwald. Whitehurst was later promoted to 1st Lieutenant and awarded two Battle Stars.
On right: Two of Whitehurst's friends sitting on the tail of a captured German dive bomber, 1945.