Staff Council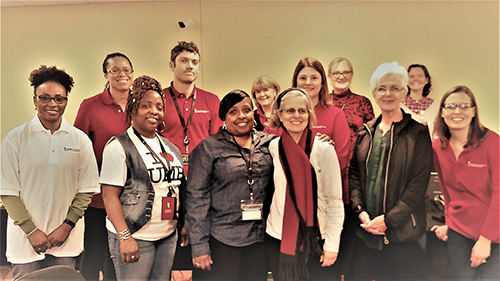 UMSON Staff and Faculty Community Engagement Opportunities
The UMSON Staff Council provides a forum where staff can address and discuss issues that are important to them.
The UMSON Staff Council:
acts as an advisory council to the dean and the administration to share concerns
promotes professional development through seminars and programs to enhance the personal well-being of staff
fosters a spirit of cooperation, professionalism, and integrity with a dedication to honest and open communication.
The Staff Council serves as a channel of communication to the dean in the areas of policy and procedures that affect the quality of the staff's work life and their level of contribution to the strategic goals of the campus. The Staff Senate was begun in 1994 and since has researched many areas of concern for staff members.
Topics of investigation and action include, but are not limited to:
policies and procedures affecting eligible employees
work environment and staff morale
issues impacting wages, benefits, and working conditions
community/outreach activities.
Meetings are held the third Thursday of every month from 10 - 11 a.m. via WebEx until we are all back on campus and can meet in person. All staff members are encouraged and welcome to attend.