Yolanda Ogbolu Named Bill and Joanne Conway Dean of the University of Maryland School of Nursing
June 21, 2023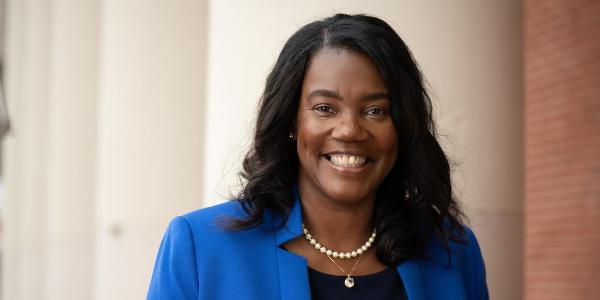 University of Maryland, Baltimore (UMB) President Bruce E. Jarrell, MD, FACS, has announced the appointment of Yolanda Ogbolu, PhD '11, MS '05, BSN '04, NNP, FNAP, FAAN, as the next Bill and Joanne Conway Dean of the University of Maryland School of Nursing (UMSON).
An experienced researcher at international and national levels, educator, clinician, and public servant, Ogbolu is an associate professor (tenured) and has served as chair of UMSON's Department of Partnerships, Professional Education, and Practice and co-director of its Center for Health Equity and Outcomes Research.
Ogbolu's work in community health embodies the University's mission of improving the human condition, Jarrell said.
"Through her research and scholarship focus on health equity, improving the social determinants of health, dissemination and implementation of health equity research and policy into clinical practice, and improving the lives of vulnerable newborns and their families. Dr. Ogbolu is the perfect choice to lead the School of Nursing into its next chapter," Jarrell said.
Ogbolu was chosen for the Bill and Joanne Conway Dean position from a talented pool of candidates after a national search. The committee was chaired by Mark A. Reynolds, DDS '86, PhD '99, MA, dean of the University of Maryland School of Dentistry, and Lisa Rowen, DNSc, RN, CENP, FAAN, chief nurse executive for the University of Maryland Medical System and professor and alumna of UMSON.
"Given the strong national and global reputation of the University of Maryland School of Nursing, we received applications from an impressive number of highly accomplished candidates," Reynolds said. "Dr. Ogbolu is a standout, offering a distinguished record of academic achievement and health sciences leadership, demonstrated commitment to health equity, and unwavering dedication to the School of Nursing. She is ideally suited to lead the School of Nursing and to further advance excellence in education, research, clinical care, and service — helping chart the future of nursing and the transformation of health care."
"We are thrilled to be able to collaborate with Dr. Ogbolu as she assumes the role of the next dean of the University of Maryland School of Nursing. Dr. Ogbolu has an expansive vision for the future of the School, knows the health care needs of our community well, and has expressed a deep commitment to continuing the close partnership and innovation the University of Maryland Medical System has enjoyed with UMSON and Dean Jane Kirschling," Rowen said. "We thank Dean Kirschling for her remarkable collaboration and dedication to our collective work on nursing practice, education and research. UMMS nurses are fortunate to work closely with nursing leaders of such distinction as Dean Kirschling and Dr. Ogbolu."
Ogbolu was appointed to the UMSON faculty in 2010 as deputy director of the School's Office of Global Health and became its director in 2015. During her tenure, she developed and grew the global health program at UMSON and at UMB. She forged and maintained international partnerships; developed new global health education initiatives, including a Global Health Certificate program and service-learning opportunities; and created a culture of interprofessional collaboration across campus.
"It is an honor to be named the next dean of the School of Nursing and I am humbled to follow in the footsteps of Dean Kirschling and grateful for her many contributions to the School and to the nursing profession," Ogbolu said. "I also have great hope and optimism for the future as we begin the next chapter in our history as a trailblazing school of nursing, building on the work of our predecessors and the School's 134-year legacy of excellence."
A Career Dedicated to Addressing Health Disparities
Ogbolu has dedicated her career to addressing health disparities in marginalized local and global communities.
Early in her career, she helped lead development of the Primary Care Health Specialist curriculum for advanced practice in Nigeria and later served as an expert reviewer for the World Health Organization on the implementation science curriculum for health professionals in low-resource settings. She also served as the principal investigator on a seven-year pioneering program to address the critical shortage of medical, nursing, and dental workers in Rwanda, funded by the U.S. Centers for Disease Control and Prevention and the Global Fund (Ministry of Health Rwanda). This work developed curriculum and nurse educators to advance clinical nursing practice through development and implementation of evidence-based programs to improve health disparities in patient outcomes.
Most recently, Ogbolu's efforts have been focused on addressing local health inequities, including improving the provision of care to culturally and linguistically diverse patients and addressing social determinants of health and social isolation.
Her passion for addressing global and local inequities resulted in her receiving a three-year, $950,000 grant from the Robert Wood Johnson Foundation (RWJF) as the principal investigator to develop the Global Learning for Health Equity Network, a program she co-directs with faculty in the UMB Center for Global Engagement. The national network is examining ways to learn from other countries to address health care inequities in local communities. It builds on Ogbolu's work in applying lessons from Brazil to issues of family isolation in West Baltimore, utilizing a reciprocal innovation/global learning study model funded under a $683,000 grant also from RWJF. This earlier work was one of only six projects funded worldwide to address social isolation, a growing, global epidemic.
Drawing on her internationally recognized expertise in this area, she was invited to present "The Global Movement Towards Health Equity" plenary session at the 2021 Global Philanthropy Forum. The session focused on how health equity is imperative to advancing societal well-being and ensuring effective health systems as well as improving social determinants of health. It highlighted the importance of sharing knowledge and discovering how global solutions can be applied to problems domestically.
She also serves as the principal investigator on a $2.4 million Pathways for Health Equity grant, awarded in 2022 by the Maryland Community Health Resources Commission, that has funded the development of the West Baltimore RICH (Reducing Isolation and Inequities in Cardiovascular Health) Collaborative, a partnership of 14 community- and faith-based, academic, and health care organizations in West Baltimore, including UMSON and two other UMB entities. The collaborative aims to address hypertension and social isolation in four ZIP codes, selected due to race-based disparities in the represented areas.
A Trailblazer in the Field of Nursing
Raised just two blocks from UMB, Ogbolu describes her commitment to UMB and Baltimore as "unwavering, partly because this is the neighborhood where I grew up and in which I now have the capacity to lead change."
As chair of the Social Determinants of Health Taskforce of Baltimore City, formed in 2018 following legislation sponsored by former state Sen. Shirley Nathan-Pulliam, DPH (Hon.), DHL (Hon.), MAS, BSN '80, RN, FAAN, who is also an UMSON alumna, Ogbolu leads a group charged with identifying and examining the negative social factors that cause hardship for Baltimore residents and for developing and implementing solutions.
"Embracing my identity while understanding that each person has their own story has been essential to my leadership journey," Ogbolu said in her application for the position. "My strong commitment to advancing equity is partly because I have experienced inequities similar to the disparities our University neighbors continue to face today."
Fifteen years after first becoming a nurse and while continuing to practice as a board-certified neonatal nurse practitioner, Ogbolu returned to nursing school and became a three-time UMSON graduate, earning her BSN, MS, and PhD from the School.
While a graduate student, she received numerous honors, including being named a National Institutes of Health Fogarty Fellow. Her dissertation examined the impact of nurse work organization on newborn survival in 28 health care locations in Nigeria and illuminated the health challenges nurses and other health professionals face in attempting to address neonatal disparities in low-resource settings. At graduation, she was recognized with the "Outstanding PhD Student: Research, Service, and Practice Award."
Ogbolu's ability to apply research findings related to health equity to public policy was evidenced early in her academic career. Shortly after completing her PhD, she was awarded one of 12 highly competitive national Nurse Faculty Scholar Awards from RWJF.
With additional training through the National Institutes of Health in Dissemination and Implementation in Research in Health, her study (2013 - 17) on organizational cultural competency and its association with patient experiences in care examined organizational and contextual factors that drove or impeded adoption of cultural competency standards, evaluated the readiness of health care organizations to deliver culturally competent care, and assessed whether adoption of cultural competency standards was associated with improved patient reported experiences. This resulted in publications in major nursing journals derived from the study, and data from the study was subsequently used by the National Quality Forum (NQF) Disparities Standing Committee's 2017 report A Roadmap for Promoting Health Equity and Eliminating Disparities: The Four I's for Health Equity. Ogbolu was appointed a member of the influential Health Disparities Standing Committee for NQF in recognition of her contribution and expertise.
Ogbolu has authored and co-authored a number of articles that have appeared in the Annals of Global Health; Journal of Addictions Nursing; Journal of Obstetric, Gynecologic, & Neonatal Nursing: JOGNN; Neonatal Network; Bulletin of the World Health Organization; and The Journal of Nursing Research and Practice, among others.
Recognized as a leader in nursing, she has been invited to participate in national-level committees with the American Nurses Association (ANA), the National League for Nursing, and the National Quality Forum's Disparities Standing Committee, where she served as the only nurse. She also serves on the ANA's Subcommittee on Racism in Nursing Research.
Ogbolu has received numerous honors and awards, including as a fellow of the American Academy of Nursing, a fellow of the National Academies of Practice, and a Robert Wood Johnson Foundation Nurse Faculty Scholar. She also has received the Harriet Tubman Legacy in Maternal Child Health Nursing Award from the Minority Nurses Association of Maryland and a Governor's Citation Award from former Gov. Martin O'Malley. She was the 2022 UMB Founders Week Public Servant of the Year, recognized as a 2015 UMB Champion of Excellence, won the 2014 Dr. Martin Luther King Jr. Outstanding Faculty Diversity Award, and was one of three faculty speakers at UMB's inaugural faculty Convocation in 2022.
"There is no question that the landscape of health care and nursing is changing rapidly and that the issues of today are complex and difficult. But the School of Nursing is well prepared to address new challenges given our tradition of innovation in research and scholarship, education, practice, and policy, as well as our commitment to authentic collaboration," she said. "As I dedicate the next phase of my 35-year nursing career to serving as dean, I am inspired and excited by the opportunity to work with our diverse and amazing students; our staff and faculty; our alumni and supporters; our University colleagues; and our many clinical, community, and academic partners. The opportunities for us to contribute to making a true difference in individual lives and in our communities are all around us, and I look forward to all that we will accomplish together."
Ogbolu succeeds Jane M. Kirschling, PhD, RN, FAAN, the inaugural Bill and Joanne Conway Dean, who announced last October her decision to retire at the end of the 2022 - 23 academic year. She will officially begin her position in this new role on July 17.
About the University of Maryland School of Nursing
The University of Maryland School of Nursing, founded in 1889, is one of the oldest and largest nursing schools in the nation and is ranked among the top nursing schools nationwide. Enrolling nearly 2,100 students in its baccalaureate, master's, and doctoral programs, the School develops leaders who shape the profession of nursing and impact the health care environment.
In the 2024 edition of U.S. News & World Report's "America's Best Graduate Schools," UMSON was ranked in the top 10 across the board for public schools of nursing out of 648 accredited nursing schools surveyed. Both its Master of Science in Nursing program and its Doctor of Nursing Practice (DNP) program are tied at No. 7 among public schools of nursing. Four specialties were ranked No. 1 and two others ranked in the top five among public schools of nursing. The School's Bachelor of Science in Nursing (BSN) program is ranked third among all public nursing schools nationally in the 2022 - 23 edition of U.S. News & World Report's "Best Colleges."
UMSON was the first nursing school in the nation and is the only one in Maryland with an Institute for Educators, which focuses on preparing future nurse educators throughout the state while offering ongoing education and professional development for UMSON's own faculty and other educators. It has long offered a graduate Teaching in Nursing and the Health Professions Certificate, which prepares nurses for educator roles, ensuring they have the knowledge and skills to work effectively in academic and practice settings, whether in person or online. The School has a long history of early adoption of important advances in nursing education, including establishing the first nursing informatics master's and PhD programs in the world and the first online RN-to-BSN, Community/Public Health master's specialty, and civilian Doctor DNP Nurse Anesthesia specialty in the state.
UMSON proudly embraces its anti-oppression statement In UniSON: Together We Commit, Together We Act, which affirms the School's commitment to creating an environment where all are welcomed and supported to be successful. For the fifth consecutive year, UMSON was recognized with a Health Professions Higher Education Excellence in Diversity Award from INSIGHT Into Diversity magazine in 2022. UMSON is passionate about its longstanding commitment to diversity, equity, and inclusion.
To watch Ogbolu speak about her work, visit: