News Archive, 1999 - 2020
University of Maryland (UM) School of Nursing Collaborating with Other UM Schools to Protect Health Care Workers in Haiti
August 6, 2014
MPower Research and Innovation Seed Grant will fund research project.
Baltimore, Md. – The University of Maryland School of Nursing (UMSON), in collaboration with the University of Maryland, College Park; the University of Maryland School of Medicine Institute of Human Virology; and the Pan American Health Organization/World Health Organization, is pleased to announce that it has received a grant to research strategies for improving and supporting occupational health practices in Haiti to protect workers from blood borne pathogens (BBP). UMSON has received funding for the Blood Borne Pathogen Assessment Survey Among Health Care Workers in Haiti project from the University of Maryland MPower Research and Innovation Seed Grant.‌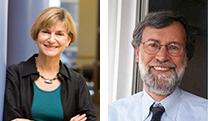 Jane Lipscomb, PhD, RN, FAAN, professor, UMSON, and Robert H. Feldman, PhD, FAAHB, professor, University of Maryland School of Public Health, will serve as the principal investigators. BBPs are infectious microorganisms present in blood that can cause disease in humans. Workers exposed to BBPs are at risk for serious or life-threatening illnesses. The research project aims to examine methods to protect the health care workforce by reducing the risk of the transmission of BBPs, such as Hepatitis B/C and Human Immunodeficiency Virus (HIV) among workers employed at Haitian hospitals. In Haiti, the HIV and Hepatitis B/C prevalence is estimated between two and four percent. Through the study, the research team will develop recommendations to raise awareness of this issue and identify unsafe practices. Researchers will identify culturally relevant control strategies in preventing the transmission of BBPs and assess current prevention practices.
"This work is important for the School of Nursing, as it builds upon knowledge developed during previous research conducted in Maryland and extends its reach to address the health and safety of health care workers in Haitian hospitals. Our work will also provide the opportunity for future collaborations around workforce protection between UMSON and its Haitian colleagues," Lipscomb said. "The recent epidemic of Ebola infections among health care workers demonstrates the need for further global research into protecting health care workers from exposure to a range of workplace hazards, including infectious diseases."
The University of Maryland: MPowering the State fosters a working relationship between the University of Maryland, Baltimore and University of Maryland, College Park campuses that demonstrate teamwork and collaboration. This joint effort is expected to have a great impact on the state, its economy, the job market and the next generation of innovators. Seed grant funding can be used to develop new tools such as technologies that improve health care.
"We are pleased to be part of MPower, which is designed to promote innovation and impact through collaboration, and to have this opportunity to work with our colleagues at the University of Maryland, College Park on this important research effort in Haiti," said UMSON Dean Jane M. Kirschling, PhD, RN, FAAN.
# # #
The University of Maryland School of Nursing, founded in 1889, is one of the oldest and largest nursing schools, and is ranked eleventh nationally. Enrolling 1,700 students in its baccalaureate, master's, and doctoral programs, the School develops leaders who shape the profession of nursing and impact the health care environment.