Position: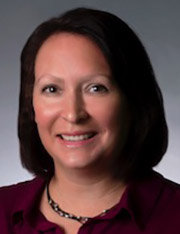 Assistant Professor, Department of Family and Community Health
Place of work:
University of Maryland School of Nursing
Can you describe how you apply community/public health nursing in your work?
Constantly, on a daily basis. In my teaching, I work with undergraduate nursing students that so far have been focused on caring for and treating individuals. My goal is to get them to look up and out, to focus instead on populations, to think about prevention along with treatment, to consider factors that they might not immediately associate with health, like housing and education. In my practice, one example is working with the Fetal Infant Mortality Review Board. We examine and discuss individual cases of fetal or infant death, but look at the surrounding circumstances through a systems lens. Where were the missed opportunities for connecting pregnant women with needed services? What additional data would have been helpful? How could various organizations have worked together better to prevent the outcome?
How did UMSON's Community/Public Health master's specialty prepare you for your current position?
[This program] gave me the tools needed — knowledge (that came from coursework), skills (from clinical experiences), a network of people (from faculty, classmates, community contacts) — but most importantly, the passion that is needed to tackle the big problems that affect populations in Baltimore, day after day. I try to instill just a little bit of that passion into the undergraduates so that they will approach their practice with a community/public health perspective, or perhaps even choose to work as a CPH nurse.