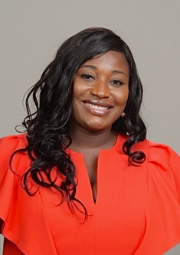 Position:
Founder and Executive Director
Place of work:
Food and Care For All Inc.
Can you describe how you apply community/public health nursing in your work?
I oversee a nonprofit organization that caters to the needs of underserved communities. In this role, I am privileged to work with a diverse team to conduct needs assessments on focused communities, advocate for equitable policies, mobilize community partnerships, and build capacity for staff through training.
Other responsibilities included in my role are planning, implementing, and evaluating various programs targeted at improving clients' overall health and wellness while recruiting volunteers and seeking grant opportunities to promote the program's sustainability. I also mentor nursing students and assist them with integrating public health theory into their assigned practice settings.
How did UMSON's Community/Public Health master's specialty prepare you for your current position?
The robust coursework in the CPH master's program, practicum experiences, and mentorship from faculty and preceptors prepared me for public health leadership opportunities to address the social determinants of health that promote food security, health equity, and socioeconomic empowerment for vulnerable populations. Furthermore, the skills and knowledge gained in the program have helped me tackle complex issues in my role as senior services program consultant at the Anne Arundel County Department of Health, overseeing the Nurse Monitoring Program. I work closely with the nurse monitors to ensure that participants receive quality care from assigned personal assistance service agencies.