Haiti: Institutional Strengthening Through Advanced Nursing Training (2010-2014)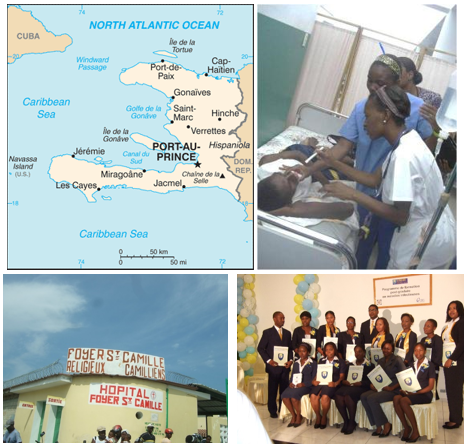 Highlights
The impoverished country of Haiti has some of the worst health indicators in the world — and a severe shortage of health care providers. The School of Nursing worked to improve life for Haitian citizens, such as these irrepressible young girls, through a new postgraduate certificate program in infectious diseases that's aimed at teaching experienced nurses in Haiti the best practices and most current knowledge related to HIV, tuberculosis, malaria, and other diseases.
Read more in A Small World After All (p. 18), an article about this partnership from Nursing magazine.
Background
Known as the Institutional Strengthening Project - Haiti, the CDC-funded program aimed to elevate effectiveness and competence in Haitian healthcare focusing on the leading causes of mortality. The dire need for services resulting from the January 12, 2010, earthquake catalyzed a collaborative project to develop advanced training curriculum for Haiti's principal nursing school to prepare and respond to future disasters and epidemics. Given the burden of HIV and infectious diseases on population health and many challenges encountered in the Haitian health care system, a training network consisting of UMSON, the Institute of Human Virology at the UMB School of Medicine, the University of Notre Dame d'Haiti (UNDH) nursing and medical schools, Catholic Relief Services (CRS), and four Haitian hospital partners (Foyer St. Camille, St. Bonifant, Sacre Coeur-Milot, and St. Damien) was formed. Together, we were charged to provide post-graduate training to physicians and nurses and offer laboratory and other infrastructure support to the network of hospitals.
Very few options exist for advanced nurse training in Haiti. The Infectious Disease Specialty Certificate was the first post-baccalaureate certificate program for nurses recognized by the Haitian Ministry of Health and housed in a renowned health sciences educational institution, UNDH. The primary goal of the ID Certificate Training was to teach registered nurses additional skills for the diagnosis and treatment of HIV and other infectious diseases, including tuberculosis and Malaria, and tp enhance overall levels of nursing practice. An initial Train-the-Trainers cohort of six nurse faculty instructors completed training in Maryland and Haiti in 2011. The certificate program enrolled a total 70 nurses to serve as nurse educators and advanced practice nurses.
Collaborative Outcomes
Infectious Disease Nurse Specialist in Haiti. Development and Implementation of curriculum and training modules for an Infectious Disease Nursing Certification as part of CDC-funded collaborative project with Catholic Relief Services and the University of Notre Dame d'Haiti School of Nursing, Port au Prince, Haiti in collaboration with the Institute of Human Virology at UMSOM. Moen, PI, Barrows, Co-Investigator (2010–2014).
UNDH School of Nursing was strengthened by the addition of six nursing faculty that were trained as educators and able to deliver educational materials beyond ID training.
With each cohort, the pass-rate, scores, and pre-post test results improved.
Nurses graduated from the cohorts were satisfied with the training and reported gaining a strong knowledge base in nursing care on HIV and IDs, learning new skills such as physical examination, writing detailed documentation, and feeling comfortable advocating for their patients to physicians. They also understand better what the doctors do, ask questions regarding the treatment plan, and better manage their patients
An additional component of the certification was added which included a Refill Clinic training component – a task shifting approach where nurses are trained to intermittently manage stable patients (according to specified criteria) who are only in clinic for prescription refills.
Hospital directors noticed that nurses who graduated from the ID Certificate Program have a strong background in patient care/management for those with HIV, and have an increased consciousness and greater ethic to their work and are able to provide a higher level of patient care.
Additional Research
Preventing Needlestick Injury in Healthcare workers in Haiti. MPower Research and Innovation Seed Grant between SON and UMCP SPH. Lipscomb PI; Barrows, Co-Investigator. Building on relationships with international partners that allowed for continued research collaborations between University of Maryland and Haiti partners, a translational research project was implemented to protect the healthcare workforce by reducing the risk of blood borne pathogen (BBP) transmission among healthcare workers employed in Haitian hospitals (2014-2016).
HP-00053333: Evaluation of post-graduate curriculum and training modules for an Infectious Disease Nursing Certification as part of CDC-funded collaborative project with Catholic Relief Services and the University of Notre Dame d'Haiti School of Nursing, Port au Prince, Haiti (2012).