Rwanda: Expanding Nursing Education Nationally (2012-2017)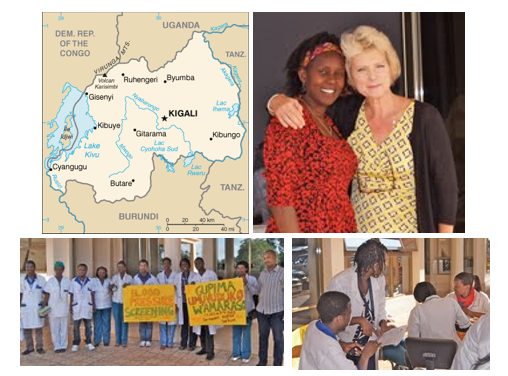 Highlights
Read the blog maintained by UMSON faculty members who worked in Rwanda.
The program was successful in building the next generation of nurse leaders as both faculty and clinical educators and leaders. These nurses will continue to lead and improve the quality of care in Rwanda beyond the program. The Rwandan nurses led the U.S. faculty nurses to adapt and develop materials that would function in the real practice setting and be sustainable.
Throughout the 5-year period, the infrastructure of the nursing education system greatly advanced with the addition of material resources for simulation education, textbooks, computers, and web access for improved online education and library development.
Multiple co-authored publications (e.g., training manuals, book chapters, journal articles, and abstracts) with Rwandan colleagues and UMSON faculty mentors. One example: Publications by HRH/UMB Faculty and Rwandan Colleagues published in Rwanda Journal of Medicine and Health Sciences: Series F Vol. 2 No. 2, 2015. http://www.ajol.info/index.php/rj/issue/view/13034
Background
August 2012 marked the start of the Human Resources for Health (HRH) Program, launched by the Rwandan Ministry of Health and the Clinton Health Access Initiative in collaboration with 23 U.S. medical, nursing, dentistry, and health management institutions, including the University of Maryland School of Nursing. The initiative aimed to build a sustainable, high-quality health workforce capable of providing the citizens of Rwanda with world-class healthcare (Minster of Health Rwanda, 2012). Funded by the Centers for Disease Control and Prevention and the Global Fund via the Rwandan Ministry of Health, UMSON was a subcontractor with the role to build the capacity of nurses in Rwanda through faculty development to improve the quality and delivery of patient care.
The HRH program came into existence in response to the 1994 genocide, which left the country in dire need of health system restructuring and strengthening. The Rwandan government and Ministry of Health faces several challenges and obstacles in providing health care to the population including lack of an educated workforce, a shortage of skilled health personnel and equipment, and inadequate management of facilities. The HRH program served to address these challenges through pairing Rwandan faculty, clinicians, and students with U.S. faculty in order to provide mentorship and increase knowledge and skill base in specific health fields.
HRH promotes the "twinning model" to enhance the effective transfer of knowledge and skills between U.S. faculty and Rwandan faculty who will then continue to educate future nursing professionals (Ndenga et al., 2016). Each UMSON faculty in Rwanda was matched with a twin nurse educator, resulting in at least 27 Rwandan nurse clinicians and/or nurse faculty mentees.
Collaborative Outcomes
A total of 27 UMSON faculty clinical instructors were deployed to Rwanda from 2012-2017 on a 1-year contractual basis. A majority of these faculty members extended their employment and served for more than one year; therefore during UMSON's 5-year participation 36 U.S. Institution (USI) Nursing Faculty Positions were filled, serving as clinical educators in critical care, neonatal intensive care, mental health, medical surgical training, and increased evidence-based practices at numerous clinical sites. High-level faculty were deployed, leading the development of simulation centers at University of Rwanda School of Nursing and launching online teaching and simulation education programs for the Masters in Nursing program at the University of Rwanda.
Developed clinical, teaching, and research skills of current and future nursing and midwifery faculty
Improved quality of nursing and midwifery education at clinical sites
Developed capacity of the Nursing and Midwifery Council to license and register nurses and midwives, develop professional standards, accredit educational programs, provide for continuing education, and all other functions necessary to maintain a professional nursing and midwifery workforce
Created clear pathways for nursing and midwifery students to advance from diploma to Bachelor's degree to Master's Degree through curriculum development, development of distance learning technology and content, and development of national policy to support advancement efforts
Additional Research
Hepatitis C treatment outcomes using Interferon- and Ribavirin-based therapy in Kigali, Rwanda. Partial funding provided by UMSON Office of Global Health and Carolyn F. Waltz Endowment fund to support Global Health Certificate student travel and ongoing collaborative research led by David Riedel and Emmanuel Musabeyezu (2015).
Interprofessional student needs survey development in Rwanda. Grant funded by UMB Center for Global Education Initiatives for interprofessional student team to assist administrators at the University of Rwanda College of Medicine and Health Sciences (URCMHS) in assessing the needs of their students and how to target their fundraising efforts to address cost of and financing their education, housing, academics, and technology (2014).
HP00049812: Rwanda Human Resources for Health Program: UMB Nursing Mentor Evaluation(2013).