Rwanda Blog
On Making Progress
Posted by Kimberly Pierre - January 2017

Hello, my name is Kimberly and I have just started my second Human Resources for Health (HRH) year, but it is year five of the program.

Let's start with the setting. I live in Kigali, Rwanda. One of the things I like most about this city is the size. It is easy to get acclimatized to the environment, as the city is not very large or difficult to traverse. It is also full of the many things you might fear that you are missing at home such as diverse cuisine, roof top bars, spas, and nearby relaxing weekend getaways.

The security of Kigali is one of the capital reasons it is on the forefront of so much development and growth. The city is very secure even when traveling alone at night. The necessary precautions of any city are needed, yet the security does not limit or distract you from the your day to day activities. The city is growing, and you will feel it when you are here. New buildings, new companies, and new restaurants are always changing the inner city landscape just enough to make your head turn.

Language is something that you come to focus on quickly in Rwanda. Formerly a Francophone country, but more currently Anglophone; you can see the divide between the youth growing in the English system and their parents who are primarily French speakers. Ultimately Kinyarwanda, the local language, unites everyone. I would argue it's the more difficult of the three, however, the most useful in Rwanda.

The people of Rwanda are extremely kind and caring. Yet, they also can come off as a bit timid and quiet, especially in the face of someone they view as their "senior". Age and gender definitely play a big role when it comes to how respect is dolled out, and it's a familiar undertone in much of Africa.

The way I think of Rwanda and the health system here is that yes, things are good, however there is still so much further to go. For example, yes we have nice roads, but of course there are many places where roads still need to be built. Of course we have internet, but the reliability can be improved. Of course we have skilled health care providers, but of course we can always grow in our knowledge and develop and strengthen more health care providers. The idea of needing more is necessary; complacency at any level can only limit progress and advancement.
I can say that many times in meetings or discussions with the staff, we can rest on complacent statements like "look how far we have come." I agree, the progress here is amazing. However, "look how far we still have to go."

I spend my time in the ICU at the Central University Hospital of Kigali (CHUK), it is the largest teaching hospital in Rwanda. We have a seven bed ICU and five bed HDU staffed by about 30 nurses who I am working with. In addition, I am working to develop the bachelor's and master's nursing students as they rotate through, and more often than not, medical students will ask me to help them in a particular topic or area. We do in class group teachings, as well as bedside teachings, simulation labs with the students, and didactic questioning to force critical thinking.

I was first introduced to the idea of "servant leadership" in 2014 while preparing for three-month fellowship in Africa. I've tried my best to take this with me in every work place at home and abroad. The goal is to serve first, place the priorities of the people here above my own. Help the community to grow and develop in the areas they most want to develop. When we focus on the growth of others, we our selves grow. We also model how a servant can lead, which can promote servant leadership in others.
I'm not trying to be too philosophical, however, I have found the best way to make small changes here is to be a servant. Teach what they want to learn, never turn down a request to learn even if it's not the ideal time, and find ways to connect with others.
This is certainly not easy, and I have not been able to develop positive relationships with everyone. However, I don't dread going to work. I do, however, get frustrated by the pace at which change happens. It takes a lot of patience to help, guide, and support while someone else sets the pace. It takes a lot to work with staff nurses who are tired, out of school for more than a decade, and stuck in their ways. Change is hard no matter what culture or location in the world.

To be honest, during my time here, both sides (me and the staff) have learned many things, we have perfected very few things, and we are open to more things than ever before; we understand each other better, yet we are always still working to understand each other even more. We are on the same team, but often not on the same time. Sometimes good class attendance and participation is a big win. Sometimes seeing the staff teach a topic to students that they could not have taught one year ago is a big win. Sometimes it feels like we are in retirement, and sometimes it feels like we are just starting boot camp training. However slow or fast the progress, things are always changing for the better.


‌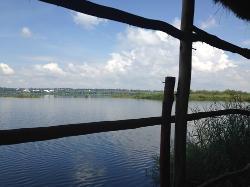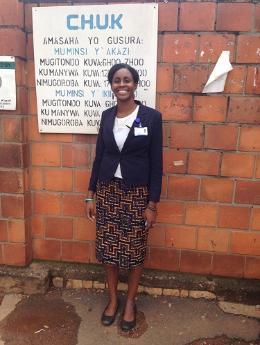 Above Left: Bugesera Region Above Right: entrance to CHUK

‌‌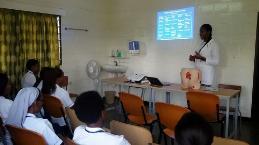 Above: simulation lab at CHUK with nursing students
A Year in Rwanda: Rewarding Work, Interesting Culture, and Great Travel Opportunities
Posted by Renee Pyburn - March 2015
This has been my first year in Rwanda with HRH but has been a very interesting and rewarding one. My position is at the University of Rwanda College of Medicine and Health Sciences as Partner to the Director of Simulation. Rwanda is one of the few countries worldwide that has a nation-wide simulation program and to my surprise, has more simulation equipment than some of the simulation centers I am familiar with in the U.S.! Shortly after I arrived, we got a donation of approximately $5 million of simulation equipment from HRH which was distributed to simulation centers throughout the country.
When I first began this job my "twin", Philomene, and I sat down and made a plan for what I should work on while I was here. During the first few months I was getting a bit discouraged as many of the plans we were working on just did not seem to materialize, but suddenly after I got back from Christmas our plans started to come to fruition! Here are some examples of our successes:
We received the $5 million of equipment that HRH donated and held a series of training sessions to train people in the various simulation centers across the country how to use it
My twin Philomene and I wanted to start up interprofessional education activities here at the University of Rwanda (UR) College of Medicine and Health Sciences (CMHS). We got the principal's permission to form an interprofessional work group with the Deans of the various schools, and had the first meeting of this group in Feb. and second meeting in March.
With one of my Rwandan colleagues I developed an Access database to track bookings and usage of our skills labs rooms as well as student track records, and now that system is being used 100% of the time at UR in Kigali and Nyamishaba.
Helen Ewing and I wanted to teach a "Writing for Publication" workshop for our Rwandan and U.S. colleagues. We were finally able to start this in Jan. and it will run through July. It has been well-attended and received-we have had about 30-40 attendees per class so far. Our goal is to get participants to submit a journal article for publication or a conference abstract.
One important thing in our plan was for me to assist Philomene in writing and submitting journal articles and conference abstracts. So far we have had 2 conference abstracts accepted and presented a poster at the International Nursing Conference here in Kigali, and the other one we have had accepted is for a podium presentation at the largest international nursing simulation conference (INACSL). I have also assisted some Rwandan colleagues in writing an article that is ready for submission to a journal. We also submitted second article and are beginning a third.
I am continuing the work that Gail (my predecessor) and a group began on developing a national Life Support Training program. HRH suggested that we begin with teaching Life Support at UR CMHS and the principal here suggested we start with the staff in the Dental Clinic as they are actually treating patients. In Jan. we held a BLS class for the dental staff and trained 27 people in an intensive 1 day workshop! We felt that it went well although we had a few who had to redo the written or skills test, but eventually we got everyone through. Our next plan is to train other faculty members and some of the senior students.
I've found my work here interesting and rewarding. There are challenges, of course, and cultural differences, but generally it's been a wonderful experience.
Apart from work, I have thoroughly enjoyed the experience of living in Rwanda. Although I worked abroad in the Middle East for many years, I have never worked in Africa, and have found living in Rwanda interesting and easy to adjust to. Compared to many other African countries Rwanda is safe, clean, and relatively free of corruption. I've found my Rwandan friends and colleagues to be very warm and friendly people. In addition, I have really enjoyed my friendships and social life with HRH colleagues. There are many opportunities for a rich and busy social life, and such an interesting group of HRHers who have lived and worked all over the world. There are also wonderful opportunities to visit the national parks and other wonderful tourist attractions that Rwanda has to offer such as Akagera National Park, Parc des Volcans, Nyungwe Forest, and Lake Kivu. My roommate Becky and I have joined a bird-watching group and have seen dozens of beautiful birds across the country. Many sights are close enough to make a weekend trip to, and with Rwanda being very centrally located in Africa there is also the opportunity to visit other African countries and allow me to pursue my passion for travel!
I was fortunate to find housing in what is known by HRHers as the "Barbie House", a beautiful mansion on a hill in Kiyovu. I have 3 to 5 roommates depending on who is coming and going at the time, but we enjoy each other's company and being pampered by our cook, guard, and maid.
Overall, living and working in Rwanda has been a very interesting and rewarding experience. I've thoroughly enjoyed my work here and loved the great social life and opportunity to travel. It's been great to get to know many Rwandans also, who are a very warm and friendly people with great senses of humor.
‌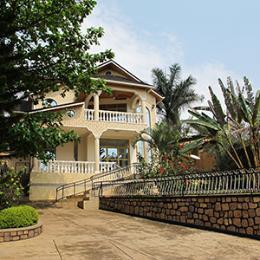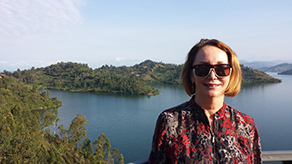 Above Left: The "Barbie House." Above Right: Renee at Lake Kivu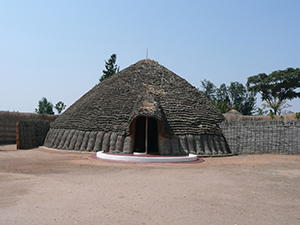 ‌
Above: Former Tutsi King's house
E-Learning in Rwanda
Posted by Helen Ewing, Distance and E-learning Programs Advisor - January 2015
Muraho (Hello),
I am the Distance and E-learning Programs Advisor. My job is to assist in building the health education infrastructure, faculty, and health workforce necessary to create a high quality, sustainable health care system in Rwanda. My primary role is to be a support and resource for all nursing and midwifery faculty and students throughout Rwanda. My role is diverse and challenging. My greatest pleasures are working with the nursing educators at the various nursing schools located throughout the country, and working on projects that are anticipated to improve the nursing profession.
A little about the nursing profession in Rwanda: As of 2011, there were 6970 nurses in Rwanda with 90% trained at insufficient levels. The Human Resources for Health Program has set the goal of increasing nurses educated at the Bachelor degree from 104 to 1011; nurses at the three year nursing diploma from 797 to 5095; and significantly reducing, through upgrading to a nursing diploma, most of the 6052 high school educated nurses by 2020. It is projected this program will increase the overall number of nurses and midwives in Rwanda from 6970 to 9462 by 2019.
Currently, most nursing care is provided by high school trained nurses (90%) which has been determined to be insufficient to meet population health needs. The nursing diploma is now the minimum accepted level of education for entry to practice for nurses. To assist in educating current nurses and advancing their education E-Learning (distance education) has been adopted as a model to support this education initiative.
The E-Learning Diploma Nursing program was initiated in 2012 to educate A2 nurses, those trained at a high school level, to an A1 nursing diploma level with the goal of developing a more skilled and educated nursing workforce. The Rwandan government has prioritized healthcare through the Vision 2020 Human Resources for Health Strategic Plan which has set the target of increasing the nursing workforce to 20 nurses per 10,000 population by 2020. The goal is to strengthen healthcare through providing skilled, appropriately trained health professionals to provide equitably distribution of healthcare services throughout the country.
Electronic learning (E-Learning) is a form of distance learning that uses the internet as a medium of interaction between learners and the teaching institution. The model used in Rwanda for the E-Learning Nursing Diploma program has 40% of the curriculum delivered in a face to face environment at the nursing schools located in rural settings, and 60% delivered through self-directed learning within the Moodle Learning Management System. This enables learners to continue their family and workplace obligations as their visits to educational sites will be limited. As much of the Rwandan population (80%) lives in rural areas, distance education can allow many nurses to obtain further education that was not available to them in the past. This increased education is critical to increase the competency levels of the nursing profession and consequently the quality of the healthcare delivered.
My position is in transition from the Ministry of Health to the University of Rwanda. The University of Rwanda has the challenging role of incorporating five previously independent nursing schools into one college. The goal of the University of Rwanda is to use the Transformative Education Model as the framework for uniting all public nursing education under one college, the College of Medicine and Health Sciences. The overarching mission of the College of Medicine and Health Sciences is to educate nurses and midwives to respond to the needs of students, communities, and Rwandan society through practicing at international standards. The vision for the nursing college is that it will be inspirational and innovative, with accountability. Therefore there are many moving parts as we help move the healthcare system forward.
As with most developing countries the challenges of limited financial, technical, and human resources remains persistent obstacles to accomplishing established objectives. Yet the Rwandan nurses are motivated, enthusiastic, and serious about increasing the quality of nursing and healthcare in the country amidst the many challenges. The government has established healthcare as a priority so everyone is working towards this goal.
I am challenged by living and working in another country and experience daily trials such as: language difficulties, cultural differences, bureaucracy, different work ethics, and a pay as you go or pre-purchase society. But I am enjoying the challenges of trying to get everything to work within the established environment and to achieve the goals I have set for myself and that are expected of me. Rwanda and its people have welcomed me and provided a wonderful home for the next year or so.
African Proverbs
A single stick may smoke, but it will not burn.
To run is not necessarily to arrive.
Photos of Akagera Park

‌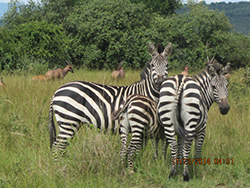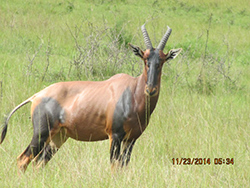 Murakoze cyane (Thank you very much), Helen
Quotes, Proverbs and Phrases from Nyagatare, Rwanda
Posted by Kelly Burke, HRH Clinical Mentor for Year 2 and Year 3 - November 2014
I have returned to the small town of Nyagatare, Rwanda for Year 3 of the HRH Program, where I am serving as Clinical Educator in the District Hospital. The work remains challenging daily, but rewarding as well. In Year 3 I continue to be committed to quality improvement; whether it involves training nurses for better nursing care, or improving patient flow, or developing tools to improve the management of wards.
Quality is not an act, but a habit - Aristotle
I attribute my success to this- I never gave or took any excuse – Florence Nightingale
These two quotes are at the center of my work for Year 3 in Nyagatare. Surely it's true we have many patients, few nurses and doctors, lack of specialty care and few resources in terms of medications and diagnostics. But the key is to strive to do well what we can within the confines of a district hospital; with no excuses, and making quality care a habit.
Nyagatare District Hospital is situated directly across the dirt road from Nyagatare School of Nursing and Midwifery, which trains nurses at the A1 diploma level. Therefore, the majority of the nurses in Nyagatare Hospital are A1 or even A2 (having received training years ago in secondary school) nurses. Nurses in Rwanda at the A1 Level are trained generally. They can deliver a baby from an uncomplicated pregnancy, they can suture wounds, or they can be a theater nurse. It's really amazing. But overall, patient assessment and monitoring needs strengthening. Additionally, documentation is not a part of the Rwandan culture, or a part of nursing culture in Nyagatare. The following saying which you can hear from Rwandans, who are good at joking, is a reflection of a culture strong in oral communication, but weak in written communication or reading.
Ushaka guhisha Umunyarwanda, umunyafurika arandika' -Rwandan Proverb
(If you want to hide something from a Rwandan, write it)
‌However, last June, myself and a self-selected team of Rwandan nurses (the Quality Improvement Team) embarked on the project of trying to improve documentation. We have made documentation of nursing actions, along with training of the actions which should be taken, a focus. ‌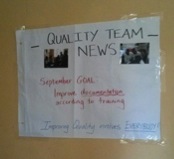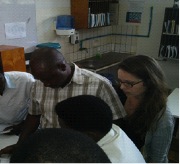 In healthcare, it is known that writing things down is a necessity. Patient care is continuous, but staffing is not. Therefore, in order to understand what has happened, what is happening and plan for the care and outcome of the patient, there must be documentation. And the documentation is a reflection of the nursing care given. The Quality Team continues to educate, update and follow up with improved documentation and nursing care daily. It is not a change that occurs overnight.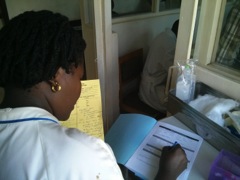 After one year in Nyagatare, I have become a part of the community. In fact, when somebody doesn't see me for a few days, I'm told 'You are missing', a common phrase in East Africa. Those comments keep me motivated to work hard, day after day, to see change, however slow it may be, together with my Rwandan colleagues.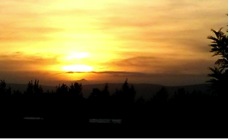 If you want to go fast, go alone. If you want to go far, go together. -African proverb
Reflecting on 2014
Posted by Melody Brooks - October 2014
In 2014, the people of Rwanda honored the lives of the almost 1 million people who were killed in the 1994 Genocide with the word KWIBUKA, which in Kinyarwandan means REMEMBER. Banners displaying KWIBUKA with the phrase "Remember, Unite, Renew" were seen across the country.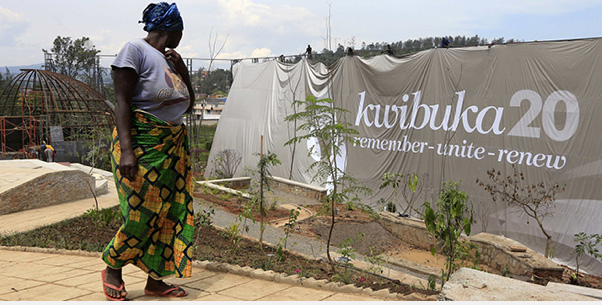 2014 is also the third year of the Human Resources for Healthcare in Rwanda. My husband, an orthopaedic surgeon, and I have had the honor of being part of the HRH US Faculty in Rwanda from the beginning of the program. The mission of HRH to help "build the healthcare education infrastructure and workforce necessary to create a high quality, sustainable healthcare system in Rwanda" (from the Rwandan Ministry of Health HRH website) is a perfect example of Rwanda's determination to "Remember, Unite, Renew" it's people for a brighter, more hopeful future.
Our work at the University Teaching Hospital in Butare (CHUB) has been one of the most professionally rewarding of our careers. This is despite, or perhaps because of, being such a very different setting from the Level I Teaching Hospitals and Trauma Centers that made up the majority of my experience in nursing for the first 30 years of my practice.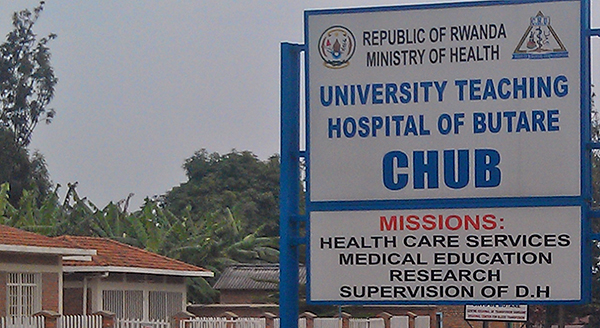 ‌My primary focus at CHUB is with nurses in the department of Surgery (Operating Room, Post-Anesthesia Care Unit, Central Sterile Processing, Surgery Wards). However, I have the privilege of working closely with my Rwandan colleagues in capacity building at all levels in our hospital.
Me teaching infant CPR
One day, along with my HRH colleagues and Rwandan counterparts, I teach CPR class to nursing students, another day I lead the First Year Medical Students in their orientation to the OR, and another I help with staff education on identifying and reporting surgical site infections.
‌
I have learned so very much from my Rwandan friends and colleagues in these last 2 years that it would take an entire blog on that topic alone to begin to explain. However, I can say that their patience and resourcefulness continue to amaze me. Just like anywhere else on earth, it is a joy to see the faces of the students when they understand a topic or the nurses when they know they are doing their best to care for their patients.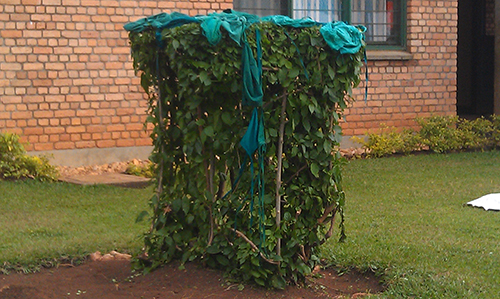 S‌urgical masks and hats drying in the sun
One of my goals for Year 3 in the HRH Program is to help develop a specialty certification class for Operating Room Nurses through the University of Rwanda. While human nature everywhere can be reluctant to change, I have found Rwandan nurses are eager to learn and adopt best practices that are appropriate for their care setting. I am so honored to be some small part of the effort of this country and these nurses at CHUB to remember, unite, and renew through education and skills transfer. I thought a recent article from The New Times newspaper expressed the overall attitude of this country very nicely: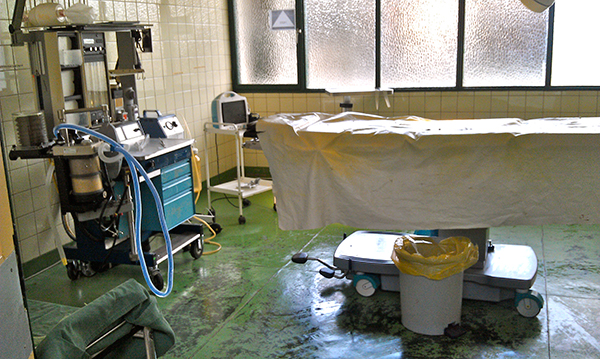 C‌HUB operating room
On September 10, 2014 Rwanda's The New Times newspaper featured an article about a recent visit by President Paul Kagame entitled We Can Develop Faster:
"President Paul Kagame yesterday applauded residents of Gikomero for the hard work that has led to the socio-economic transformation of the area.
President Kagame reminded Gikomero residents that today's development must benefit both this generation and the next.
"We know our past and today we look forward towards a prosperous future for this generation and the next. There is no reason why future generations should have to experience the hardships our generations or previous ones lived through," Kagame said.
He challenged the residents to move away from the mindset of aid recipients and work towards self-reliance.
"Ask yourself, those who give us aid, where do they get the means? Aren't they human like you and I? If you perceive yourself as poor, you will remain poor. If you believe you are worth more, you will achieve more. Dignity is about saying no to always being the recipient of help. It is about being determined to achieve self reliance," Kagame said.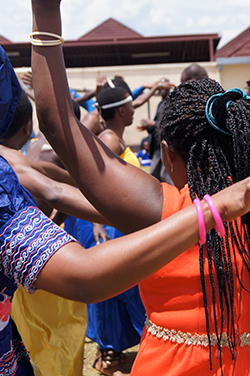 T‌raditional Rwandan dancers at Patient Appreciation Day
From Seattle to Kigali, a Nurse's Journey
Posted by Barbara Rukundo - April 2014
Wow! It's very hard to believe that it's already been 9 months….Oh how time goes by so fast! My experiences have been amazing sometimes the road seems windy, but I take one day at time.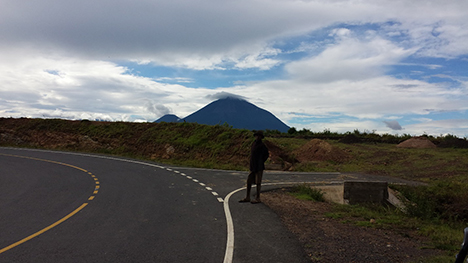 I was born in Uganda and moved to the US as a teenager. I am Rwandese by origin. Although blessed with this background, I had never been to Rwanda before so like many of us I experienced the same cultural shock in a way. Every once in a while, something catches me off guard but the Rwandese in me figures it out because I was raised to be Rwandese, to speak and understand Kinyarwanda.
I was blessed to go to school, to live and to work in the United States. I consider myself a citizen of the world. I have always known that in one way or another I have to give back to the society that gave me life. My coming to Rwanda was a means to start that journey of giving back and to share the knowledge and expertise I have acquired over the years. When this opportunity presented itself, I was excited and couldn't believe that it was happening. Flying over Kigali was so Serene, I could hardly believe my eyes.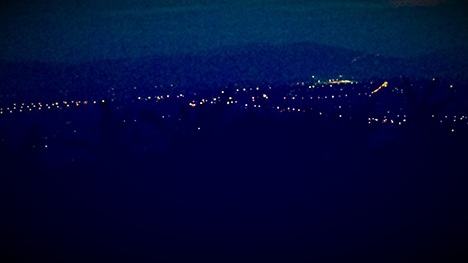 Now that I am here, the work is challenging in different ways than it would be in the US but I have learned to take pride in the small changes made and the rewards of the work itself. Being Rwandese puts me at an advantage but I must say but I also face a challenge of communication due to the language barrier and since Rwanda was a French speaking country until recently. I remember my fantastic twin saying "Oh good, you will teach me English and I will also teach you how to speak Kinyarwanda" I was as excited as he was because my goal is to be able to speak "polished" Kinyarwanda.
One might wonder how it was coming to Rwanda as a Rwandese and as an expatriate. I tell you what it has not been easy at times. Of course at first they didn't take me as an expatriate, I was one of them and therefore no different from them. I graciously embraced this challenge, I had been somewhat prepared for this. I was not a "Muzungu" therefore not an expatriate. I knew that I would have to forge relationships, validate my presence and prove that I was worth their time. I remember overhearing someone saying "who is she and what is she doing here? Are you sure she's not spying on us?" As we all know trust takes time. There have been several occasions where people don't know what category to place me in which is understandable. I am Rwandese, a lot about me is Rwandese. Sometimes when people speak to me in Kinyarwanda and I don't know how to reply, they get puzzled but I remind them that I understand all they are saying and that my mission is to be better at speaking. Today I can safely say that I am part of my nursing team and it's a good feeling.
Being part of this family has helped progress successful with my work. In conjunction with my twin, I have been able to accomplish so much. We first worked on a shift hand off report that the nurses use on a daily basis and as a means to organize themselves. From the shift hand off, we went on to patient to nurse assignments, at first they thought it would stop them from working as a team but as time went on, they loved it, now days they tell me this was a good idea and how they are able to give focused care. We went on to doing continuing professional development (CPD) on Thursdays that involves nurses and students. The nurses are always looking forward to this time as they are eager to learn new topics. These are just a few of the examples of the goals we have achieved so far.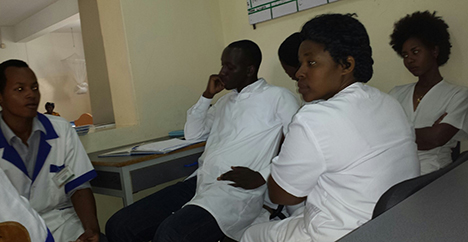 I absolutely love working with my team, the different experiences and skills we all poses enable us to learn from each other. I remember my first time on the ward, I looked around and wondered how challenging this experience would be. I was quickly reminded of how privileged and lucky I was to work in the US. I immediately realized that improvising would be the mode of survival. It is amazing as to how many things gloves can be used for from being a tourniquet to being a heel protector.
Teaching nursing students has been one of best experiences. They are very eager to learn and have a lot of theory. The goal is to put this theory into practice, to teach them how to apply it using critical thinking and to provide safe patient care based on evidence based practice. To develop their critical thinking skills, I have been holding post conferences where students come and share their real life experiences with patient care. Care plans are "big" here, so I make sure the students do a care plan each day that we all discuss as a group at the end of the day.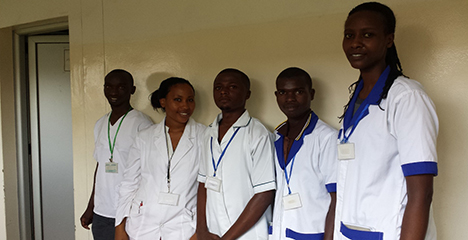 Patience is a virtue here. There are many things to fix, it is important to remember that not everything can be done at once, take time to regroup and prioritize. Otherwise, everything seems very important. One big lesson I have learned is that we are all nurses from different walks of life with the overall goal of providing the best care we can in the best way we know how. It is important to invest in learning the culture. If you don't understand the culture, you get absorbed into focusing on the wrong things to fix the problem at hand. Take time to find out why things are the way they are. If you come and impose your beliefs, you will end up disappointed if people don't follow as you wish.
Getting involved in Umuganda is one of the ways to learn about the culture, get to know your neighbors and who the village "Umudugudu" leaders are. Umuganda takes place on the last Saturday of the month as the national day of community service. From such activity, you also get to know a lot about what is going on in your neighborhood.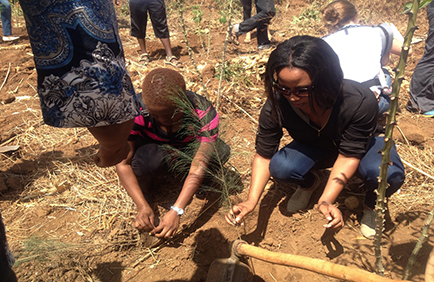 I have learned a lot so far. I can safely say that my improvisioin skills have improved a lot. Each day presents opportunities to learn and grow. I have learned how to function in a limited resource setting. Improvisng has become my daily norm. I look forward to the next phase of the program and working as a team with the USI faculty and my Rwandese counterparts.
A Day in the Life of a Clinical Nurse Mentor…
Posted by Susan Bosworth - March 2014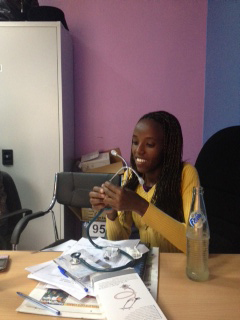 People often ask "what is it that you do exactly?" and it's sometimes difficult to come up with a short answer. In my experience working in global healthcare education I have found that our job is multifaceted and complex. We have an opportunity here in Rwanda to affect nursing education in many ways. In everything from direct student contact in both clinical and classroom to project management and systems changes within the hospital we are privileged to work with Rwandese counterparts and learn together. The below schedule may differ from facility to facility and from day to day… none of us do exactly the same thing, but this might give you a gist of an idea :)
5AM: Roll out of bed and stumble into the kitchen to make coffee to wake up…
6:15AM: walk up hill to the Payage bus stop and wait for an unfilled bus to come and pick us up…
7AM: arrive at work for report in A/E (Accident/Emergency)
7:30AM: Meet with twin and discuss ongoing projects, plans for the day, frequent interruptions by people using the copy machine, needing information on emergencies, reports being brought to office
9AM: check on students in A/E and Pediatrics, see if they have questions, discuss allocation for care, check with the nurses to see if there are any issues, and touch base with clinical instructor for the students if they are around for the day
10:30PM: chat with the nurses in the ward- get updates on families, babies, life events, etc
11AM: Work on procedures and assessments with students and nurses including starting IVs, giving meds, triaging emergency patients, documenting work, calling lab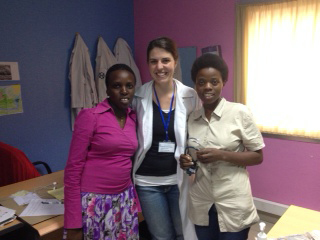 12:30PM: head back to the office to catch up on emails and grab some quick lunch with my coworkers
13:30PM: sit with twin, have tea, pull out laptops and work on projects and reports and student assignments
1500PM: head back over to the wards, do some more procedures with students, discuss assignments and care plans and do some physical assessment and patient teaching
1600PM: get critical patient, review care, discuss ECG with doctors and nurses, review with student what was seen and debrief
1700PM: get back to the office and finalize some things for a presentation at Byumba nursing school. Write a powerpoint, respond to emails
1730PM: catch the bus home (or a lift with a friend if we are lucky)…
Start all over again the next day…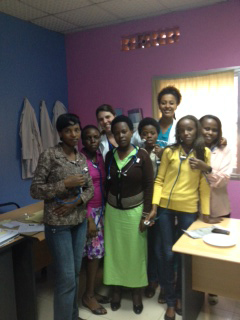 Key themes:
Relationships
Time
Flexibility
Working here is a unique opportunity to learn how to teach and to become a learner all at the same time. Daily I find myself challenged personally and professionally in how to resolve situations, manage time, work with individuals and groups, communicate well, be flexible when necessary and to become interdependent on one another. While at times the relationship building, project management and teaching investment can be exhausting and frustrating the exhilaration that comes with seeing the changes in both the system and in myself make it worthwhile. With these things in mind the answer to "what is it that you do exactly?" becomes much easier. We are here to build relationships, learn and teach one another and buhoro buhoro (slowly by slowly) to see Rwanda take the lead in nursing education and practice.
A Blog Post from Nyagatare, Rwanda
Posted by Kelly Burke - February 2014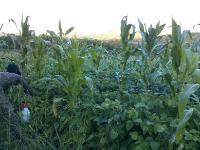 It's now been approximately six months since Year 2 Human Resources for Health faculty from University of Maryland School of Nursing and other universities have arrived in Rwanda. I have been based in Nyagatare, in the far northeast of Rwanda, at the District Hospital and the Nyagatare School of Nursing and Midwifery. As I look back at the past six months I immediately draw an analogy to my foray into 'farming' of soybeans and maize (corn) as an out of work hobby. I planted in September as the rains came, along with much Rwandan assistance. It wasn't easy. I had to take time to learn, there were misunderstandings and language barriers, but with dedication from both me and Rwandan counterparts, progress was made. The planting and growing of the soybeans and maize has mirrored my work as an Adult Clinical Mentor in Nyagatare. As the soybeans and maize grew, so did my role as a Clinical Mentor. Relationships have been sewn, partnerships have been made and successes have been achieved. Working together both in the hospital with students and staff nurses, and in the School of Nursing with lecturers and Clinical Instructors has taken time, just as it has to grow crops.
Some activities I have been involved in are clinical teaching of students, education of nurses working in the District Hospital and incorporation of the developing Skills Lab into nursing courses, including making locally produced Nursing Procedures videos. Bimonthly Clinical Instructor meetings have been established to enhance clinical instruction of our students and outcome oriented evaluation tools have been created together with Rwandan colleagues. Assisting to promote the profession of nursing from a task oriented job to a profession characterized by critical thinking and a nursing process remains the focus. Culturally, when asked how a person is doing, 'Amakuru?', the person responds that he/she is fine,'Nimeza'. Teaching nurses and nursing students how to use the nursing process to assess, plan, implement and evaluate the care for a patient who almost undoubtedly answers that they are fine remains one of my major tasks.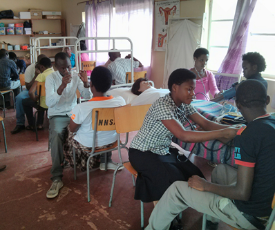 The soybeans and maize didn't grow perfectly. Soybean plants faced insects and the maize was eaten by cows. My work has also faced challenges, but overall, the process has been successful. I look forward to more 'growth' at work and on the farm.
About the Nyagatare School of Nursing and Midwifery:
Started in 2002
3 Year Program awarding an A1 Diploma started in 2007
Approximately 22 Rwandan staff, 2 Nigerian Volunteers and 2 HRH faculty
412 enrolled students
It's A New Year
Posted by Lidya Admassu Melesse, BSN, BS, RN - Jan 2014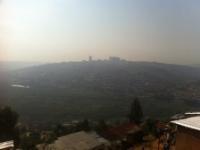 It's a new year with new ideas and perspectives. As I sat on top of Mount Kigali, I watched the sunrise and the rays shine through the morning clouds. I pondered on the last five months and all the work I thought I did as well as what impact I really made. Sitting on top of that mountain gave me a different viewpoint on the busy streets and buzzing town of Kigali… It was unusually serene and peaceful up here. As I look out in the distance at the city center, I can see the musical symphony of old mixed with new. Like much of Africa, Rwanda is old tradition and history trying to rearrange and rewrite its future, and I, in some strange way, am one of many contributing authors to this novel that is the new healthcare in Rwanda.
The rolling hills in the distance appear quiet and peaceful at first glance. Taking a closer look though, you realize just how busy people are… how focused. They are ready and eager to learn and this metropolitan sprouting up all over Kigali is evidence of the rest of the world acknowledging their attempts at self-improvement. I came to Rwanda in August 2013 and frankly, I was terrified. I wondered if I had what it took to engage the students here and make them as passionate about nursing as I am. I kept questioning if the nurses in the hospital would accept me into their culture. I was the new kid on the block… or in this case… in the continent.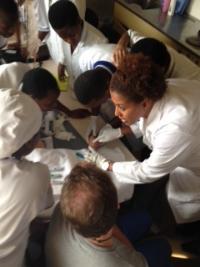 My fears were melted away by the warm smiles of my twins on the first day of work and over the first five months I quickly learned that us nurses, no matter where we are, all speak the same language. The King Faisal Hospital community embraced me and I quickly became one of family. During that time, my team worked along side many of our counterparts to conduct several BLS courses in the hospital where all incoming students have participated and received certificates of completion. We were encouraged by the openness of the staff to share their concerns and priorities. We worked to create a Nurse Leadership and Management Series, preceptor course, revamp nursing diagnoses sheets and create a standardized student orientation program for all incoming students. But at the end of 2013, I questioned if my work was effective.
It didn't matter what I created or what programs we developed as a team, it mattered that it was sustainable. An epiphany occurred when I was sitting in a coffee shop in Morrisville, NC. I watched a father desperately attempt to get his son to sit quietly by offering him a cookie. The man smiled at his son and proudly displayed a chocolate chip cookie and his son, still running away, looked back and said he wasn't interested. The father was confused, and I in the same manner was puzzled. How could this child not want a cookie? Glancing up once more, I see this boy run towards a magazine lying on another table, he climbed onto the chair and quickly became engrossed in the pictures as he flipped through the pages. Then is when I realized, it's not about me or my presumptions of what I think the nurses need in Rwanda. It's about my ability to apply the nursing process into my work and first assess my twin, hospital and population. I'm sure unconsciously I had done this somewhere along the road of presentations, policy developments and instruction but I still wondered if I made a difference. In this moment I realized the holiday away was not only rest, but also a mid-term exam if you will. How well did I really do? The only testament of success will be the sustainability of my projects.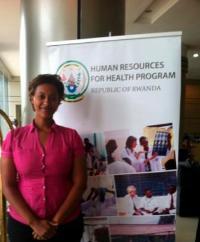 Back in January, I stepped back onto Kigali ground and was nervous. I was in suspense to know if my work survived without me. I questioned if it made enough sense to them that they continued to carry it on although I wasn't there. As I entered the reception area of the hospital, I was greeted with happy faces and conversations of how the new-year was passed. The excitement of students seeing me back was a wonderful feeling. I examined the unit, looking for evidence of failure and realized that the old Rwandese saying of "somehow, it will work" had true meaning. The policies were displayed and being used, the education sessions were in full swing and the nurses felt free to adjust projects to fit it into the context they deemed appropriate for them. I was pleasantly relieved and reenergized at the same time. Some things didn't work but many others did.
Working in Rwanda has proven that the only constant is change and we can make a difference if we approach this work with an open mind. Where resources are low, creativity must be high. It isn't easy thinking outside the box when it comes to teaching and caring for patients but this approach in many cases very necessary. Understanding the culture and appropriateness of teaching strategies has been my biggest lesson here. I've learned that I must step back from my personal viewpoint and respect the priorities of my counterparts. Seeing every positive as a success and moving towards a common goal is key and for 2014, it has become a rule.
Leaving Home to Come Home
Posted by Sarah Horwath, BSN, RN, CCRN - December 30, 2013
I took one last deep breath of fresh Kigali air and boarded the plane to end my 15-month journey in Rwanda. Although I had been preparing for this day for months, I still felt extremely emotional and as if I was leaving behind a family and a home that I had known for a lifetime.
Rwanda is special. The people have a warmth about them that makes you feel instantly welcome and they also have an endurance and resilience that is inspiring. I have learned so much from them.
One thing I was sure to mention in my farewell speech at the hospital was how this has been the best job I've ever had. I have always loved being a nurse and I've really enjoyed my previous positions as a bedside ICU nurse, but this job made me excited to get up at 4:45am, 5 days a week. This job, despite all its challenges, made me fall in love with nursing in a completely new way.
When I joined the HRH Program in year one I was assigned to Rwanda Military Hospital as a Critical Care Clinical Mentor. I arrived at a time when the hospital was renovating and transforming from a district level hospital to a referral hospital. The hospital had a vision to open their first Intensive Care Departments but they needed some support to realize that vision. I was extremely fortunate to be paired with my Rwandese counterpart, or "twin", Idi, who was very experienced in critical and intensive care nursing. We communicated easily and quickly established a relationship that was built on respect, honesty and trust. From October of 2012 through July of 2013, Idi and I worked together, along with our HRH year one colleague, Vicky Albit, MSN, RN, CPNP, to establish an Adult, Pediatric, & Neonatal ICU nursing team. We began with a selection process, then a theory based training workshop, followed by some simulation practice and finally clinical practice training and team building social excursions. The ICU's at RMH officially opened in April of 2013. The process was challenging and the barriers were significant but the nurses were outstanding. These were general nurses with no prior experience in critical or intensive care nursing and with a nursing education similar to that of a diploma program. I was energized and driven by their efforts to re-learn nursing in a way that was foreign to them and also very challenging when adding the specialty of critical care. Our expectations were high and although resource limitations were considered, standards were not compromised. Instead of saying "no, we can't do that because we don't have this medication or that consumable" we'd say "we will do everything with what we do have", brainstorming, thinking of alternatives and how to make the best of what we had. This was one of the most valuable lessons that I learned from them. Here are a few examples of clinical and practical tips I learned from them:
How to make ECG electrodes when they are out of stock: gel, cotton, and tape
How to rig any BP cuff to fit the cable from another manufacturer : removing connectors, tying off parts; keep trying until it works
How to prevent pressure sores on patient's heels: elevate with a water filled glove
How to clean suction tubing: rinse after each use; before sending to sterilization make a bath of small gauzes soaked in cleaning solution and suction the gauzes through the tubing
How to make IV tubing fit a syringe pump when extension tubing is out of stock: cut off the drip chamber
How to make a pressure bag for an IV fluid bolus – use a manual BP cuff
How to make a chest tube reservoir when they are out of stock - with water bottles
How to suction an airway when suction catheters are out of stock – with a nasogastric tube
Aside from the practical skills, they also taught me emotional skills. It took a while for me to throw out my old practice of "if you want it done right, do it yourself" but eventually I learned from them to be patient and calm in everything. It's difficult to explain how my critical care pace remained the same yet I was speaking slowly and giving us time to think through concepts and giving them time to practice for themselves, even in critical situations. The benefits of this method were so profound and far outweighed the "fix it" methods I had previously attempted. In short, they taught me to be more patient and I was able to use that to help them learn in a way that was more effective for them.
I could go on about how they taught me about resilience, about appreciation of life through an acceptance of death, or something as simple as the importance of a friendly greeting; but in summary, I want to say that this experience was transformational. These nurses have challenged me, surprised me, and inspired me. My greatest success is to hear them say that they are so proud to be nurses.
I am back in the U.S. now but as they say in Rwanda "we are still together." Thanks to the internet and great Apps, I'm able to communicate easily with them. Rwanda will always be a home to me and these nurses hold a permanent place in my heart.
Take a Tour of Rwanda
Posted by Gail VanVoorhis, MSN, RNC-NNP, educator/advisor for simulation and skills labs - November 2013
I would like to share with you the tour of Rwanda that is my job going from school to school throughout the country. Here is a map so you get an idea of the geographical locations.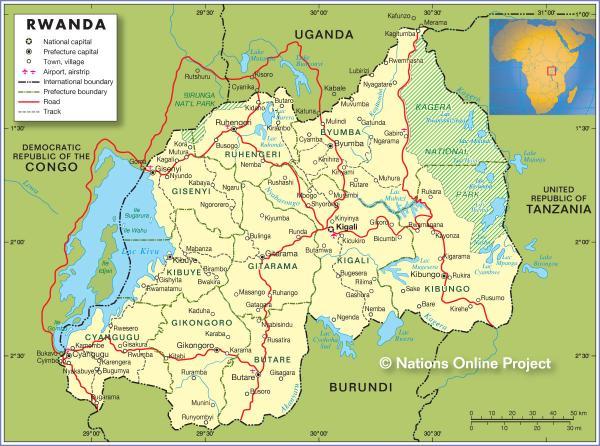 Just a little news from Rwanda: The University of Rwanda is now official and all the schools you will see are now the various campuses of the University of Rwanda. There are many Colleges within the University and we are now under the College of Medicine and Health Sciences. We have a new Principal over that College. This poses some changes because we are "One" university. The process has started to standardize curriculum and clinical experiences. All the schools of nursing are now under one Dean and so changing jobs is another daily process here. For HRH it means some changes in our twin's titles but generally we are all doing the same jobs of helping improve education for nursing.
And here is a picture diary of Nursing and Medical Schools of Rwanda: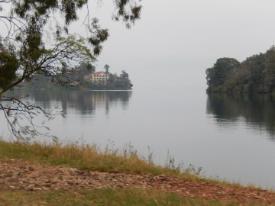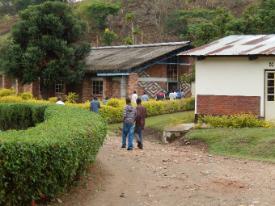 View of Lake Kivu on the way to the Kibuye School for health sciences and students heading to the community building for their orientation. This is the first year campus for Kigali Health Institute so all students are here for a year. This is a year of basic sciences. It is a tranquil beautiful place and I can honestly say if I worked here I would live longer! The road to get here from Kigali is long and very twisty. We arrived at night so I didn't actually see the lake till I woke up in the morning. This is the only place I ran into pit toilets so far.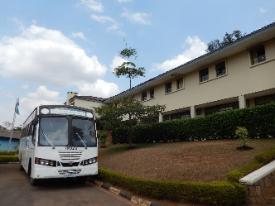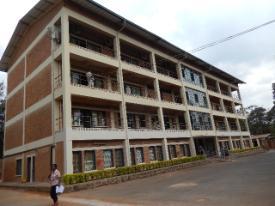 Kigali Health Institute (KHI): Just around the corner from CHUK and uphill a bit from the downtown area in Kigali. Students are here for 2-3 years for all healthcare schools except Medicine. It is the only BSN for nursing and as of October 7th BS in Midwifery in country. KHI also has the diploma courses for nursing and midwifery, radiology, physiotherapy, dentistry, ophthalmology. The picture on the left is dorms on the upper floor and classrooms on the ground floor. The building in the picture to the right is the School of Dentistry and also the skills labs for all on the 4th floor. We call the steps the "Death Stairs". Steep and narrow. Keeps us in shape!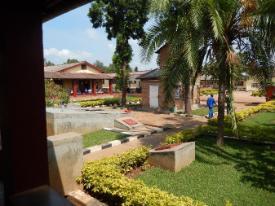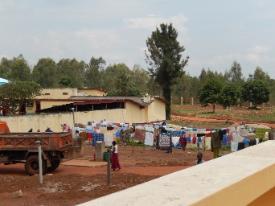 Rwamagana Hospital. About an hour east of Kigali this hospital has lots of new construction going on. A district hospital, they have lots of land and are spreading out a bit. Wards are separate buildings on the compound. The common Laundry for patient families on the right and you can see the field in the back that is planned to be a garden to supply food for patients and staff. May be an Umuganda day soon! (That is the last Saturday of the month when all are out for half a day doing community service).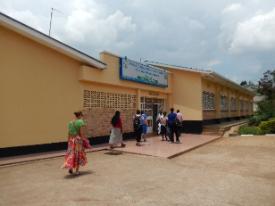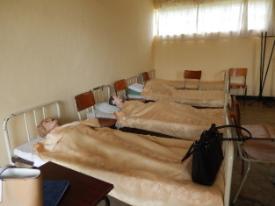 Rwamagana School of Nursing and Midwifery is located just a couple of blocks from the hospital. Entrance to the school on the left and one of the two skills labs on the right. We spent an afternoon here going through the skills labs doing a picture inventory and helping to reorganize the equipment. Great skills lab staff and the rooms are set up so one is for midwifery and one for general nursing.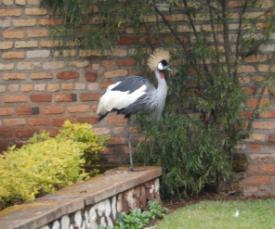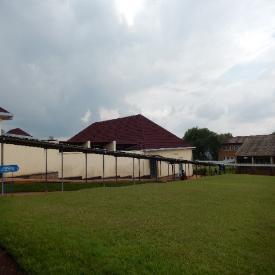 A rare site for us but not for Melody and Stewart! African Cranes are living in their front yard in Butare located about 2 hours south of Kigali. To the right is CHUB (Centre Hospital Universitaire de Butare) which is a referral hospital and home to the Former National University of Rwanda (Medical School).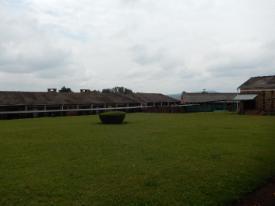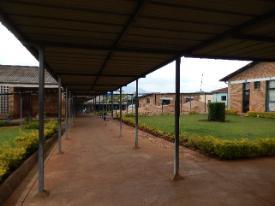 More Pictures of CHUB. Left: looking out the back of CHUB toward the Medical School campus. Right: Walkways between the hospital wards are mostly covered so in this rainy season you can navigate between buildings.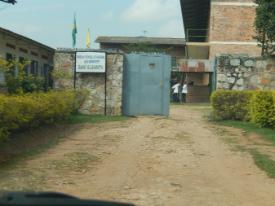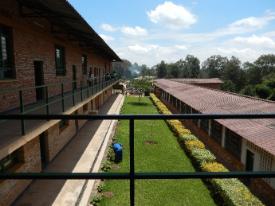 Kabgayi (pronounced Cab Guy) School of Nursing and Midwifery. Located about an hour south of Kigali and half way to Butare. This is the first nursing school in Rwanda with Catholic roots.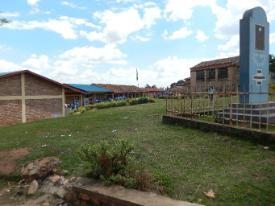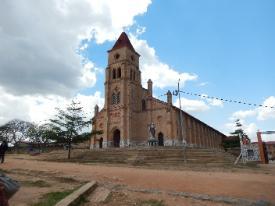 On the path to go back to the school in Kabgayi and to the right is the church which was the first Catholic Church in Kabgayi, Rwanda. They celebrated their 100 year Jubilee the first weekend in October.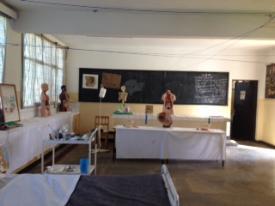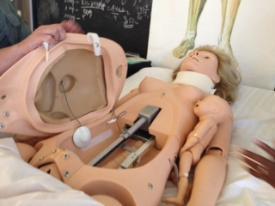 Byumba SON is located about 1 ½ hours north of Kigali. They have a very well equipped lab that has the only Noelle birthing simulator in country. On my day to visit here I was getting over a night of terrible stomach upset (the dysentery diet) so Susan Bosworth graciously took pictures of their lab for me.
I have Byumba, Nayagatare, and Kibungo to visit yet. There are also two private schools in the country which are on my list but are a grey area as far as the University of Rwanda goes. This last two weeks of October have been National Nursing License testing. The first week is written (paper and pencil) and the second week is the clinical testing. Many of the USI faculty are going to the districts to help with the clinical testing that will be a clinical skill on real patients that is observed by faculty.
I love that this job allows me to see all the schools and get to know the country and many of its people. All the districts have been welcoming and the HRH staff in each place has been gracious and make us feel like we are visiting relatives at home. The hospital staff are very happy to show us the improvements that are being made, and the faculty at each school are anxious for more help from USI faculty.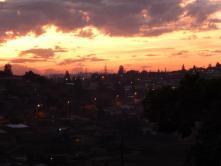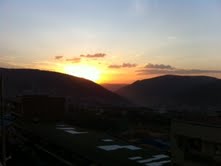 These last pictures are waking up (on the left) and the view outside of our house at sunrise and on the right a beautiful sunset from the dining room of Bamboo, a restaurant in downtown Kigali.
Murakoze Cyane for taking the tour. Uramuke ho from Rwanda!!!
Muraho!
Posted by Trish Martin - October 2013
Muraho! This is the Rwandan greeting for "Hello"! Welcome back to our blog of our experiences working with the wonderful people of Rwanda.
The Human Resources for Health (HRH) orientation was a great time to continue to meet people from the HRH program. We have met so many intelligent, highly motivated, passionate people from various interesting backgrounds. There are doctors, dentists, nurses, midwives, and human resource specialists. Some have made international service their life's work and some are new to international work. The camaraderie is infectious and supportive as we all find our way in a new country with its many challenges.
The University of Maryland cadre of nurses in Rwanda has been assigned to schools and hospitals throughout the country based on our qualifications and their needs. We are working as clinical mentors or nurse midwives in various hospitals or as advisors to schools of nursing and midwifery. We are proud to have the simulation lab specialist for the country as part of our distinguished UMSON group. The country of Rwanda is roughly the size of Maryland. To give you some perspective, we have been assigned to one of the following locations on this map as our home base: Kigali, Nyagatare, Kibungo, Kanombe (a Kigali suburb), Rwamagana, Butare, and Kibuye. We are affiliated with a school of nursing and midwifery in these towns to assist with teaching, transition of students to their clinical rotations and curriculum development.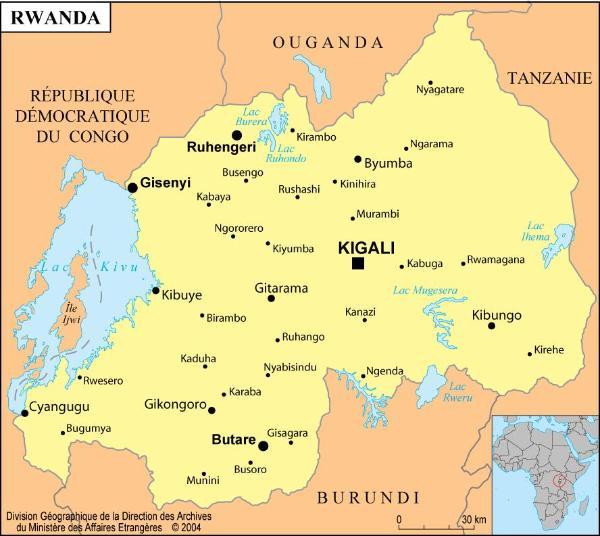 There are four referral hospitals in the capital city of Kigali. These include University Central Hospital of Kigali (CHUK, pronounced Say-ahhsh-oou-kah), King Faisal, which is a privately owned hospital, University Teaching Hospital of Butare (CHUB, pronounced: Say-ahhsh-oou-bay), located in the southern province of Rwanda, and the Rwanda Military Hospital, located in Kigali near the airport.
Earlier this month the entire HRH group of clinical mentors and nurse midwives met for our first monthly meeting. The meeting started with introductions and allowed us to briefly describe our previous professional experience. The returning faculty from last year shared their experiences and advice. We discussed our evolving roles within the hospital and school of nursing environments. In an effort to avoid duplicity and to share our work with the entire group, we decided to create a community dropbox. Much discussion surrounded how to effectively engage students, techniques to avoid staff using students for tasks and the roles of school clinical instructors and hospital nurse preceptors.
We work collectively to share our expertise and also work individually based on our unit's needs. We certainly work hard but we also play hard! We played our first "Kigali Kings" baseball game with the local kids, started a monthly "Iron Chef" party (last month's ingredient was milk, this month's is avocado), ate a communal Ethiopian meal guided by two Ethiopian members of our HRH team and hosted a bachelorette party complete with a bridal veil made from the remnants of a mosquito net!
Check back next month for more of our adventures of working and living in Rwanda!