University of Maryland School of Nursing Receives $7M Gift for Scholarships
May 3, 2023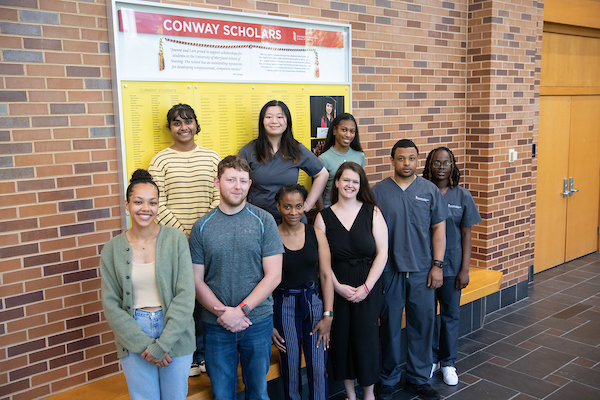 Baltimore, Md. - A gift of $7 million to the University of Maryland School of Nursing (UMSON) from the Bedford Falls Foundation-DAF, a donor-advised fund established by Bill and Joanne Conway, will create 218 additional Conway Scholarships over the next four years. In addition, UMSON has received a Conway Innovation Challenge grant of $145,000, which will fund a pilot of UMSON's Nursing Professional Residency for Outstanding Faculty (N-PROF) from the Conways' Bedford Falls Foundation Charitable Trust.
The $7 million gift will fund 116 Bachelor of Science in Nursing scholarships, 42 Master of Science in Nursing Entry-into-Nursing program scholarships, and 60 scholarships for the Teaching in Nursing and Health Professions Certificate. These 218 scholarships, which will be awarded from spring 2024 through fall 2027, will cover 50% - 100% of students' tuition, fees, and books. The latest gift, the fifth from the Conways since 2015, brings the total amount the Conways have contributed to $36.24 million. To date, UMSON has awarded Conway Scholarships to 468 students, 354 of whom have graduated. By 2027, more than 1,000 students are expected to have been designated Conway Scholars.
The gift also supports the creation of a full-time faculty position dedicated to preparing entry-into-nursing students for the Next Gen NCLEX, the newest version of the National Council Licensure Examination, which is designed to assess clinical judgment in nursing licensure candidates, measuring future nurses' ability to think critically about how to care for patients.
The gift also supports expanded promotion of UMSON's Teaching in Nursing and Health Professions Certificate, a program critical to preparing and increasing the number of nurse faculty statewide. The nation is in the midst of a staggering shortage of nurse educators, with an estimated 9% vacancy rate and a wave of faculty retirements projected by 2025, according to the American Association of Colleges of Nursing in its Survey on Vacant Faculty Positions for Academic Year 2022 - 2023. Increasing the number of nurse faculty is intrinsically tied to expanding the nursing workforce. To graduate more students to bolster the number of nurses who are prepared to provide excellent care to patients, the state needs more nurse faculty to teach them.
The Conways, through their Bedford Falls Foundation Charitable Trust, have made an additional gift to UMSON as part of the Conway Innovation Challenge. The Foundation created this challenge grant to elicit innovative, scalable ideas that will either allow for expanded enrollment or prepare nurses for faculty positions.
"We are pleased to continue to support nursing students through scholarships and now, through the Conway Innovation Challenge, to support those nurses who want to enter into teaching careers to carry on a legacy of learning as they prepare future nurses to enter the workforce," Bill Conway said. "This aligns with our goals of helping to expand the nursing workforce and addressing the nurse educator shortage."
With the Conway Innovation Challenge award, UMSON will create N-PROF, a yearlong pilot program aimed at facilitating the transition for nurses from careers in practice to careers as nurse faculty. The program, scheduled to launch next spring, will provide structure and support to meet the needs of new faculty through a cohort model as they learn about effective ways to develop curriculum; deliver content; advise students; collaborate on grants, projects, and manuscripts; serve on committees; grade student work; maintain their existing skills; and integrate feedback from all sides. The pilot, upon assessment of its effectiveness, will be shared as a model for other schools of nursing nationwide.
The residency program is an initiative of UMSON's Institute for Educators, which supports nurse faculty statewide through academic programs, mentorship, and professional development opportunities and prepares nurses for faculty roles in Maryland nursing schools and for educator roles in clinical settings. The goal of N-PROF is to increase retention of faculty members by enhancing confidence, competence, and connectedness.
"Making the transition from practice to the academic setting and acclimating to a faculty role can seem daunting for new and novice nursing faculty," said Susan L. Bindon, DNP '11, MS '96, RN, NPD-BC, CNE, CNE-cl, FAAN, associate professor; associate dean for faculty development; and director, Institute for Educators. "Much like nurse residency programs for new nurse graduates, this residency program for new nursing faculty will offer the support, structure, and connection needed to help them succeed and thrive as they learn new skills and take on multiple responsibilities. I am grateful for the opportunity to develop and pilot the program and am excited to support faculty in new ways beyond traditional orientation."
N-PROF is funded through a $100,000 donation from the Conways, who also matched $22,500 from other UMSON donors. In a deeply felt commitment to future generations of nursing faculty, these generous gifts came from Dean Emerita Janet Allen, PhD, RN, FAAN, APN; Jane Kirschling, PhD, RN, FAAN, the Bill and Joanne Conway Dean of the University of Maryland School of Nursing; and an anonymous donor.
"We are deeply grateful for Bill and Joanne Conway's unwavering commitment to nursing students through additional scholarship support and mentorship opportunities," Kirschling said. "It creates significant opportunities for highly talented individuals to enter the nursing profession and ensures a compassionate, competent, and caring nursing workforce into the future. The Conways' recent gift also allows us to expand the cadre of nurse faculty and clinical educators, a key component in addressing the need to increase the nursing workforce. With the support of the Innovation Challenge Grant, we look forward to pioneering a new residency model that holds great promise for better supporting and retaining nurse faculty while enhancing student learning and overall educational excellence."
###
The University of Maryland School of Nursing, founded in 1889, is one of the oldest and largest nursing schools in the nation and is ranked among the top nursing schools nationwide. Enrolling nearly 2,100 students in its baccalaureate, master's, and doctoral programs, the School develops leaders who shape the profession of nursing and impact the health care environment.