UMSON's Bindon Recognized for Excellence in Teaching at University System Level Through Board of Regents Award
May 30, 2023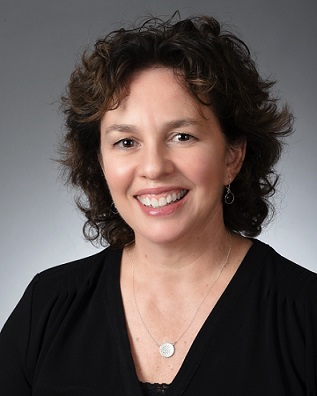 Baltimore, Md. – Susan L. Bindon, DNP '11, MS '96, RN, NPD-BC, CNE, CNE-cl, FAAN, associate professor, associate dean for faculty development, and director of both the Institute for Educators and the Teaching in Nursing and Health Professions Certificate at the University of Maryland School of Nursing (UMSON), has been recognized with a 2023 University System of Maryland (USM) Regents Faculty Award for Excellence in Teaching, the highest honor that the USM Board of Regents bestows. Her selection is recognition of her outstanding accomplishments related to teaching excellence. Bindon was presented with the award during the public session of the full Board of Regents meeting on April 14.
Bindon has served as the School's inaugural associate dean for faculty development since 2021; her appointment is testament to her standing as an exemplary nurse educator, role model, and coach for faculty not only at UMSON, but throughout the state of Maryland. She is described as a "true teacher's teacher," focusing on nurse educator development, faculty professional development, learning engagement, and mentorship.
Bindon's work addresses ongoing nursing workforce challenges locally, statewide, and nationally; the necessity of increasing enrollments in schools of nursing requires expanding the number of nurse educators well prepared to teach and mentor the next generation of nurses in the classroom and in clinical settings. Bindon has worked to elevate nursing education as a practice specialty in both academic and professional practice settings and has focused on mentoring faculty to improve teaching, with a focus on effective teaching to meet the needs of today's learners.
"My deep and abiding commitment is to students and faculty and to excellent, innovative teaching," Bindon said. "My mission is to teach at the highest possible level and to help others do the same. Great teachers attract great students, who then make great contributions to patient care and other vital areas of nursing. I teach about teaching. Developing the competency of nurse educators and influencing generations of learning is my professional goal and love."
As director of UMSON's Institute for Educators, Bindon bridges academic and clinical education, drawing from her own faculty practice in nursing professional development at the University of Maryland Medical Center. Her work supports the dual mission of the institute: to prepare future nurse educators throughout the state while offering ongoing education and professional development for UMSON's own faculty and other educators. Her hallmark is utilizing a variety of creative approaches to designing and delivering education.
UMSON's graduate Teaching in Nursing and Health Professions Certificate, which Bindon also directs, prepares nurses for educator roles, ensuring they have the knowledge and skills to work effectively in academic and practice settings, whether in person or online.
Bindon has received multiple grant awards through the Nurse Support Program II, funded by the Maryland Health Services Cost Review Commission and administered by the Maryland Higher Education Commission, focused on preparing and developing clinical nursing faculty across the state. Products of these grants have become components of essential faculty development statewide, including workshops that utilize standardized students (professional actors who portray students) to provide simulated experiences for faculty to practice their skills in guiding student learning in a safe environment. These workshops have prepared more than 450 faculty to teach nursing students in clinical settings.
"We congratulate Dr. Susan Bindon on this prestigious honor," said Jane Kirschling, PhD, RN, FAAN, the Bill and Joanne Conway Dean of the University of Maryland School of Nursing. "One of the tremendous challenges facing academic nursing is transitioning our educational model to suit a new generation of learners and doing so at a time when highly experienced faculty are moving into retirement. We need our next generation of great educational leaders, and Dr. Bindon has demonstrated her capacity for this through her teaching excellence, her innovative projects to expand Maryland's cadre of well-prepared nursing faculty, her service at the national level, and her research on and dissemination of best practices."
Bindon joined UMSON as an assistant professor in the Institute for Educators in 2011 and was promoted to associate professor in 2019. Prior to her current role, Bindon served as director of the Doctor of Nursing Practice (DNP) Post-Master's option from 2018, overseeing the core DNP curriculum and providing support to DNP students and faculty.
She is a leader within the profession at the national level, having held multiple roles in the Association for Nursing Professional Development, including president, president-elect, and, currently, past president. She was co-editor-in-chief of the Journal for Nurses in Professional Development and is currently an editorial board member and an ongoing peer reviewer for the Journal of Professional Nursing. Her podcasts and webinars have been viewed widely and her peer-reviewed publications cited in multiple countries and languages.
Bindon holds national certification from the National League for Nurses as a Certified Nurse Educator and as a Certified Nurse Educator, Clinical and from the American Nurses Credentialing Center in Nursing Professional Development. She was inducted as a Fellow of the American Academy of Nursing in 2022.
She earned her Bachelor of Science in Nursing degree from the University of Pittsburgh in Pennsylvania and her Master of Science, Certificate in Teaching in Nursing and Health Professions, and DNP from UMSON.
###
The University of Maryland School of Nursing, founded in 1889, is one of the oldest and largest nursing schools in the nation and is ranked among the top nursing schools nationwide. Enrolling nearly 2,100 students in its baccalaureate, master's, and doctoral programs, the School develops leaders who shape the profession of nursing and impact the health care environment.