UMSON Names Murphy Buc Director of the Entry Bachelor of Science in Nursing Program
June 10, 2022
She will work with stakeholders to continue developing and implementing a revised BSN curriculum based on AACN's new Essentials.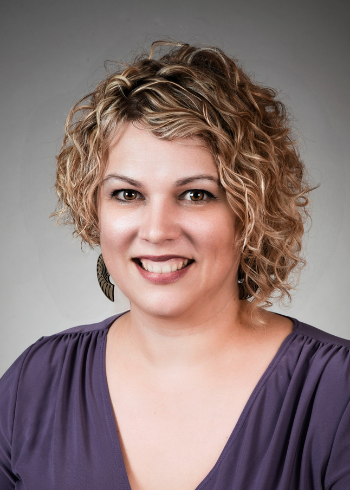 Baltimore, Md. – The University of Maryland School of Nursing (UMSON) has appointed Hannah Murphy Buc, MSN, RN, CNE, clinical instructor, as director of its entry Bachelor of Science in Nursing (BSN) program. She succeeds Jana Goodwin, PhD, RN, assistant professor, who has been appointed chair of the UMSON program at the Universities at Shady Grove in Rockville, Maryland.
As program director, Murphy Buc will work with faculty, staff, students, and community and clinical partners to continue developing and implementing a revised BSN curriculum based on the American Association of Colleges of Nursing's new Essentials, which provides a framework for incorporating competency-based education for practice-ready graduates. UMSON is a national leader in implementing the revised curriculum, which begins this fall. Murphy Buc will also identify priorities and guide the program's faculty development, student inclusion and success, and partnerships with community stakeholders to continue creating meaningful and engaging opportunities for students that also contribute to improving health care quality, equity, and outcomes for individuals, families, and communities.
UMSON's entry BSN program is ranked No. 10 in the nation by U.S. News & World Report and is the top-ranked BSN program in Maryland. The program prepares students to excel in nursing careers across a broad spectrum of acute, chronic, and community-based settings. National data indicates that employers increasingly prefer and, in some cases, require, a baccalaureate degree.
"Professor Murphy Buc brings great expertise in both clinical and classroom pedagogies, as well as a deep commitment to our School values of diversity, equity, and inclusion," said Maeve Howett, PhD, APRN, CPNP-PC, CNE, professor and associate dean for the baccalaureate program. "Her work in restorative and social justice brings an important approach to our admissions, progression, curriculum, and student outcomes. As we launch our new curriculum, she has some wonderful ideas about improving the student experience and capitalizing on our momentum to lead nursing education."
Murphy Buc joined UMSON in 2018 and has served as a course coordinator in the BSN program and as the coordinator for the Restorative Justice Program in UMSON's Office of Diversity and Inclusion.
She earned a Master of Science in Nursing as an adult health clinical nurse specialist (with a palliative care specialty) and a post-master's Certificate in Nursing Education from the Johns Hopkins School of Nursing. She earned a Bachelor of Science in Nursing from Clayton State University in Georgia and a Bachelor of Arts in Integrative Studies from Guilford College in North Carolina.
Murphy Buc has successfully defended her PhD proposal and is in candidacy at The Catholic University of America Conway School of Nursing in Washington, D.C. She is a Certified Nurse Educator with the National League for Nursing and a Simulation Education Leader III through the Maryland Clinical Simulation Resource. She also holds Trainer Certification from the End-of-life Nursing Education Consortium.
# # #
The University of Maryland School of Nursing, founded in 1889, is one of the oldest and largest nursing schools in the nation and is ranked among the top nursing schools nationwide. Enrolling nearly 2,100 students in its baccalaureate, master's, and doctoral programs, the School develops leaders who shape the profession of nursing and impact the health care environment.