Nursing Education Conference
Trends Affecting Nursing Education:
AI, XR, CBE, Whaaaaat?!
Save the Date!
Thursday, April 25, 2024
9 a.m. – 3 p.m.
Virtual
Artificial intelligence (AI), extended reality (XR), and competency-based education (CBE) are just some of the current trends transforming nursing education. The 2024 UMSON Institute for Educators Annual Virtual Nursing Education Conference will provide opportunities to learn from national and local experts on the many compelling and thought-provoking trends in nursing education, both in academic and practice settings. Come, bring your ideas and questions, and be inspired by our keynote, concurrent sessions, and peer-reviewed NED (Nursing Education) Talks. Attendees can also interact with speakers and vendors, view curated online content, and be eligible for 5 ANCC (American Nurses Credentialing Center) contact hours.
---
Objectives:
By the end of the conference, the learner can expect to:
Explore current trends in nursing education and their impact on teaching and learning in various settings.
Integrate shared ideas and concepts into your teaching and learning practices. 
Reflect on how trends such as CBE, AI, and XR will transform teaching and learning.
More details to come.
---
Call for Abstracts: Nursing Education (NED) Talks
Continuing Education for Nurses
---
Call for Abstracts: Nursing Education (NED) Talks
In our take on TED Talks, we invite you to create a brief (10-minute) narrative to share with fellow nurse educators describing your experience with current trends in nursing education. These live and recorded presentations provide an opportunity to share stories, experiences, or ideas that inspire colleagues to transform their teaching and learning practice to meet the demands of an evolving education landscape.
Opens: Nov. 13, 2023
Closes: Jan. 12, 2024, 11:59 p.m. ET
Information and Guidelines:
All abstracts should be submitted using the online submission process. Be sure to review the conference overview, objectives, and submission guidelines before you begin. If you have questions during this process, contact Instituteforeducators@umaryland.edu
Submission Guidelines:
Prepare a brief, 150 - 350-word abstract for a Nursing Education (NED) Talk that shares (describes) your story, experience, or idea that inspires colleagues to transform their teaching and learning practice to meet the demands of an evolving education landscape.
Describe the reason/issue/problem and the setting. What does your story or experience attempt to address/solve, what approach was used, and what are the results or implications for nurse educators?
To complete your abstract submission process:
Review the conference overview and objectives.
Prepare an abstract in a Word document and confirm all information is included before starting the online submission process. Abstracts should include:

Primary author name and credentials
Co-author name and credentials (including all collaborating partners), which must be named at the time of submission
Abstract title
150 - 350-word abstract in narrative form
Two objectives for the presentation
Content references (at least two) in APA format
The appropriate category for your work: Education, Research, or Practice

Copy and paste the text of your abstract into the box(es) provided in the online form. The abstract narrative will accept no more than 350 words. Longer abstracts will be truncated.
Incomplete forms, alternatively formatted submissions, and emailed submissions will not be considered for review.
You must acknowledge any conflict of interest or funding sources supporting your project in your abstract.
Notification:
Six abstracts will be accepted for live virtual NED talk on April 25, 2024. The remaining accepted NED talks will be pre-recorded for attendees to view in our virtual theater throughout the conference and for a limited time following the event.
The primary presenter will receive email notification of the review committee's decision after Jan. 26, 2024.  

Presenter Commitment and Registration:
Your commitment to present and a completed registration form for the primary presenter must be received on or before Feb. 5, 2024. Failure to register by this deadline will constitute declining to present. Presenters are expected to register to attend the conference.

Guidelines for Presentations:
Live presentation and pre-recording guidelines will be provided upon notification of abstract acceptance.
---
Continuing Education Credit for Nurses (CNE):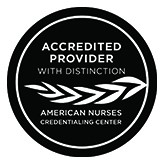 Nurses may receive 5 contact hours for participating in this educational activity. Partial credit is not provided. You are required to complete the overall conference evaluation that will be emailed. After completing the evaluation, a link will be provided so that you can print your continuing education certificate. All requests must be received within 60 days of the conference.
The University of Maryland School of Nursing is accredited as a provider of nursing continuing professional development by the American Nurses Credentialing Center's Commission on Accreditation.
---
Committee Chair:
Susan L. Bindon, DNP, RN, NPD-BC, CNE, CNE-cl, FAAN
Associate Professor and Director, Institute for Educators
Associate Dean for Faculty Development
University of Maryland, School of Nursing
Committee Members:
Carissa Bragdon, DNP, ACNP, CNE
Assistant Professor, Institute for Educators/NCLEX Success Program
University of Maryland, School of Nursing
Lynn Marie Bullock, DNP, RN, NEA-BC
Assistant Professor, Partnerships, Professional Education, and Practice
Director, Office of Professional Education
University of Maryland, School of Nursing
Brittany Corbin, BSN, RN, PCCN, CNE-cl
Senior Professional Development and Education Support Specialist
Institute for Educators
Nurse Planner
University of Maryland, School of Nursing
Sandra Lucci, PhD, RN, CNE, CMSRN
Assistant Professor, Institute for Educators
University of Maryland, School of Nursing
Carol A. O'Neil, PhD, RN, CNE
Associate Professor, Institute for Educators
University of Maryland, School of Nursing
Sonia Smith, BS
Manager, Professional Development and Education
Partnerships, Professional Education, and Practice
University of Maryland, School of Nursing
Marleen Thornton, PhD, RN
Associate Professor, Institute for Educators
University of Maryland, School of Nursing
---