The Virginia Lee Franklin Lecture
Creating the 21st-Century Nursing Workforce: Building on Our Strengths to Address the Post-Pandemic Health Needs of Society
Tuesday, Nov. 9, 2021
4 - 5:15 p.m.
Online via Zoom
Nurses may receive 1.0 contact hours for participating in this educational activity.
The impact of the COVID-19 pandemic on nurses and hospitals has been so intense and prolonged that it has crowded our awareness of the many pre-pandemic developments that strengthened the nursing workforce. Similarly, the pandemic has blinded many to the challenges that were also building prior to the pandemic and that lie ahead in a post-pandemic world.
Peter I. Buerhaus, DSc (Hon.) '12, PhD, RN, FAAN, FAANP, will discuss these strengths and challenges, and he will examine why the messaging of nurses and hospitals should be more positive to avoid possible decreases in nursing education programs. He will also provide ideas about how to overcome these challenges and how to grow the size and preparation of the post-pandemic nursing workforce that the United States needs.
Registration:
Lecture Only: free
Lecture and Continuing Education: $20
This event has concluded.
Speaker:
Peter I. Buerhaus, DSc (Hon.) '12, PhD, RN, FAAN, FAANP
Buerhaus is a nurse and a health care economist who is well known for his studies on the nursing and physician workforces in the United States. He is a professor of nursing and director of the Center for Interdisciplinary Health Workforce Studies at the College of Nursing, Montana State University. Before coming to Montana State University, Buerhaus was the Valere Potter Distinguished Professor of Nursing and senior associate dean for research at Vanderbilt University School of Nursing in Nashville, Tennessee; professor of health policy at Vanderbilt University; and assistant professor of health policy and management at the Harvard T.H. Chan School of Public Health. He served as assistant to the chief executive of the University of Michigan's seven teaching hospitals and to the vice provost for medical affairs at the University of Michigan. He has published 160 peer-reviewed articles, with five publications designated as "Classics" by the federal government's Agency for Healthcare Research and Quality. Buerhaus was inducted into the American Academy of Nursing in 1994, elected into the National Academy of Sciences Institute of Medicine (now the National Academy of Medicine) in 2003, and is an honorary Fellow of the American Academy of Nurse Practitioners. Buerhaus has been awarded honorary doctorates from the University of Maryland School of Nursing and Loyola University in Chicago. In 2010, he was appointed chair of the National Health Care Workforce Commission that was created under the Affordable Care Act to advise Congress and the administration on health workforce policy. He recently served as a member of the National Academy of Medicine Committee on the Future of Nursing, 2020 - 2030.
Agenda:
4 p.m.: Welcome/Overview
4:15 - 5 p.m.: Lecture
5 - 5:15 p.m.: Questions and Discussion
Learning Objectives:
At the end of the presentation, learners will be able to:
discuss developments that have strengthened the nursing workforce leading up to the COVID-19 pandemic
identify five challenges that will develop over the current decade and possible solutions for overcoming them
discuss why creating positive messaging about nurses is critical to assuring the future growth and impact of the nursing workforce
Learning Outcome:
80% of the participants will be able to identify a method to promote positivity in nursing.
Disclosure Statement:
None of the planners nor the lecturer for this educational activity have relevant financial relationship(s) to disclose with ineligible companies whose primary business is producing, marketing, selling, or distributing health care products used by or on patients.
Continuing Education Credit for Nurses (CNE):
Nurses may receive 1.0 contact hours for participating in this educational activity. Partial credit is not provided. Participants receive a CNE certificate via email from UMSON approximately two to four weeks after submitting a completed evaluation form, plus a fee of $20. All requests must be received within 60 days of the conference.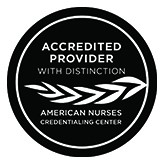 The University of Maryland School of Nursing is accredited as a provider of nursing continuing professional development by the American Nurses Credentialing Center's Commission on Accreditation.
Organized by the 2021 Dean's Lecture Planning Committee.