UMSON's Bachelor of Science in Nursing Program Ranked No. 9 in the Nation
September 12, 2022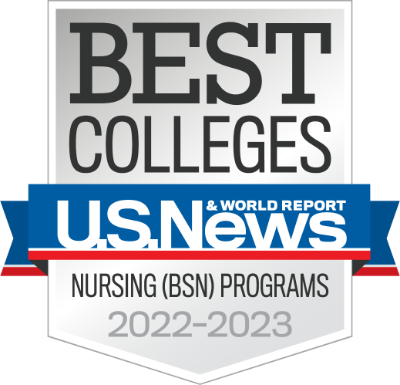 Baltimore, Md. – In the newly released 2022 - 23 edition of U.S. News & World Report's "Best Colleges" Best Bachelor of Science in Nursing (BSN) Programs, the University of Maryland School of Nursing's (UMSON) BSN program ranked No. 9 in the nation, moving up one spot from last year's ranking, the first time nursing schools offering baccalaureate degrees were included. UMSON tied with five other institutions for the No. 9 spot out of the 681 accredited nursing schools ranked.
Among public schools of nursing, UMSON ranked No. 3 in the nation, tied with four other public institutions. UMSON's BSN program continues to be the top-ranked such program in Maryland.
UMSON's BSN program encompasses an entry-into-nursing program and an RN-to-BSN program for already licensed practicing nurses. The program prepares students to excel in nursing careers across a broad spectrum of acute, chronic, and community-based settings. National data indicates that employers increasingly prefer and, in some cases, require, a baccalaureate degree.
The School is among the first in the nation to launch an entirely revised BSN curriculum for incoming students this fall, in alignment with the American Association of Colleges of Nursing's new Essentials. The new curriculum includes courses geared toward a new generation of learners, focused on personal wellness, palliative care, and public health. Additionally, two new clinical practice initiatives with the University of Maryland Medical System — the Practicum to Practice Partnership and the Academy of Clinical Essentials — will provide students expanded and advanced clinical opportunities.
Before beginning studies at UMSON, students must complete two years of undergraduate education at another accredited college or university, to fulfill the necessary prerequisites. In addition to serving practicing nurses seeking a BSN degree, UMSON's RN-to-BSN program boasts dual-admission partnerships with all 15 community colleges in Maryland that offer an Associate Degree in Nursing (ADN) program, enabling a smooth transition for ADN students into UMSON's BSN program.
"It is extremely gratifying to be recognized as one of the top baccalaureate nursing programs in the nation," said Jane M. Kirschling, PhD, RN, FAAN, the Bill and Joanne Conway Dean of the University of Maryland School of Nursing. "We are proud to play an important role in efforts within Maryland and throughout the nation to increase the number of nurses. With the increasing complexity of care and the variety of settings in which it is delivered, our baccalaureate-educated nurses are extraordinarily well prepared to respond to the challenge. Given the current shortage of nursing personnel, we have been fortunate to be able to increase the number of students in both our entry-into-practice baccalaureate program and our RN-to-BSN program. These nurses will play a vital role in meeting the current and future needs of our health care system, serving individuals across the lifespan in our very diverse communities."
Rankings are determined by scores received from surveys of top academics and officials at nursing schools or departments at institutions nationwide that are accredited by the Commission on Collegiate Nursing Education or the Accreditation Commission for Education in Nursing. In addition, the institutions must be regionally accredited and have recently awarded at least 40 BSN degrees.
# # #
The University of Maryland School of Nursing, founded in 1889, is one of the oldest and largest nursing schools in the nation and is ranked among the top nursing schools nationwide. Enrolling nearly 2,100 students in its baccalaureate, master's, and doctoral programs, the School develops leaders who shape the profession of nursing and impact the health care environment.