Renn Appointed Chair of Department of Pain and Translational Symptom Science at the University of Maryland School of Nursing
February 14, 2023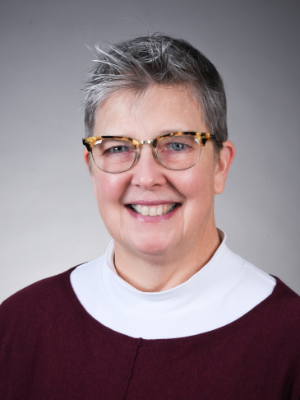 Baltimore, Md - Cynthia L. Renn, PhD, MS '97, RN, FAAN, has been appointed chair of the University of Maryland School of Nursing's (UMSON) Department of Pain and Translational Symptom Science (PTSS). In her role as chair, Renn will lead efforts to ensure training and mentorship for junior faculty; support senior faculty in their research; and strengthen collaboration and connection between PTSS and other UMSON departments to further the research and teaching missions of the School. She will also focus on opportunities for innovation in UMSON curriculum as health care moves toward precision health.
Renn has played an instrumental role in the development of PTSS since its inception, and the department has achieved an outstanding reputation for scientific excellence across the UMB campus, nationally, and internationally. Its program of research incorporates molecular, cellular, and genetic/genomic methods to study pain and cancer treatment-related symptoms.
As a nurse scientist with a portfolio of National Institutes of Health grant-funded research and numerous publications, her research focuses on understanding the cellular mechanisms underlying the development and persistence of chronic pain that arises from therapeutic drug treatment, traumatic nerve injury, chronic pain after traumatic lower extremity fracture, and low back pain. A founding member of the executive committee of the University of Maryland, Baltimore Center to Advance Chronic Pain Research, which promotes multidisciplinary biomedical research advancing the understanding and treatment of chronic pain, Renn is also an active member of Biology and Behavior Across the Lifespan, one of UMSON's organized research centers of excellence.
"Dr. Renn is committed to rigorous inquiry that advances practice, shapes health policy, and improves the health of individuals," said Jane Kirschling, PhD, RN, FAAN, the Bill and Joanne Conway Dean of the School of Nursing. "As a researcher, teacher, and mentor, she is well-prepared to lead the department in executing on new opportunities to generate research that moves from bench to bedside to community to meet the ultimate goal of impacting the day-to-day well-being of individuals."
Renn is committed to developing the next generation of nurse researchers, having mentored countless post-doctoral fellows and doctoral students, as well as master's and undergraduate students. That mentorship extends to the larger community through service as a speaker and science fair judge for high school programs to increase interest higher education in the sciences and particularly in neuroscience. Her service in the School of Nursing and the University includes having served as a member and chair of the PhD Curriculum Committee, as departmental representative to Faculty Council, and a member of the UMB Faculty Senate.
Renn joined UMSON in 2004 as an assistant professor and then was promoted to associate professor (tenured) in 2013 and professor (tenured) in 2020. She is a tenured professor in the University of Maryland Marlene and Stewart Greenebaum Cancer Center's oncology program, and since 2017, she has been a member of the international faculty of the PhD Program in Neuroscience at the University of Milano-Bicocca in Milan, Italy.
Renn earned a PhD in Neuroscience from the University of Maryland, Baltimore; a Master of Science in Trauma, Critical Care, and Emergency Nursing/Acute Care Nurse Practitioner and Clinical Nurse Specialist from UMSON; and a Bachelor of Science in Nursing from York College of Pennsylvania. She also holds a BS in Music Education from Indiana University of Pennsylvania. Renn was a Southern Nursing Research Society/American Nurse Foundation Scholar. She is a Fellow of the American Academy of Nursing and a member of Sigma Theta Tau International.
In her new role, Renn succeeds Susan G. Dorsey, PhD '01, MS '98, RN, FAAN, who has led the department since its establishment in 2014 and is now focusing on her research full time.
###
The University of Maryland School of Nursing, founded in 1889, is one of the oldest and largest nursing schools in the nation and is ranked among the top nursing schools nationwide. Enrolling nearly 2,100 students in its baccalaureate, master's, and doctoral programs, the School develops leaders who shape the profession of nursing and impact the health care environment.