Nursing State of School Looks Back, Eyes Future
May 16, 2023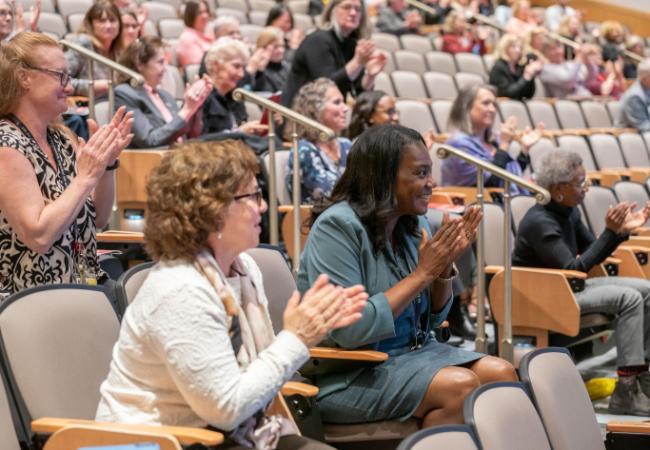 When Jane M. Kirschling, PhD, RN, FAAN, the Bill and Joanne Conway Dean of the University of Maryland School of Nursing, first arrived at the institution, she knew she wanted her legacy to be that she left the School "a better place to work and learn, grounded in civility, respect, and inclusion."
More than a decade later, Kirschling, who will retire this year, said the work the institution has accomplished since 2013 "goes beyond what I could have imagined."
To a standing ovation and with tears in her eyes, Kirschling thanked the School community.
"There is much more that I could say about our work together. But also, most of all, I'm proud of our decade-long place on the long arc of the 134-year history of the School of Nursing," she said. "It is truly a decade to celebrate together, remembering our history, stretching back to 1889, and understanding that each decade is a building block for the next. Our shared work comes back to my opening theme that over its long history, the School of Nursing has continually gone the distance in the past, in the present, and in the future."
At the School of Nursing's annual State of the School address on May 1, the dean reflected on her tenure, which spanned a national racial reckoning, a pandemic, and a country-wide nursing workforce shortage.