Nahm Named University of Maryland School of Nursing's Associate Dean for PhD Program
June 8, 2022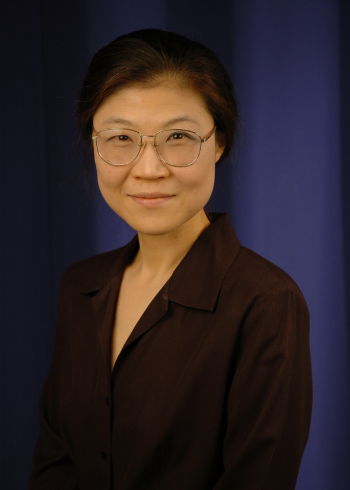 Baltimore, Md. – The University of Maryland School of Nursing (UMSON) has named Eun-Shim Nahm, PhD '03, RN, FAAN, FGSA, professor, as associate dean for the Doctor of Philosophy (PhD) program. UMSON's PhD program prepares students as researchers and scholars to generate new knowledge and tackle some of the greatest issues facing health care, such as aging populations, pain and symptom management, and women's health and birth outcomes.
Nahm will be responsible for ensuring that graduates of the PhD program are well prepared to engage in research and scholarship that enhance and influence health care and spark new approaches to scientific questions. She will oversee the recruitment, retention, and advancement of doctoral students; develop and implement new initiatives to advance their research capacity; and facilitate interprofessional interactions and learning.
Nahm joined UMSON in 2003 as an assistant professor and was subsequently promoted to associate professor and then professor. Beginning in 2010, she served as the director of the Nursing Informatics master's specialty, and from 2012 until April of this year, she served as co-director of the Biology and Behavior Across the Lifespan Organized Research Center.
"I am extremely pleased that Dr. Nahm has accepted the appointment to the position of associate dean for the PhD Program," said Jane Kirschling, PhD, RN, FAAN, the Bill and Joanne Conway Dean of the University of Maryland School of Nursing. "She brings a distinguished record of service to the School and to the University of Maryland, Baltimore and is highly regarded as a researcher, teacher, and mentor. The School has a rich legacy of developing nurse researchers, and our doctoral program was one of very few nursing PhD programs when it launched in 1970. It has continually evolved and today is the most diverse R1 or R1-equivalent nursing PhD program in the United States. I am confident that given Dr. Nahm's deep commitment to doctoral education and to nursing research and scholarship that she will ably guide the future development of our program."
Nahm has a distinguished career in nursing informatics science, with a particular focus on maximizing its use to support and promote the health of older adults and to apply information systems science to improve care coordination across health care levels through academic-clinical partnerships. Her scholarly contributions have included the development of digital health programs and dataset infrastructures necessary to evaluate patient outcomes following patient care interventions at both the individual and population levels. Her research has received support from the National Institutes of Health, the Agency for Healthcare Research and Quality, and the Food and Drug Administration. Most recently, she received funding for "Care Coordination Education-to-Practice Scale-Up Implementation" from the Nurse Support Program II, funded by the Maryland Health Services Cost Review Commission and administered by the Maryland Higher Education Commission.
Nahm's research has been published in more than 70 peer-reviewed articles and disseminated in more than 80 peer-reviewed presentations. She is a leader in the design of nursing informatics curricula, frequently presents at national and international meetings, and has been responsible for the professional development of hundreds of nurse informaticians and for ensuring the preparation of informatics nurses for leadership in academic and clinical settings. She is an exemplary mentor to junior faculty and doctoral students and has served as an advisor or dissertation chair, co-chair, or committee member to dozens of doctoral students.
At the University level, Nahm serves as associate director of the Nursing Informatics Core for the Institute for Clinical Translational Research. She is a member of the University of Maryland, Baltimore graduate faculty and is a faculty associate in the joint doctoral program in gerontology for the University of Maryland, Baltimore and the University of Maryland, Baltimore County. She also serves as a member of the interdisciplinary group that develops the School of Nursing's annual Summer Institute in Nursing Informatics, which has garnered a national and international audience for more than 30 years.
Nahm received her PhD from UMSON in 2003 and her Master of Science Clinical Nurse Specialist Certificate in Adult Health Nursing from the University of Hawaii. She received her Bachelor of Science in Nursing from the Ewha Womans University in Seoul, South Korea. She served in a clinical capacity for a decade in Honolulu and as a certified clinical specialist in gerontological nursing at the Johns Hopkins Bayview Medical Center from 1995 - 98.
Nahm succeeds Kirsten Corazzini, PhD, FGSA, who was named dean of the College of Health and Human Services at the University of New Hampshire in March 2022.
# # #
The University of Maryland School of Nursing, founded in 1889, is one of the oldest and largest nursing schools in the nation and is ranked among the top nursing schools nationwide. Enrolling more than 2,100 students in its baccalaureate, master's, and doctoral programs, the School develops leaders who shape the profession of nursing and impact the health care environment.