Collaboration for Care Coordination
May 5, 2021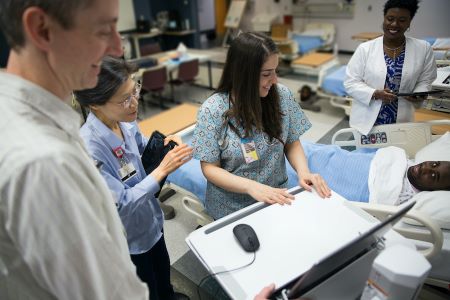 A good deal of the University of Maryland School of Nursing's (UMSON) energy is focused on building collaborations between education and practice, developing pathways for new and experienced nurses both to succeed as a member of the ever-growing nursing workforce and to contribute to improving patient outcomes when they step outside of the classroom (whether physical or virtual). Many of these efforts are undertaken with the University of Maryland Medical System (UMMS) and especially the University of Maryland Medical Center (UMMC), UMSON's practice partner just across Lombard Street.
In 2016, Eun-Shim Nahm, PhD '03, RN, FAAN, professor and director of UMSON's Nursing Informatics Master of Science in Nursing and certificate programs, and Nina Trocky, DNP, RN, NE-BC, CNE, associate professor and then-associate dean for the baccalaureate program, received a more than $250,000, three-year Nurse Support Program (NSP) II planning grant, funded by the Maryland Health Services Cost Review Commission and administered by the Maryland Higher Education Commission, that aimed to prepare RN-to-Bachelor of Science in Nursing (BSN) graduates with advanced knowledge and skills in care coordination supported by health information technology (CC-HIT).
Recognizing that care coordination is becoming an increasingly essential component of nursing education, Nahm and Trocky developed a CC-HIT focus area to supplement the existing RN-to-BSN curriculum, utilizing elective credits to allow students to graduate with an area of specialization without adding time or money to their BSN education. The focus area allows students to explore how health information technology can facilitate the organization of patient care activities and information sharing among all providers to achieve safer and more effective patient-centered care.
"The U.S. health care system has become more complex, and the demand for health care services has skyrocketed," Nahm says. "To meet this demand, nurses must be able to deliver well-coordinated care utilizing available resources effectively. The American Association of Colleges of Nursing's new Essentials for nursing education highlighted this aspect and named care coordination as an essential component of nursing education."
In addition to educating nursing students about care coordination, the grant addressed the critical need to deliver continuing education about care coordination's role in the rapidly changing health care landscape — such as value-based care and population health — to practicing nurses at UMSON's partner health care institutions. The grant team then developed a draft care coordination toolkit for edX, a platform for open online courses. The toolkit included 10 short online learning modules on selected topics related to patient-centered care coordination and population health. At the same time, the team identified ways to support faculty members to grow their expertise in care coordination and population health.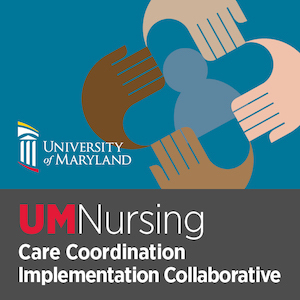 Then, last July, Nahm received a follow-up $1.3 million, five-year NSP II implementation grant, titled "Care Coordination Education to Practice Scale Up," to promote care coordination and patient-centered care across Maryland hospitals while continuing to expand the RN-to-BSN CC-HIT focus area and courses. The goal is to create a collaboration model, the UMNursing Care Coordination Implementation Collaborative (CCIC), a joint effort between UMSON and UMMS hospitals. It builds off of the existing structure of UMNursing, a partnership that capitalizes on the shared strengths and resources of UMSON and UMMC to promote innovative opportunities for research, practice, and education to optimize health care outcomes.
With co-directors Mary Etta Mills, ScD, MS '73, BSN '71, RN, FAAN, professor, and Greg Raymond, DNP '18, MS '10, MBA, BSN '05, RN, NEA-BC, vice president of nursing and patient care services at UMMC, in addition to UMSON faculty and staff and UMMS nurse leaders, the grant team's goals include:
establishing a UMNursing CCIC infrastructure
providing students and practicing nurses with knowledge and skills in care coordination
facilitating quality improvement projects in care coordination and patient-centered care.
"Having a vibrant academic-practice partnership is critical as we prepare the next generation of nurses, as well as the current nursing workforce, to meet our evolving health care needs," says Jane M. Kirschling, PhD, RN, FAAN, the Bill and Joanne Conway Dean of the University of Maryland School of Nursing. "This includes the need for exquisite care coordination. The efforts of Drs. Greg Raymond, Eun-Shim Nahm, and Mary Etta Mills to design and implement care coordination and patient-centered care across Maryland hospitals exemplifies how collaboration between nursing education and practice truly has a positive impact on patient outcomes."
The team plans to assess the impact of the project on selected patient, nursing practice, and nursing education outcomes by comparing baseline data with data at various follow-up points. Metrics include:
Education Outcomes

the number of students who complete the CC-HIT focus area (with a special emphasis on community college students who complete the RN-to-BSN program as part of UMSON's Dual-Admission Partnerships with all 15 community colleges in Maryland that offer an Associate Degree in Nursing program)
the number of graduates who complete the CC-HIT focus area and then serve as care coordinators and/or preceptors in the area of specialty
new practicum opportunities in care coordination and population health

Patient Outcomes

UMMS patient experience with care coordination
30-day unplanned hospital readmission rates

Nursing Practice Outcomes

the number of nurses who take advantage of the edX modules
a change in care coordination or case management certification rates
nurses' care coordination competency and job satisfaction.
"Despite the importance of quality of nursing care on patient outcomes, there have been few studies demonstrating the impact of nursing education on them," Nahm says. "The UMNursing CCIC project is designed to fill this gap by focusing on building care coordination capacity in both nursing education and practice settings and capturing its impact on patient outcomes."
The grant team continues to plan, meet milestones, and move the needle in education-practice collaboration related to care coordination around four organizational cores: administration, education, evaluation/quality improvement, and dissemination. Key among the accomplishments is curriculum revision to and increased offerings in care coordination courses at UMSON and development and testing of data infrastructure and collection processes. The edX care coordination toolkit will be officially launched shortly as "Connecting and Coordinating Person-Centered Care," now with a dozen short modules for clinical nurses.