Gutchell Named Director of Governor's Wellmobile Program
January 9, 2023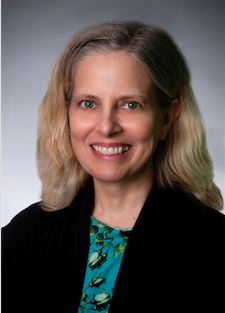 Baltimore, Md. – The University of Maryland School of Nursing (UMSON) has named Veronica Gutchell, DNP '13, RN, CNS, CRNP, assistant professor, as director of the Governor's Wellmobile Program. The Governor's Wellmobile Program offers mobile, nurse-managed primary health care and has been in continuous operation under UMSON's management since its founding in 1994.
The Wellmobile provides primary health care for common chronic diseases and uncomplicated acute illnesses to underserved and uninsured individuals living in Prince George's County. As a nurse-led primary care clinic, it serves some of the state's most vulnerable residents. And, by helping to manage chronic disease, patients can stay healthier and need fewer services such as care in an emergency department.
Since the beginning of the COVID-19 pandemic, the Wellmobile has been conducting patient visits via telehealth; Gutchell envisions the Wellmobile returning to in-person visits in the coming months and expanding service in West Baltimore to better meet the needs of the local community.
The Wellmobile also provides important learning opportunities for UMSON nursing students, functioning as a clinical practice site for UMSON Doctor of Nursing Practice (DNP) Family Nurse Practitioner specialty and Adult-Gerontology Primary Care Nurse Practitioner specialty students and for RN-to-Bachelor of Science in Nursing program students completing community health clinical rotations. Working with the Wellmobile, students learn skills in assessment, diagnosis, and management of common chronic diseases and uncomplicated acute illnesses.
The Wellmobile's health care team includes a nurse practitioner and an outreach worker. Gutchell has served as the Wellmobile's nurse practitioner since 2013. She will continue in that role while overseeing the Wellmobile program.
As part of her responsibilities, Gutchell will develop relationships with community partners to address the health care needs of the Wellmobile's target population. These community partnerships help connect patients to the services they need and address the health care goals of selected communities.
"Given Dr. Gutchell's extensive experience as a family nurse practitioner and in-depth knowledge of the mission and operations of the Governor's Wellmobile Program, I am confident that she will successfully lead the Wellmobile program into the future," said Yolanda Ogbolu, PhD '11, MS '05, BSN '04, CRNP-Neonatal, FNAP, FAAN, associate professor; chair, Department of Partnerships, Professional Education, and Practice; and co-director, Center for Health Equity and Outcomes Research. "I look forward to seeing activation of her ideas for innovative and new approaches to work with students and faculty on the Wellmobile to meet the needs of vulnerable populations in Maryland."
Gutchell joined the UMSON faculty in 2013. Her work has focused on employing health policy and evidence-based information to remove barriers from and expand access to advanced practice registered nursing in Maryland and nationally. She holds a Doctor of Nursing Practice from UMSON, a Master of Science in Nursing from Russell Sage College in New York, and a post-master's Family Nurse Practitioner Certificate and a Bachelor of Science in Nursing from Binghamton University in New York. Committed to shared governance, Gutchell served for four years as chair of UMSON's Faculty Council and is currently serving a three-year term as an UMSON representative on the University of Maryland, Baltimore (UMB) Faculty Senate.
In her role as Wellmobile director, Gutchell succeeds Susan Antol, PhD, MS '79, RN, assistant professor, who directed the Wellmobile beginning in 2009 and whose efforts were recognized by UMB with the 2017 Founders Week Award for Outstanding Public Service. During her more than 13 years as director, Antol pursued grants and new partnerships that allowed vital services to endure, including patient-centered, team-based models of care; support for interprofessional practice and education; and an interprofessional, highly collaborative joint venture between UMB and the University of Maryland, College Park to combat human trafficking. Antol remains in her UMSON faculty position and continues to guide the next generation of nurses in providing community-based care.
# # #
The University of Maryland School of Nursing, founded in 1889, is one of the oldest and largest nursing schools in the nation and is ranked among the top nursing schools nationwide. Enrolling nearly 2,100 students in its baccalaureate, master's, and doctoral programs, the School develops leaders who shape the profession of nursing and impact the health care environment.