Susan M. Antol, PhD, MS, RN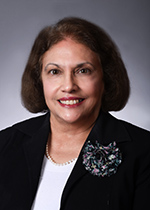 Director, Wellmobile and School-Based Wellness Programs

Partnerships, Professional Education, and Practice

Assistant Professor

Partnerships, Professional Education, and Practice
Location:

Room 425B, School of Nursing Building

Phone:

410-706-5145
Email:
Education
MS, Community Health Nursing, University of Maryland Baltimore, 1979
BS, Nursing, Carlow College, 1975
PhD, Public Health, University of Maryland College Park, 2016
Contracts, Fellowships, Grants, and Sponsored Research
Date:

2013 - 2016

Title:

Predictors of Patient Activation among Underserved Patients in a Nurse-managed Health Center- a Pilot Study

Sponsoring Organization:

MHEC NSP II Nurse Education Dissertation Grant (NEDG)

Role:

Principal

Date:

2015 - 2019

Title:

Bridging Interprofessional Practice and Education with Integrated Care Through a Medical Neighborhood

Sponsoring Organization:

HRSA Bureau of Health Professions Division of Nursing NEPQR

Role:

Principal

Date:

2017 - 2019

Title:

Feasibility of Faculty and Professional Development to Prepare Nurses to Lead Primary Care Initiatives.

Sponsoring Organization:

NSP II Marylnd Higher Education Commission (MHEC)

Role:

Principal

Date:

2017 - 2019

Title:

A Patient-Centric Innovation to Care: Meeting Patients Where They Live.

Sponsoring Organization:

Maryland Community Health Resource Commission

Role:

Other

Title:

MHEC FY 2017 Governor's Wellmobile

Sponsoring Organization:

Legislative allocation through the Maryland Higher Education Commission (MHEC)

Role:

Principal

Date:

2017 - 2019

Title:

HRSA NEPQR Administrative Supplement

Sponsoring Organization:

Health Resources and Services Administration

Role:
Research Interests
Patient Activation and self-management
Health Behavior Theory/ Self-Determination Theory
Care Management, Care Coordination, and Care Transitions
Nursing roles in ambulatory / primary care practices
Immigrant and new citizen health
Rural Health and health care stems
Interprofessional Practice
Research Activity
Duration:

2015 - 2016

Title:

Predictors of Patient Activation Among Underserved Patients in a Nurse-managed Health Center: A Pilot Study

Description:

The study will examine the relationship between Self-determination Theory constructs (autonomy support, autonomous motivation) and patient activation in an underserved nurse-managed primary care clinic (NMHC) population. Patient activation is a self-reported measure of self-management positively related to engaging in healthy behaviors and improved health outcomes. Autonomy support and autonomous motivation are posited to activate patients for self-management. Study findings will guide nurse practitioner (NP) interventions and staff education to improve patient activation. Patients (N=127) will complete an on-line (Qualtrics®) 38-item survey using a computer in a clinic exam room. Questions address perceptions of self-management and NP support and motivation for health behaviors and demographics. Participation is voluntary; refusal will not affect care received. A flier posted in the clinics describing the study and nurse care manager (CM) script describing the study and asking for their participation will be used to recruit eligible English speaking patients 18 years and older. Signed paper consent will be obtained prior to accessing the on-line survey using randomly generated "survey user IDs". Privacy will be protected through on-line survey self-administration or assisted on-line administration with on-site data entry in Qualtrics®. Data are encrypted in transit and storage and are stored in a password protected computer servers under the protections of the University of Maryland Schools of Public Health and Nursing will protect confidentiality. HP-00061645 Dissertation defense completed May 25, 2016. Writing Journal article

Status:

Complete

Duration:

2016 - Current

Title:

Governor's Wellmobile Interprofessional Collaborative Practice

Description:

This investigation is measuring impact on patient outcomes and 2 psychometric measures of patient experience of care and overall functional status based on care by a nurse-managed interprofessional team. It also measures experiences of faculty, staff, and students providing primary care in an interprofessional practice environment. Project is funded by HRSA Nurse Education, Practice, Quality, and Retention Cooperative Agreement. IRB # HP-00069091
IRB renewed 2017, 2018, 2019, 2020

Status:

On-Going

Duration:

2017 - Current

Title:

An Exploration of Practice Structure and Registered Nurses' Role Within Primary Care Practices in Maryland

Description:

Contemporary healthcare delivery system forces highlight the significance of practice transformation to increase quality and efficiency in primary care. Registered nurses (RNs) have been identified as important members of primary care teams. Moreover, the extent to which primary care incorporates RNs as care team members is not yet known nor fully understood. Evidence supports that practices with RNs working at the"top of their license" have demonstrated enhanced patient experience of care, improved population health, cost reduction, and care team well-being (Quadruple Aim; Bodenheimer & Sinsky, 2014). Furthermore, information is lacking regarding the critical nature of actual and potential roles for RNs in primary care and associated skills to enable RNs to practice at the top of their license in Maryland. The purpose of this project is to understand Maryland's primary care practice environment and how RNs currently or potentially may function within primary care. In addition, information generated will inform curriculum changes across multiple levels of nursing education and professional development. Findings may be applied to better prepare primary care teams to meet the challenges of practice transformation. IRB HP 00079515

Status:

On-Going

Duration:

2018 - 2019

Title:

Impact of Interprofessional Collaboration on Diabetes Care on the Governor's Wellmobile

Description:

Dr. Pincus is PI on this IRB (HP-00078460), which is Melanie Slaby's (SOP Pharm D candidate) Capstone. Safety net clinics provide health care and a range of other services for the underserved and underinsured, populations that experience racial, ethnic and socioeconomic disparities in diabetes prevalence and outcomes.
The Governor's Wellmobile Program runs such a clinic in Maryland: a mobile, nurse-managed primary care clinic that serves a largely uninsured, non-English speaking patient population. A large proportion of the patients seen on the clinic are diagnosed with diabetes. Numerous barriers to care would suggest difficulty in meeting standards of care in diabetes management in this type of clinic. However, there is growing evidence that interdisciplinary team-based processes improve the quality of care as well as the outcomes achieved in many chronic conditions including diabetes, even in underserved populations. In 2016, the Wellmobile developed an interprofessional collaborative practice (IPCP) team to address the needs of complex patients. Previously, patients were managed by nurse practitioners assisted by a social worker, bilingual community health workers, and an office-based nurse care manager. The IPCP integrated a family medicine physician and clinical pharmacist in a new team-based approach to case management, realized through interprofessional team meetings and in-clinic care implementation. Patients were referred for management by the IPCP at the discretion of the nurse practitioner, and referrals were not limited by disease states or clinical parameters. The purpose of this research study is to examine the population of patients referred to the IPCP and assess the quality of care with respect to the proportion of standards of care met within the IPCP and the general patient population seen on the Wellmobile. This research would reveal the potential benefits of an interprofessional practice model in the management of diabetes in a complex, uninsured population.

Status:

Complete
Publications
Oros, M., Johantgen,, M. E., Antol, S. M., Heller, B. & Ravella, P. (2001). Community-based nursing centers: Challenges and opportunities in implementation and sustainability . Policy, Politics, and Nursing Practice, 2, 277-78. USA.
Antol, S. M. (2016, September 7). Predictors of Patient Activation among Underserved Patients in a Nurse-managed Health Center: A Pilot Study . ProQuest. http://www.proquest.com/.
Antol, S. M. (2017). Interprofessional Practice Measurement and Evaluation. Measurement in Nursing and Health Research, (5). New York, New york, United States: Springer Publishing Co.
Presentations
Year:

2016

Title:

Predictors of Patient Activation among Underserved Patients in a Nurse-managed Health Center- a Pilot Study.

Conference/Meeting Name:

Fostering Innovation, Sustaining Transformation: The Future of Nurse-led Care

Sponsoring Organization:

National Nurse-led Care Consortium

Location:

Philadelphia PA United States

Year:

2017

Title:

Engaging Interprofessional Team Member Participation to Improve Outcomes of Complex Nurse-managed Health Center Clinic Patients

Conference/Meeting Name:

The Nexus Summit, Learning Together at the Nexus: Provocative Ideas for Practical IPE

Sponsoring Organization:

The National Center for Interprofessional Practice and Educationd

Location:

Minneapolis MN United States

Year:

2017

Title:

Leadership Opportunities for Nurses in Care Transitions and Primary Care Practice Transformation

Conference/Meeting Name:

SHANL Lectorship

Sponsoring Organization:

Sinai Hospital

Location:

Baltimore MD United States

Year:

2017

Title:

Preparing a Community Public Health Nurse Workforce to Lead Primary Care Initiatives

Conference/Meeting Name:

2017 ACHNE Annual Institute: Developing and Supporting Leadership in Public Health Nurse Practice and Education

Sponsoring Organization:

Association of Community Health Nursing Educators

Location:

Baltimore MD United States

Year:

2017

Title:

Preparing Future Providers for Interprofessional Care of Underserved Populations.

Conference/Meeting Name:

Collaborating Across Borders (CAB) VI: Exploring New Heights

Sponsoring Organization:

American Interprofessional Health Collaborative

Location:

Banff AL Canada

Year:

2017

Title:

The Relationship between Autonomy Support by the Nurse Practitioner and Self-management in a Nurse-Managed Mobile Primary Care Clinic

Conference/Meeting Name:

Issues in Urban Primary Care: 2nd Annual UMSOM Department of Family Medicine Primary Care Day

Sponsoring Organization:

UMSOM Department of Family Medicine and John Hopkins University School of Medicine

Location:

Baltimore MD United States

Year:

2018

Title:

Exploratory Analysis of Roles and Related Skills and Expertises of Registered Nurses in Maryland Primary Care Practices

Conference/Meeting Name:

40th Anniversary ACHNE Annual Institute: Celebrating the Past, Envisioning the Future,

Sponsoring Organization:

Association of Community Health Nurse Educators

Location:

New Orleans LA United States

Year:

2018

Title:

Impact of interprofessional collaboration on diabetes care on the Governor's Wellmobile.

Conference/Meeting Name:

American Society of Health-System Pharmacists Midyear Clinical Meeting

Year:

2019

Title:

An Exploration of Practice Structure and Registered Nurses' Roles and Related Skills and Expertise in Primary Care Practices in Maryland

Conference/Meeting Name:

Culture of Health: Equity Thrives on Diversity

Sponsoring Organization:

ACHNE

Location:

Phoenix AZ United States

Year:

2019

Title:

Fostering Interprofessional Team Member Collaboration to Improve Outcomes of Complex Nurse-managed Health Center Mobile Clinic Patients

Conference/Meeting Name:

Maintaining Resiliency in Primary Care

Sponsoring Organization:

Johns Hopkins University and University of Maryland

Location:

Baltimore MD United States
Areas of Specialization
Nurse-managed health centers and interprofessional collaborative practice
Primary Teaching Areas
Rural Health; Interprofessional Education and Practice; Health Policy, Leadership and Quality Improvement
Honors/Awards
Name:

Psychiatric Nurse Training Grant

Sponsoring organization:

Federal Bureau of Nursing

Date:

September 1974

Name:

Advanced Nursing Training Grant

Sponsoring organization:

Federal Bureau of Nursing

Date:

January 1978

Name:

Phi Beta Kappa Honor Society

Sponsoring organization:

Phi Beta Kappa

Date:

May 1979

Name:

2017 UMB Public Servant of the Year

Sponsoring organization:

UMB President's Office

Date:

October 2017
Academic and Professional Activities
University
Date:

2018 - Current

Organization:

Council of University System Faculty (CUSF)

Role:

UMB Faculty Senator

Date:

2016 - Current

Organization:

UMSON Climate Change Workgroup

Role:

Workgroup member

Date:

2018 - 2020

Organization:

Governance Council

Role:

Council member

Date:

2008 - 2013

Organization:

Faculty Council

Role:

FCH Department Representative

Date:

2017 - Current

Organization:

UMB Faculty Senate

Role:

UMSON Faculty Senator

Date:

2003 - 2016

Organization:

Baltimore Schweitzer Fellows

Role:

Board member

Date:

2002 - Current

Organization:

University of Maryland Medical Center Credentialing Committee

Role:

Committee member

Date:

2004 - 2011

Organization:

Undergraduate/Entry-level Curriculum Committee

Role:

FCH Department Representative, Chair, Ex-Officio

Date:

2019 - 2020

Organization:

UMSON Faculty Council

Role:

Committee member/ UMB Faculty Senate liaison
Professional
Date:

2014 - 2015

Organization:

Maryland Rural Health Assoction

Role:

Attendee, Meeting

Date:

2017 - 2017

Organization:

Journal of Professional Nursing

Role:

Manuscript Reviewer/Referee

Date:

2017 - 2017

Organization:

National Nurse-led Care Consortium

Role:

Nurse Planner

Date:

2018 - Current

Organization:

Association of Community Health Nursing Educators Research Committee

Role:

Committee Member

Date:

2018 - Current

Organization:

National Nurse-led Care Consortium

Role:

Academic Practice Committee Member

Date:

2012 - 2016

Organization:

Maryland Assembly on School-Based Health Care

Role:

Board of Directors
Public
Date:

2012 - 2015

Organization:

Governor's School-based Health Center Policy Advisory Council

Role:

Board Member