Bindon and Doran Inducted as Fellows of the American Academy of Nursing
November 2, 2022
Eight alumni join associate professors in the cohort of AAN distinguished nurse leaders.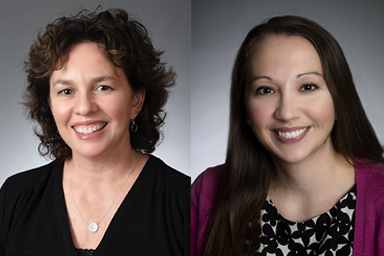 Baltimore, Md. – The University of Maryland School of Nursing (UMSON) proudly announces that Susan L. Bindon, DNP '11, MS '96, RN, NPD-BC, CNE, CNE-cl, FAAN, associate professor, associate dean for faculty development, and director, Institute for Educators and Teaching in Nursing and Health Professions Certificate; and Kelly Doran, PhD '11, MS '08, RN, FAAN, associate professor, have been inducted as 2022 Fellows of the American Academy of Nursing (AAN). They are joined by eight UMSON alumni among the 250 distinguished nurse leaders who compose this year's cohort. They were all recognized for their contributions to health and health care at the academy's annual Health Policy Conference, Oct. 27 - 29, in Washington, D.C.
The UMSON alumni are:
Bimbola Akintade, PhD '11, MS '05, MBA, MHA, BSN '03, ACNP-BC, NEA-BC, FAAN
Desiree Clement, DNP, MS '03, BSN '01, APRN, CNM, FNP-BC, FACNM, FAAN
Stephan Davis, DNP, MHSA, BSN '07, FACHE, FNAP, FAAN
Marian Grant, DNP '10, CRNP, ACBC-NP, ACHPN, FPCN
Michelle Munroe, DNP, MS '03, BSN '92, FACNM
Christine Pintz, PhD '06, WHNP-BC, FNP-BC
Ingrid Pretzer-Aboff, PhD '07, RN, FCSA
Kenneth Rempher, PhD '05, MS '99, MBA, RN, CENP
Criteria for selection as an AAN Fellow includes evidence of significant contributions to nursing and health care and sponsorship by two current AAN Fellows. Applicants are reviewed by a panel of elected and appointed fellows, and selection is based, in part, on the extent the nominee's nursing career has influenced health policies and the health and well-being of all.
In her multiple roles at UMSON, Bindon drives the development of nurse educators' skills across academic and practice settings. Her success in advancing nursing faculty's leadership, scholarship, and service contributions prompted her appointment as the inaugural associate dean for faculty development. She leads a $1.1 million statewide grant-funded effort to develop clinical instructors, preparing nearly 450 clinical faculty from dozens of mid-Atlantic sites to date. She is a recognized national leader in nursing professional development and a steadfast advocate for the specialty. She is immediate past president of the Association for Nursing Professional Development and served five years as co-editor of the Journal for Nurses in Professional Development. Bindon won the American Association of Colleges of Nursing (AACN) Excellence and Innovation in Teaching Award and shares her teaching expertise with generations of current and future nurse educators and leaders. She is dually certified in nursing professional development and as an academic nurse educator. She has published peer-reviewed articles and book chapters and presents widely on teaching strategies and learner engagement. Bindon earned her Bachelor of Science in Nursing (BSN) from the University of Pittsburgh, and her Master of Science, graduate teaching certificate, and Doctor of Nursing Practice from UMSON.
Doran has led multiple worksite wellness studies within long-term care facilities. These projects have demonstrated improvements in staff behavior and health outcomes as well as improvements at the organizational level, including increased worker productivity and spillover benefits to residents with staff serving as healthy role models, engaging residents in healthy behaviors. These programs can serve as an opportunity to help improve the health care worker shortage that was noted even before the COVID-19 pandemic. Doran also serves as a co-investigator on federal, state, and local grants aiming to reduce health inequities. In her practice work, Doran has created models of care focusing on comprehensive wellness interventions, including health education, behavior change coaching, care coordination, increasing health literacy, and reducing barriers to care by addressing social determinants of health for vulnerable adults in West Baltimore. This novel model was recognized by AACN in 2016 with the Innovations in Professional Nursing Education Academic Health Center Award. Overall, Doran's research and practice findings, disseminated via dozens of publications and presentations, have been cited over 425 times. She earned her Associate of Arts in Nursing from the Community College of Philadelphia, her BSN from Drexel University, and her Master of Science and PhD from UMSON.
We congratulate Drs. Bindon and Doran on the honor of being named Fellows of the American Academy of Nursing," said Jane Kirschling, PhD, RN, FAAN, the Bill and Joanne Conway Dean of the School of Nursing. "It is a tribute to their dedication and commitment to excellence. Dr. Bindon's contributions to innovation and best practices in teaching and learning are exceptional; she has guided faculty in new approaches and prepared expert clinicians to become excellent teachers. Dr. Doran's research and teaching are inextricably linked; she has advanced students' understanding of the transformative role of community and public nursing while championing delivery of care to underserved and high-risk populations. We also congratulate our eight distinguished alumni for being nationally recognized for their leadership and many contributions to nursing research, education, and practice."
The new AAN Fellows represent 35 states; Washington, D.C.; Puerto Rico; the U.S. Virgin Islands; and 17 countries. Fellows now comprise more than 2,900 nursing leaders who are experts in policy, research, administration, practice, and academia and who champion health and wellness, locally and globally.
# # #
The University of Maryland School of Nursing, founded in 1889, is one of the oldest and largest nursing schools in the nation and is ranked among the top nursing schools nationwide. Enrolling nearly 2,100 students in its baccalaureate, master's, and doctoral programs, the School develops leaders who shape the profession of nursing and impact the health care environment.