From the Wards to ICU: Nursing in the Hospital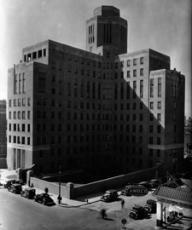 Between the 1870s and 1920s, the hospital's emergence as the center of American medical care created an insatiable demand for nurses. Despite the dizzying pace of hospital openings (from 178 in 1873 to 4,400 in 1909), few School of Nursing graduates found jobs on the wards. Through the 1930s, hospital administrators across the nation relied on training school students, considered less expensive and more amenable to discipline than graduate nurses.
‌The rapid transformation of the hospital to the primary work setting for nurses began in the late 1940s. By 1950, with health insurance and complicated medical procedures filling hospital beds, one of every two active nurses in the United States was working in a hospital. While hospitals continue to employ a large proportion of all nurses, School of Nursing graduates now enjoyed growing opportunities in a variety of practice settings.
On left: University Hospital shortly after its completion in 1934.
A Modern Medical Facility
By the 1920s, hospitals had completed their transformation from welfare institutions serving the dependent to modern professional medical facilities featuring numerous wards, private suites, operating rooms, and institutional kitchens.
Changes in Hospital Nursing
General floor nursing became increasingly difficult in the 1940s and 1950s because of hospital understaffing, increasing patient demands, and nurses' limited expertise in dealing with sudden emergencies. Over the next two decades, such conditions gave rise to a new category of patient care known as intensive care or critical care nursing. Supported by increased governmental funding, growing medical knowledge, and rising public expectations, critical care nursing helped transform the hospital from a place to recover from illness to a place to be saved from death.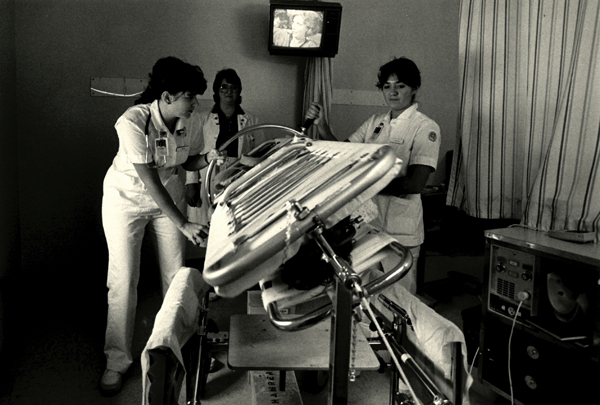 Turning a patient in a Stryker-frame bed under a supervisor's watchful eyes, University of Maryland Hospital, 1980s