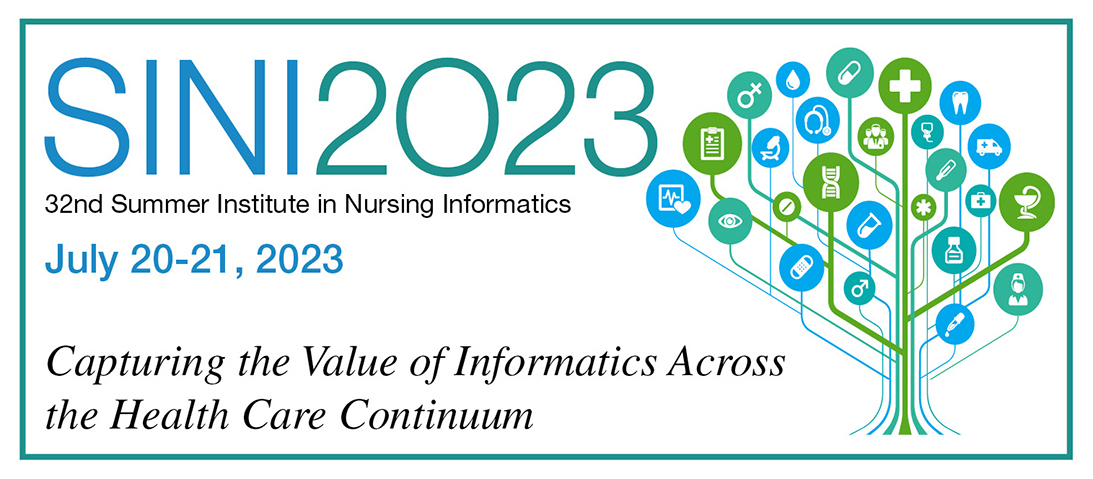 Opens Nov. 14, 2022, 8 a.m. ET
Closes Feb. 20 2023, 11:59 p.m. ET
---
Information and Guidelines
All abstracts should be submitted using the online submission process. Be sure to review both the submission, abstract guidelines and rubric before you begin. If you have questions during this process, contact Sonia Smith at pe.nursing@umaryland.edu.
---
Track Descriptions
Track A: The Value of Informatics and the Informatician
Clinical informatics are crucial for patient care, and the success of a healthcare system. However vital their work, Informatics staff can feel invisible to the rest of the health care organization. How do you measure the value and promote the growth of informatics and informaticians throughout the health care community? What are the data metrics used to determine the value of informatics? How is this value shared back to the health care community? This track will explore ways to capture the value of the informatician and reinvest the benefits to the organization and the patient.
Track B: Innovations Across the Continuum of Care
Recently, U.S. healthcare systems have explored ways to address health population management and chronic disease challenges using innovative solutions, including health care informatics technologies and new care models. The pandemic shifted the way we communicate and deliver health care using hybrid approaches. In line with these changes, there was a paradigm shift in the nursing and health care informatics domain with regard to the way we learn, teach, and practice informatics.
This track introduces experts and practitioners in care delivery, care management, health IT implementation and interprofessional education, who will explain and demonstrate innovations they have used in their emphasis areas.
---
Submission Guidelines
Review the required information and abstract guidelines.
In the case of multiple authors, we recommend that only the primary presenter (person who will present at SINI) submit the abstract and required information.
The primary presenter must provide the required information for all co-authors at the time of submission, whether or not co-authors plan to attend SINI. Abstracts that name co-authors but fail to include the required information will be considered incomplete and will not be reviewed.
Prepare your abstract as a separate Word document and have all information ready before starting the submission process.
Select the appropriate category for your work: Research or Practice.
Indicate your preference for a podium or poster presentation. The review committee may request that you change from your preferred presentation format to the other.
All accepted abstracts will be asked to provide a recorded presentation for their content for the virtual format. This includes a 20-minute presentation for a podium presentation or a five-minute presentation of a poster.
Provide the title of your abstract as you want it to appear in the program.
Copy and paste the text of your abstract into the box provided in the online form. The form will accept no more than 400 words. Longer abstracts will be truncated at 500 words.
Incomplete forms, alternatively formatted submissions, emailed submissions, or faxed submissions will not be considered for review.
Review the call for abstracts Abstract Scoring Rubric.
---
Notification
The primary presenter will receive email notification of the review committee's decision after March 1, 2023. The primary presenter is expected to relay this information to all co-authors. Winners of Outstanding Abstract awards will be notified during this time also.
Presenter Commitment and Registration
Your commitment to present and a completed registration form for the primary presenter must be received on or before March 29, 2023. Failure to register by this deadline will constitute a decline to present.
Presenters are expected to register to attend SINI; primary presenters selected will receive a discounted registration rate for the entire conference. Primary presenters of the Outstanding Podium and Poster Abstract awards receive complimentary registration for all of SINI.
---
Guidelines for Presentations
Podium Presentations
Two podium presentations are scheduled per hour. Each speaker should allocate 20 minutes for their presentation and allow an additional five minutes for Q&A. All accepted presentations will be pre-recorded, and presenters are expected to be present during the presentation and live Q&A. Additional details will be provided for accepted abstracts.
Poster Presentations
All accepted posters will be required to record a five-minute video presentation of their poster that will be available for all participants during and after SINI. In addition to virtual presentations, there will be a scheduled time for poster presenters to answer questions live. Additional details will be provided for accepted abstracts.
---
Awards for Outstanding Podium and Poster Presentations
Two abstracts will be chosen by the review committee for awards. The primary presenter of each winning abstract will receive complimentary registration to SINI 2024. Complimentary registration includes all sessions of SINI. The winners will be recognized during the conference, and their names will appear on the SINI website.
Outstanding Podium Presentation Award
One presentation abstract judged to offer the greatest contribution to nursing informatics will receive the Outstanding Presentation Award.
Outstanding Poster Award
One poster abstract judged to offer the greatest contribution to nursing informatics will receive an Outstanding Poster Award.
People's Choice Award
Attendees will vote for a People's Choice Award. The winner will be announced at the closing session. The winner of the People's Choice Award will receive a complimentary registration for SINI 2024.