2022 Summit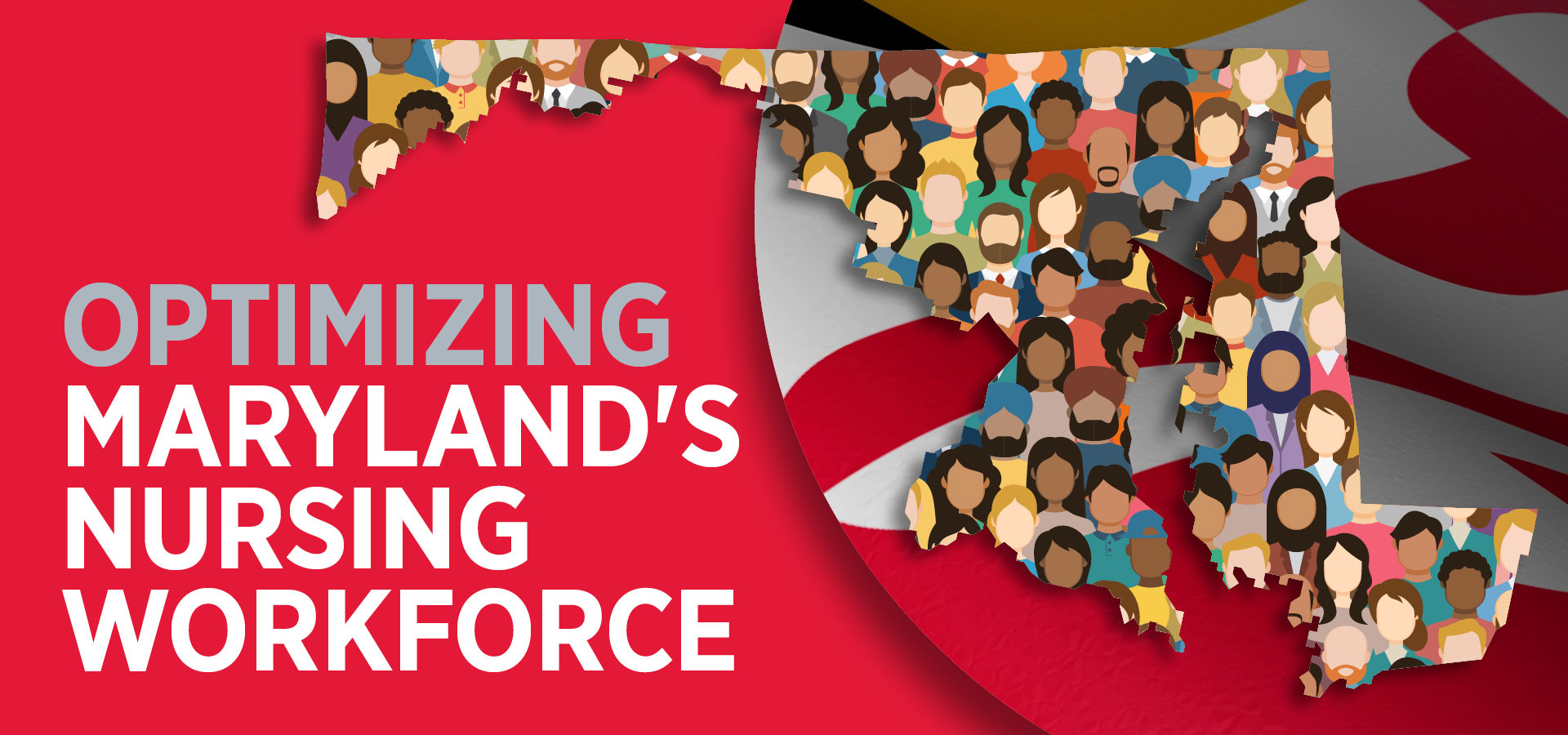 2022 MDAC Virtual Leadership Summit:
Optimizing Maryland's Nursing Workforce
Monday, May 23, 2022
Virtual
Overview:
Health care is challenged with achieving a diverse, highly skilled, and stable nursing workforce. This challenge has been amplified by the recent pandemic and is undergirded by the continuing demand for more nurses.
Objectives:
Identify initiatives that cultivate a diverse and skilled nursing workforce.
Describe approaches for preparing students to meet future health care needs, including social determinants of health.
Explore evolving strategies for retaining Maryland's nursing workforce.
Outcome:
75% of the participants will identify one strategy in cultivating and retaining a diverse and skilled workforce.
Registration Cost:
Free Registration (no CE) $0
Registration (with CE) $30
This workshop is offered at no cost through funding by the Nurse Support Program II (NSP II 20-125), which is funded by the Maryland Health Services Cost Review Commission and administered by the Maryland Higher Education Commission.
The call for abstracts has closed.
Abstract Submission Guidelines
All abstracts must be submitted using the online submission process. We recommend reviewing the following guidelines as you prepare your abstract. If you have any questions during the submission process, please contact us at pe.nursing@umaryland.edu.
Review the MDAC Leadership Summit overview and objectives.
Prepare an abstract in a Word document and confirm all information is included before starting the online submission process.
In the case of multiple authors, we recommend that only the primary author (person who will present at the summit) submit the abstract and required information.
The primary author (presenter) must provide the required information for all co-authors (including all collaborating partners) at the time of submission and whether co-authors plan to attend the summit. Abstracts that name co-authors but fail to include the required information will be considered incomplete and will not be reviewed.
Provide the title of your abstract as you want it to appear in the program.
Copy and paste the text of your abstract into the box provided in the online form. The form will accept no more than 500 words. Longer abstracts will be truncated.
Incomplete forms, alternatively formatted submissions, emailed submissions, or faxed submissions will not be considered for review.
You must acknowledge funding sources supporting your project in your abstract.
Notification
The primary author (presenter) will receive email notification of the review committee's decision after April 22. The primary presenter is expected to relay this information to all co-authors.
Presenter Commitment and Registration
All primary presenters are expected to register for the 2022 MDAC Virtual Leadership Summit. Your commitment to present and complete your registration for the primary presenter must be received by April 29. Failure to register by this deadline will constitute a decline to present.
Guidelines for Poster Presentations
All accepted posters will require the primary author to record a 5-minute presentation of their poster that will be available for all participants during the virtual summit. In addition to virtual presentations, there will be a scheduled time for poster presenters to answer questions live via the virtual conference platform's chat feature. Additional details will be provided for accepted abstracts.
MDAC reserves the right to edit the abstracts for posting.
Time
Activity
9 – 9:10 a.m.

Welcome and Summit Overview

Jane M. Kirschling, PhD, RN, FAAN
The Bill and Joanne Conway Dean, University of Maryland School of Nursing
Co-Chair, Maryland Action Coalition

9:10 – 9:15
MDAC Inaugural Award Presentation
9:15 – 10

Fireside Chat: Managing the Present, Creating the Future
with Johns Hopkins/MedStar/UMMS Health Systems Chief Nursing Officers

Deborah Baker, DNP, APRN, NEA-BC, FAAN
Senior Vice President for Nursing, Johns Hopkins Health System, and Vice President for Nursing and Patient Care Services and Chief Nursing Officer, The Johns Hopkins Hospital

Susan Eckert, MSN, RN, NEA-BC
Senior Vice President and Chief Nursing Officer, MedStar Health

Lisa Rowen, DNSc, RN, CENP, FAAN
Chief Nurse Executive, University of Maryland Medical System

Moderator:
Jane M. Kirschling, PhD, RN, FAAN

10 – 10:15
Break
10:15 – 11:15

Keynote: The Future of Nursing: Leadership, Advocacy, and Activism in Action
Ernest Grant, PhD, RN, FAAN
President, American Nurses Association

11:15 a.m. – 1:15 p.m.
Poster Session
Learn new approaches to academic and clinical practices and interact with poster authors.

1:15 – 2:15 p.m.

Keynote: Poised for Impact: Nurses Advancing Health Equity
Kupiri W. Ackerman-Barger, PhD, RN, CNE, FAAN
Associate Dean for Health Equity, Diversity, and Inclusion, UC Davis Health

2:15 – 2:30
Break
2:30 – 4
Podium Presentations (includes Q&A via chat box)
Formal 15-minute sessions describing initiatives to prepare and strengthen the nursing workforce

4 – 4:15

Summary and Closing Remarks

Patricia Travis, RN, PhD, CCRP
Senior Associate Director, Clinical Trials, Johns Hopkins School of Medicine
Co-Chair, Maryland Action Coalition
Keynote: Ernest J. Grant, PhD, RN, FAAN
Ernest J. Grant, PhD, RN, FAAN, is the 36th president of the American Nurses Association (ANA), the nation's largest nurses organization representing the interests of the nation's 4.3 million registered nurses.
A distinguished leader, Grant has more than 30 years of nursing experience and is an internationally recognized burn-care and fire-safety expert. He previously served as the burn outreach coordinator for the North Carolina Jaycee Burn Center at University of North Carolina (UNC) Hospitals in Chapel Hill. In this role, Grant oversaw burn education for physicians, nurses, and other allied health care personnel and ran the center's nationally acclaimed burn prevention program, which promotes safety and works to reduce burn-related injuries through public education and the legislative process. Grant also serves as adjunct faculty for the UNC Chapel Hill School of Nursing, where he works with undergraduate and graduate nursing students in the classroom and clinical settings.
Grant is frequently sought out for his expertise as a clinician and educator. In addition to being a prolific speaker, he has conducted numerous burn-education courses with various branches of the U.S. military in preparation for troops' deployment to Iraq and Afghanistan. In 2002, President George W. Bush presented Grant with a Nurse of the Year Award for his work treating burn victims from the World Trade Center site. In 2013, Grant received the B.T. Fowler Lifetime Achievement Award from the North Carolina Fire and Life Safety Education Council for making a difference in preventing the devastating effects of fire and burn injuries and deaths within the
state.
An active participant in professional organizations, Grant is a past chair of the National Fire Protection Association board of directors and served as second vice president of the American Burn Association board of trustees. He also holds membership in Sigma Theta Tau and Chi Eta Phi. Grant served as president of the North Carolina Nurses Association from 2009-11. In 2002, ANA honored Grant with the Honorary Nursing Practice Award for his contributions to the advancement of nursing practice through strength of character, commitment, and competence.
Grant holds a BSN degree from North Carolina Central University and MSN and PhD degrees from the University of North Carolina at Greensboro. He was inducted as a fellow into the American Academy of Nursing in 2014. He is the first man to be elected to the office of president of the American Nurses Association.
---
Keynote: Kupiri W. Ackerman-Barger, PhD, RN, CNE, ANER, FAAN
Piri Ackerman-Barger, PhD, RN, CNE, ANER, FAAN, is the associate dean of health equity, diversity, and inclusion as well as a clinical professor at the University of California Davis Betty Irene Moore School of Nursing. She also directs Faculty Development for Education and co-directs the Interprofessional Teaching Scholars Program for UC Davis Health.
Over her career, Ackerman-Barger has combined her expertise in nursing and education to advance a program of instruction on workforce diversity, education equity, and institutional sustainability that she has presented nationally to thousands of participants. Her research identifies strategies to cultivate the skills and knowledge that health care providers, educators, and leaders need to diversify the health care pipeline.
Continuing Education for Nurses
Nurses may receive 6.5 contact hours upon successful completion of this educational activity. Successful completion is demonstrated by attending the entire summit and submitting completed program evaluation. Partial credit is not provided.
Participants will receive a continuing education (CE) certificate via email from the University of Maryland School of Nursing within four weeks after submitting their request for CE along with required documents. All requests for CE must be received within 90 days of the conference.
The University of Maryland School of Nursing is accredited as a provider of continuing nursing education by the American Nurses Credentialing Center's Commission on Accreditation.
MDAC Exemplary Leadership Award
The Maryland Action Coalition (MDAC) Exemplary Leadership Award was created in 2022 to recognize and celebrate the leadership and accomplishments exhibited beyond one's day to day role.
The nominee embodies the core values of MDAC; honors diverse experiences and perspectives; and sets an example of including others while exploring new ideas and partnerships to achieve large-scale goals.
The nominee's achievements enhance MDAC's strategic mission and the community served and advance access and opportunities for others.
2022 Inaugural Recipient: Joan Warren, PhD, RN, NPD-BC, NEA-BC, FAAN, Executive Director, MONL Inc./MNRC
Maryland Action Coalition Membership Form
Planning Committee Members
Jane Kirschling, PhD, RN, FAAN
The Bill and Joanne Conway Dean and Professor,University of Maryland School of Nursing
Co-Chair, Maryland Action Coalition
Patricia Travis, PhD, RN, CCRP
Senior Associate Director, Clinical Trials, Johns Hopkins Medicine
Secretary, American Nurses Association
Co-Chair, Maryland Action Coalition
Lynn Marie Bullock, DNP, RN, NEA-BC
Assistant Professor and Director, Office of Professional Education, University of Maryland School of Nursing
Mary Etta Mills, RN, ScD, FAAN
Professor, University of Maryland School of Nursing
Giordana Segneri, MA
Director of Marketing and Public Relations, University of Maryland School of Nursing
Sonia Smith, BS
Senior Program Specialist, Office of Professional Education, University of Maryland School of Nursing
Enjoli Sonnier, MBA, MS
Assistant Director of Events, University of Maryland School of Nursing
Stephanie White, MA
Office Manager, Office of the Dean, University of Maryland School of Nursing
Rebecca Wiseman, PhD, RN
Associate Professor and Chair, University of Maryland School of Nursing at the Universities at Shady Grove
Director, Maryland Nursing Workforce Center