Home and Community Based Care Symposium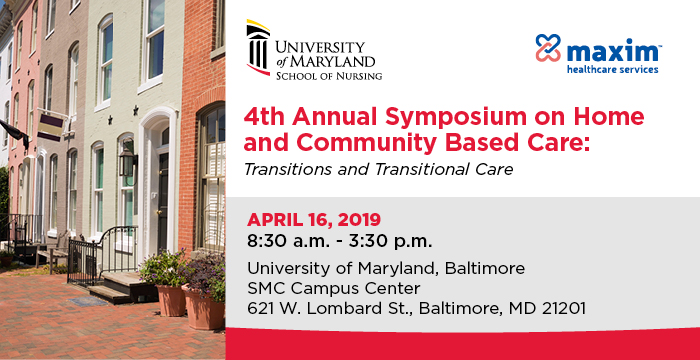 4th Annual Symposium on Home and Community Based Care:
Transitions and Transitional Care
April 16, 2019
8:30 a.m.-3:30 p.m.
University of Maryland, Baltimore
Southern Management Corporation Campus Center
621 W. Lombard St.
Baltimore, MD 21201
Deadline for submission is Jan. 22, 2019.
---
This one-day conference analyzes emerging trends in home and community-based care. The opening session sets the context for home- and community-based care from a national and state perspective. We'll examine and discuss recent policies, the initiation of the Maryland Primary Care Program, and the impact of mid-term elections on care.
Next, we will delve into transitions to home from long-term care settings. Attendees will participate in case scenarios in collaboration with experts in the field.
Our ultimate aim is to shape the future of health care where individuals, communities, and populations thrive as a result of a vibrant culture of health supported by an effective health care service system. We hope you join us!
This year's symposium also provides a Poster Session!
We invite clinicians, faculty and students to share their projects and research on home-based care topics.
---
Symposium Background
A collaborative effort between the University of Maryland School of Nursing and Maxim Healthcare Services, this symposium is designed to inform health care system stakeholders on emerging forces and developments within home and community based care. Sessions engages the learner and activate new perspectives on health care and delivery of services. Leaders and stakeholders in health care policy, education, practice, and delivery systems, along with health care practitioners and community members are part of the program.