Home and Community Based Care Symposium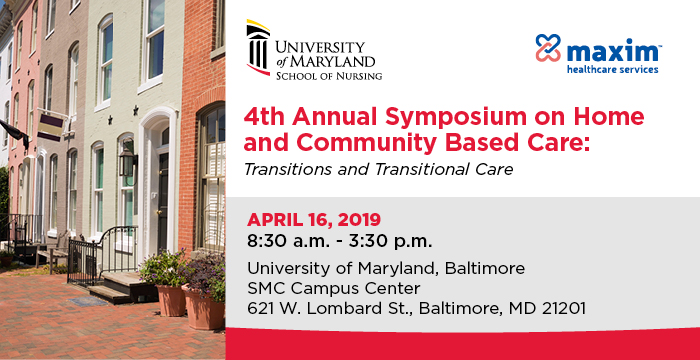 4th Annual Symposium on Home and Community Based Care:
Transitions and Transitional Care
April 16, 2019
8:30 a.m.-3:30 p.m.
University of Maryland, Baltimore
Southern Management Corporation Campus Center
621 W. Lombard St.
Baltimore, MD 21201
---
This year's symposium considers transitions in care within the home and community-based care setting. The opening session examines national and state policy trends, during which learners will discuss the application and effect of these policies. Next, we will delve into transitions to home care from long-term care settings. Using case scenarios, attendees collaborate with experts to apply best practices and learn more about resources available to practitioners, patients, and communities. Our ultimate aim is to shape the future of health care where individuals, communities, and populations thrive as a result of a vibrant culture of health supported by an effective health care service system.
This year's symposium will include a Poster Session!
We invite clinicians, faculty and students to share their projects and research on home-based care topics.
More Information
A collaborative effort between the University of Maryland School of Nursing and Maxim Healthcare Services, this symposium is designed to inform health care system stakeholders on emerging forces and developments within home and community based care. Sessions engages the learner and activate new perspectives on health care and delivery of services. Leaders and stakeholders in health care policy, education, practice, and delivery systems, along with health care practitioners and community members are part of the program.
Symposium Objectives:
Discuss current and emerging developments in home- and community-based care
Describe how home-based care aligns with national goals of improving population health, enhancing the patient experience, and decreasing the cost of care
Identify home- and community-based strategies that improve health outcomes of individuals and communities
Identify stakeholders needed in planning effective patient-centered health care systems.
Time
Topic
7:45-8:30 a.m.

Registration

Continental Breakfast
sponsored by Maryland Relay



Exhibitors

8:30-8:35 a.m.

Opening Remarks

Patricia D. Franklin, PhD, RN
Assistant Professor, University of Maryland School of Nursing
Chair, Planning Committee

8:35-8:45 a.m.

Welcome

Jane M. Kirschling, PhD, RN, FAAN
Dean and Professor, University of Maryland School of Nursing

8:45 – 9:45 a.m.

Opening Session
sponsored by ComForCare Home Care


National Policy Perspective; Key forces driving health care delivery

Howard Haft, MD
Executive Director, Maryland Primary Care Program, Maryland Department of Health

Local Policy Perspective: Maryland's pivot towards primary, home, and community-based care.

Patrick Dooley, BA, MA
Vice President, Population Health and Executive Director, University of Maryland Quality Care Network

9:45-10:15 a.m.
Open Mic: Questions for and Discussion with Speakers
10:15-10:45 a.m.

Break

Exhibitors

10:45 a.m.-12:15 p.m.

Case Study No. 1

Case Study Presentation: Challenges in Meeting Medicaid Health Care Service Standards

Laura Allen, MS, MS, RN
Program Director, Community and Public Health Environment Initiative, University of Maryland School of Nursing

Panel Discussion

Jeff Goldman, MA, MBA
VP Population Health, Director Nexus Montgomery

Andrew Friedell, MS
Sr. VP of Strategic Solutions, Maxim Healthcare

Open Mic Session
12:15–12:30 p.m.

Lunch (Provided)
sponsored by Medi-Rents & Sales Inc.


Exhibitors

12:30-1:15 p.m.
Poster Presentations by Authors and Exhibitors
1:15-2:45 p.m.

Case Study No. 2

Case Study Presentation: Transitions from Long Term Care to Home

Marik Moen, PhD, RN
Assistant Professor, Family Child Health, University of Maryland School of Nursing

Panel Discussion

Angela Carr, BS, MHA
Director of Population Health, Genesis Healthcare, Inc.

Camisha Coke
Community Health Worker

Open Mic Session

2:45-3:00 p.m.

Closing Remarks and Poster Award

Keith Jacobs, BA
Director of Business Operations
Maxim Healthcare Services
Implementing Mobile Text-Messaging to Improve Attendance at Well Visits in Primary Care Pediatrics
Ngozi Osuagwu, MS, CPNP


The Community Care Team: Howard County General Hospital's Key to Coordinated Care Transitions for Medicare Patients
Jillian Anderson, BSN, RN, and Tammy Liu, MPH


Implementation and Evaluation of a Locator Protocol to Support People Living with HIV Post Hospitalization
Katherine Scott, MPH, RN, and Marik Moen, PhD


Clarifying the Process of Pediatric Home Healthcare: Helping Children with Medical Complexity Live at Home with their Families
Jessica Raisanen, MSPH; Karen Fratantoni, MD, MPH; Pamela Donohue, ScD, MS; Jennifer Miller, MD; Katheryn Detwiler, BS; Katheryn Neubauer, MD; Susan Huff, MSN, RN; and Renee Boss, MD


Recruitment, Training & Hiring of Community Health Workers in Baltimore City in the Global Budget Revenue Era
Latish Walker, MA; Julius Ho, MD, MPH; Cheryl Finney, PhD; and Patti Flowers-Coulson, MHS, MCHES


Improving Pneumococcal Vaccine Rates in Older Adults in an Outpatient Setting
Joyce Falkenhan, MSN, RN, B-C, CNRN


Collaborative Approach to Reducing Rehospitalizations from Skilled Nursing Facilitiesd
Bethany Sanders, MPH, and Madeline Nelson, MPH


Nurse-Led Peer-Facilitated Diabetes Prevention Program for Formerly Homeless Men
Oluremi Adejumo, MSc, and Katherine Fornili, DNP


Implementing Medicare Annual Wellness Visits (AWV) with a Health Risk Adjustment (HRA) in Primary Care
Tiffany Owens, DNP


Nurse-Led Transitional Care Intervention to Improve Linkage to Care Among Vulnerable Patient Population with HIV
Boris Senatorov, MS


Community Paramedicine Job Satisfaction and Engagement
Roseann Velez, DNP; Kristen Seidl, PhD, RN; Mark Fletcher; and David Marcozzi, MD, MHS-CL, FACEP


Implementation of Alcohol Screening, Brief Intervention, and Referral in Primary Care
Shannon Kelso, BSN, RN


Implementation of Post-Traumatic Stress Disorder Screen in Primary Care
Tarleen Weston, RN


Job Satisfaction of Home Health Nurses
Delores McCreary, DNP, RN, CNE


Stop the Bleed Training: A Valuable Resource for Staff Development in a Community-Based Organization
Katie McElroy, PhD, RN, and Pamela Smith-McNeal


Development of a Logic Model to Guide Implementation of a Mobile Integrated Health Program
Kristin Seidl, PhD, RN; Roseann Velez, DNP, CRNP, FNP-BC, DNP; Mark Fletcher; Soren Bentzen, PhD, DMSc; Benoit Stryckman, MA; Olufunke Sokan, MPharm, RPh; and David Marcozzi, MD, MHS-CL, FACEP


Meet Them Where They Are: Using Street Outreach to Deliver Narcan Training to the At-Risk Population in West Baltimore
Megan Doede, MS, RN, and Kelly Doran, PhD, RN


Effectiveness of Medication-Assisted Therapy Interventions in Addressing the Problem of Prescription Opioid Misuse
Stella Jefferies, DNP


Transitional Primary Care Nurse Practitioner
Deborah Schofield, DNP, CRNP; Meredith Truss, MPP; and Raven Jones, MPH


Improving Medication Reconciliation Safety Rate: A Quality Improvement Project in a Rural Maryland Primary Care Clinic
Edwin Juma, DNP


Photovoice as a Method for Revealing Student Nurse Perceptions of the Barriers to Health Present in Chosen Community
Klaudia Cwiekala-Lewis, MSN, RN, APHN-B; Brandon Parkyn, MSN, RN, CCRN; and Johanna Geister, MSN, RN


Integrating a Community Nurse in Senior Housing Communities: Evaluation of Impact
Kae Livsey, PhD, MPH, RN


Creating Culturally Appropriate HIV/AIDS Education Materials For Patients Not Engaged in HIV Care
Jahi Omari, MPH
Continuing Education for Nurses
Nurses may receive 5.5 contact hour(s) upon successful completion of this continuing education (CE) activity. To receive a certificate of CE, participants must attend the entire activity, submit the verification of attendance form, then complete the online evaluation survey. Partial credit is not provided for this activity. Participants receive a CE certificate via email from the University of Maryland School of Nursing approximately 2-4 weeks after submitting their request, and required documentation. All requests for CE must be completed within 30 days of this event.
Disclosure of conflicts of interest
In accordance with the American Nurses Credentialing Center and the Commission on Accreditation standards for commercial support and sponsorship, The University of Maryland School of Nursing requires that all individuals in a position to control the content of an educational activity disclose all relevant financial relationships with any commercial interest. The University of Maryland School of Nursing Office of Professional Education resolved all reported or potential conflicts of interest to ensure content integrity, objectivity, and scientific rigor for this activity.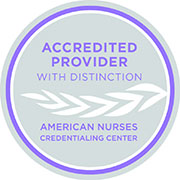 The University of Maryland School of Nursing is accredited as a provider of continuing nursing education by the American Nurses Credentialing Center's (ANCC) Commission on Accreditation
Continuing Education for Social Workers
The University of Maryland School of Social Work Office of Continuing Professional Education is authorized by the Board of Social Work Examiners in Maryland to sponsor social work continuing education programs and maintains full responsibility for this program. This training qualifies for 5.5 Category 1 Continuing Education Units (CEUs). Successful completion of this activity requires your signature on the sign-in sheet, participation in the entire activity, and completion of an evaluation form.
Continuing Education (CE) Opportunities
UMSON offers year-round opportunities for continuing education, which is now recognized for license renewal in Maryland. Take advantage of online, simulation, and in-person activities to enhance your professional development.