News Releases
Wozenski Named Chair of Department of Family and Community Health at University of Maryland School of Nursing
June 20, 2018
Chair seeks to build collaborative relationships inside and outside of department.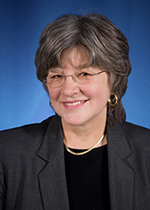 Baltimore, Md. – Jane M. Kirschling, PhD, RN, FAAN, dean, University of Maryland School of Nursing (UMSON), recently appointed Assistant Professor Susan Wozenski, JD, MPH, as chair of the Department of Family and Community Health (FCH). The department's faculty specialize in community/public health, family, pediatrics, and psychiatric mental health. Wozenski had been serving as interim chair since November 2017.
In this role, Wozenski is responsible for hiring and developing quality personnel for faculty and staff roles in the department and for mentoring them and fostering their ongoing success.
"I am humbled by the range of expertise and depth of experience of the department's diverse faculty; their teamwork; and the passion they bring to teaching the next generation, research/scholarship, and practice. I look forward to working with the faculty to further their professional development and strengthening the School of Nursing community," Wozenski said.
Wozenski was recruited to the University of Maryland, Baltimore as UMSON's assistant dean for student affairs (1993-2002); since 2003, she has served as FCH's vice chair. She also holds an appointment as primary faculty for the Master of Public Health (MPH) program, Department of Epidemiology and Public Health, at the University of Maryland School of Medicine. In 2015, she received the program's Teaching and Mentoring Award. She also serves as affiliate faculty in the Department of Behavioral and Community Health, School of Public Health, at the University of Maryland, College Park. This year, she received the Dean Jane M. Kirschling Excellence in Leadership Award. Wozenski earned a JD from the University of Connecticut School of Law, an MPH with a concentration in epidemiology from the University of Michigan School of Public Health, and an AB in Biological Sciences from Mount Holyoke College.
"Dr. Wozenski has been an exceptional citizen of the School and University. An excellent teacher, she is a strong advocate for faculty, staff, and student success. I am confident that FCH will continue to thrive under Dr. Wozenski's leadership as everyone works to meet the School's and University's multiple missions," Kirschling said.
# # #
The University of Maryland School of Nursing, founded in 1889, is one of the oldest and largest nursing schools in the United States and is in the top 10 nationally for all of its ranked master's and DNP specialties. Enrolling nearly 1,900 students in its baccalaureate, master's, and doctoral programs, the School develops leaders who shape the profession of nursing and impact the health care environment.