News Releases
University of Maryland School of Nursing Accepted to Maryland Green Registry
February 8, 2018
UMSON demonstrating commitment to sustainable practices.
Baltimore, Md. – The University of Maryland School of Nursing (UMSON) has been accepted to the Maryland Green Registry, a free, voluntary program that offers tips and resources to help businesses and other organizations set and meet their own goals on the path to sustainability.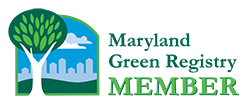 Members are required to demonstrate that they have shared information about a minimum of five environmental practices at their facility and must provide a measurable result for at least one of the practices. For example, in fall 2006, UMSON instituted a pay-for-print system in student computer labs and dropped the number of student computer labs from four to one, decreasing the School's monthly use of printing paper from 1.5 cases per week to three reams per week. And in 2017, UMSON adopted a desktop printer policy for faculty and staff, which has reduced toner cartridge use from 500 per year to 35. Also in 2017, the School implemented a climate change elective, an online, interdisciplinary elective course on climate change, thanks to a grant from the MADE CLEAR organization. Additionally, UMSON implemented water bottle-filling stations about four years ago.
"At our institution, we are doing what we can to improve the environment and create sustainability, both through education and action," said Robyn Gilden, PhD '10, MS '01, RN, assistant professor and chair of UMSON's Climate Change Committee. "We are focused on reducing UMSON's negative impact on the environment, and it is important to show that the nursing profession is leading the way towards safer and healthier communities and workplaces."
As a registry member, UMSON has the opportunity to increase the visibility of its environmental efforts through the registry's website; to have access to free information and technical assistance for implementing new environmental best practices; and to receive information about webinars and conferences to help continue its greening efforts. Additionally, UMSON is eligible for the annual Maryland Green Registry Leadership Awards.
# # #
The University of Maryland School of Nursing, founded in 1889, is one of the oldest and largest nursing schools in the nation and is ranked among the top 10 nursing schools in the United States. Enrolling more than 1,900 students in its baccalaureate, master's, and doctoral programs, the School develops leaders who shape the profession of nursing and impact the health care environment.