Sustainability
The promotion of health and wellness for all includes acting as stewards of our environment.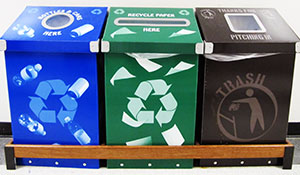 Triple Recycling Stations
UMSON has introduced triple recycling stations across the building and removed trash cans from behind employees desks in an effort to:
Raise awareness about how much trash everyone generates.
Use less plastic bags.
Encourage staff to get up and move on a regular basis.
Please only use the recycling bins for items that you know for sure can be recycled. Contamination of these bins makes it more likely our trash will be rejected and sent to the landfill, and it could pose safety threats to workers removing trash and "tanglers" at the recycling facility.
Did you know that CulinArt participates in a composting program? Learn more.
---
Saving Trees, Saving Ink
We've made a concerted effort to lessen unnecessary student printing and remove desktop printers in lieu of departmental multifunction copiers. Our efforts have reduced:
student printing by 99.5%
ink toner cartridges by 93%
desktop printers by 84%
---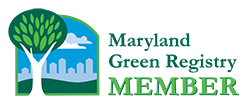 ‌
UMSON is a member of the Global Consortium on Climate and Health Education, which aims to advance global health security through the development and dissemination of resources for educating health professionals on the effects of climate change.
We also signed the White House's Health Educators Climate Commitment in 2015, joining more than 118 Schools of medicine, public health, and nursing to ensure the next generation of health professionals are prepared, through education and training, to effectively address the health impacts of climate change and to ensure that the world has a cadre of climate change and health experts.
We're committed to a sustainable future, but it isn't something we can do alone — everyone needs to do their part.
5 Easy Ways You Can Support Sustainability
Together, we can all help the School be a greener place to learn and work. Here are a few simple ways to reduce your carbon footprint while you are at UMSON:
Bring your own water bottle. Fill it up at the filtered water bottle station near the restrooms in the first floor lobby or at one of the other stations throughout the School.
Switch off the lights. Turn off the lights when natural light is sufficient and when you are the last person to leave the room.
Eat locally and seasonally. Shop for organic fruits and vegetables at the University Farmer's Market (Tuesdays, 11 a.m.-2 p.m. at Plaza Park, May-November). Don't forget your reusable bag!
Take the stairs. Elevators consume electricity, but your legs do not! Skip the elevator and you'll burn calories instead of energy.
Reduce, reuse, and recycle. The average American produces about 4.4 pounds of garbage a day. Make sure your recyclable items end up in the bins around the School and in the Courtyard.
The way you get to the School of Nursing is also important. Consider carpooling, biking, walking, or utilizing public transportation or the UM shuttle. If you bike to class, check out the free bike pump and repair station in the UMSON Courtyard.
Sustainability Groups at UMSON
UMSON Climate Change Workgroup
In 2016, the UMSON Climate Change Workgroup was formed and charged with making recommendations for change to our curriculum so that our graduates are able to understand:
their personal responsibility to reduce the carbon footprint in their own sphere of influence
their professional responsibility to reduce the carbon footprint that results from health care waste and to support individuals, families, and communities with the health consequences of climate change
the systematic issues that impact climate change.
The Climate Change workgroup also makes recommendations on additional initiatives the School can undertake to reduce our carbon footprint.
We meet monthly and our activities have included:
oral presentations at Maryland Nurses Association 2016 Annual Convention and for the American Public Health Association 2017 Conference in Atlanta, Georgia
a 3 credit, online elective: NURS 418 Climate Change: Evidence and Solutions
collaboration with GreenSON for an annual bike tune-up and UMB's Annual Neighborhood Festival during Earth Week.
GreenSON is our green team at the School. Students, staff, and faculty come together to actively identify, recognize, and promote conservation-minded initiatives and activities. If you would like to join, email Lorrie Voytek at lvoytek@umaryland.edu.
Green Wall On Display
UMSON is now hosting a green wall, a living display of plants grown vertically using hydroponics. These walls:
reduce stress
enhance indoor air quality
improve mental health
demonstrate a commitment to sustainability.
Check it out on the second floor by the foot bridge connecting the old and new buildings. A small display next to the green wall demonstrates how it works.
---
Learn more about how the University of Maryland, Baltimore is working toward a sustainable future.