News Releases
Transition to Value-Driven Care Focus of UMSON's 29th Annual Informatics Conference
August 6, 2019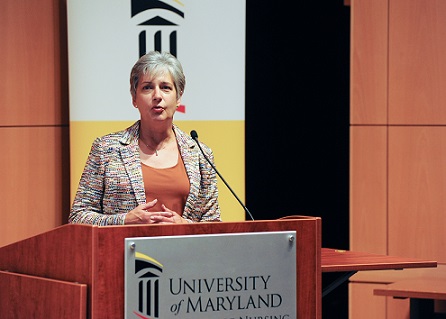 A survey of more than 800 hospital nurses in 2014 found that one of the things they wanted most was reduced documentation, Jane Englebright, PhD, RN, CENP, FAAN, HCA Healthcare senior vice president and chief nursing executive, indicated in her keynote address during the University of Maryland School of Nursing's (UMSON) 29th annual Summer Institute in Nursing Informatics (SINI), July 16-19. More than 230 leaders in health care informatics from around the globe, including China and the United Kingdom, convened for educational programming and networking opportunities, and an additional 48 joined the conference via a live-stream webcast.
In her keynote address, "Reducing Documentation Burden: Results from the Front Line," Englebright shared the story of HCA's journey to re-evaluate its documentation practices and develop a new evidence-based clinical documentation (EBCD) system. HCA Healthcare manages facilities, including 185 hospitals and 119 freestanding surgery centers in 21 states and in the United Kingdom.
The company oversees 94,000 registered nurses and "the amount of time, effort, and energy that was being spent on the documentation system was just to the point where they were quite vocal about the need for something dramatically different," Englebright said.
HCA's vision was to create a patient-centric record that guides and informs the provision of safe, effective, and efficient care by an interprofessional team that produces data to evaluate the care of individual patients and entire patient populations, Englebright said. "So we wanted it to both be effective for the patient we are taking care of right this minute, while also generating data for all the future patients yet to come."
Englebright said the new EBCD system aims to enhance communication and transition of care as information is shared among providers and caregivers; provide standardized descriptions of nursing-related patient issues; and provide standardized, comparable data to drive improvements and to analyze differences in nursing practices to determine what is most effective.
"I had to bulldoze my way through a few things," Englebright said. "And part of the way I did that was saying, 'This is what our nurses need to give great care to patients. And it will save them time.' That is totally how I sold it."
Among the new strategies deployed was to eliminate documentation not needed in the patient record, including an inventory of the patient's belongings, the number of times nurses washed their hands, safety measures defined by policy, and routine explanations of care processes. Also, decisions about what needs to be documented would be based on two criteria: it is meaningful to patient care or it is necessary for regulatory or billing requirements.
A pilot of the new EBCD approach resulted in 93% of nurses reporting increased time at bedside.
EBCD "helps them have more time at the bedside and less time in front of a computer, to the point that there are sometimes no nurses in the (nurses) station, because they're all with patients," she said. "This is truly transforming the delivery of care."
Just prior to Englebright's keynote, UMSON Dean Jane M. Kirschling, PhD, RN, FAAN, welcomed attendees to SINI and reflected on this year's theme, "Healthcare Informatics: A Catalyst for Value-Driven Care Transitions."
"I am struck by how timely it is and how much we truly need deeper conversations around the topical areas reflected in this year's program," she said. "At a time of such rapid evolution in our health care system, it is essential that we continue to explore the ways in which data can support and foster much needed care coordination, ensure the delivery of value-based services, and support and enhance the overall quality of care delivery."
UMSON became the first school in the world to offer a master's specialty in nursing informatics in 1989, and the program has been ranked No. 1 in the nation for the past five years according to U.S. News & World Report's "America's Best Graduate Schools." UMSON was also the first school in the nation to offer a PhD program with a nursing informatics concentration, beginning in 1991. UMSON's nursing informatics programs, including a post-baccalaureate certificate, prepare nurses to improve patient care and outcomes through the development, implementation, and evaluation of information technology.
This expertise informs SINI content, and this year's participants elected to attend one of three informatics-related content tracks: "Use of health care IT data and quality outcome measures to improve value-based care coordination and transition management," "The use of innovative technologies to support the internal transition of care as well as the external interoperability of care management," or "Confronting documentation burden while creating high-value, care-centered systems."
Attendees were also invited to participate in various luncheon roundtable discussions, which were facilitated by SINI Planning Committee members and focused on topics such as "Artificial Intelligence Trends in Health Care," hosted by Ron Piscotty Jr., PhD, RN-BC, FAMIA, assistant professor, UMSON; "Future of Mobile Apps in Chronic Disease Management," hosted by Ernest Opoku-Agyemang, MA, MS, RN, clinical instructor, UMSON; and "International Perspective on Nursing Informatics," hosted by Paula Procter, RN, PGCE, MSc, SFHEA, FBCS, CITP, FIMIANI, professor of nursing informatics, , Sheffield Hallam University in Sheffield, England; and more.
Participants also attended tours of the University of Maryland, Baltimore Health Sciences and Human Services Library's Innovation Station, where they learned how virtual reality glasses aid in teaching critical thinking in simulated patient care environments and how 3-D printers can create models for nursing education.
Patricia P. Sengstack, DNP, MS '88, BSN '82, RN-BC, FAAN, director, Nursing Informatics specialty, Vanderbilt University School of Nursing, and nursing informatics executive, Vanderbilt University Medical Center, closed SINI with her endnote presentation, "Can We Stop the Perpetual Growth and Complexity of the EHR and Give Nurses Time Back with Their Patients?"
Sengstack shared an overview of the burden of clinical documentation in electronic health records (EHR); provided data on measuring EHR satisfaction; highlighted a variety of resources; and encouraged the review of policies, procedures, and documentation needed for accreditation agencies. She ended the conference by encouraging everyone to be a part of the solution, asking the audience to improve what they can control today at their own institutions.