News Releases
Amos Named DNP Nurse Anesthesia Specialty Director at University of Maryland School of Nursing
August 4, 2021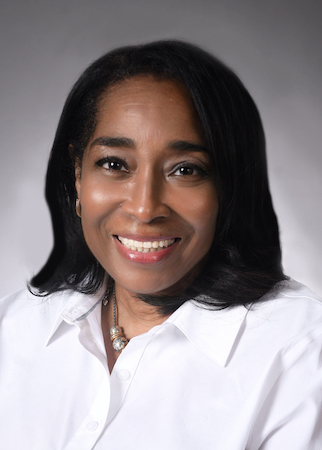 Baltimore, Md. – The University of Maryland School of Nursing (UMSON) has appointed Veronica Y. Amos, PhD, MS '07, MS '00, BSN '99, CRNA, PHCNS-BC, assistant professor, as the director of the Doctor of Nursing Practice (DNP) program's Nurse Anesthesia specialty.
As specialty director, Amos is responsible for the overall curricular leadership of the DNP Nurse Anesthesia specialty, maintaining accreditation, and the academic success of the students in the specialty. The DNP Nurse Anesthesia specialty prepares students to provide anesthesia services to a diverse diagnostic and surgical population. Established more than 15 years ago, It was the first of its kind in Maryland and was top ranked for the entire period that U.S. News & World Report ranked such programs. In 2017, the program received special 10-year accreditation by the Council on Accreditation of Nurse Anesthesia Educational Programs for its 100% compliance with standards.
Amos joined UMSON in 2011 as an assistant professor and the assistant director of the Nurse Anesthesia specialty. She is a certified registered nurse anesthetist who specializes in anesthesia for HIV-positive patients and has an anesthesia practice at MedStar Southern Maryland Hospital Center (MSMHC), where she precepts students as they provide anesthesia for pediatric, cardiac, orthopedic, regional anesthesia, and pain management patients. She is also the DNP project advisor for students implementing their DNP project at MSMHC.
"Having worked closely with Dr. Amos for many years, I am thrilled to have her leading the Nurse Anesthesia specialty at UMSON," said Shannon K. Idzik, DNP '10, MS '03, CRNP, FAANP, FAAN, associate professor and associate dean for the DNP program. "She brings a wealth of knowledge and experience in curriculum leadership to the role."
Amos conducts research on patient safety and anesthesia for HIV-positive patients and was recently awarded a 2021 - 22 Dean's Teaching Scholars Award, with UMSON colleagues, for the project "The Impact of High-Fidelity Simulation on Nurse Anesthesia Student's Knowledge, Self-Confidence, and Psychomotor Skills: A Quasi-Experimental Design." She is chair-elect of UMSON's DNP Curriculum Committee. She's been published in several peer-reviewed journals, including American Nurse Journal and Perianesthesia Nursing, and has spoken locally and nationally at nursing conferences for the National League of Nursing Conference, Maryland Association of Nurse Anesthetist Conference, and the American Association of Nurse Anesthetists (AANA).
Amos has served on the Board of Directors of the Maryland Association of Nurse Anesthetists since 2014, including as president from 2018 - 19. During her presidency, she was instrumental in having two students join the board of directors to advocate for other students. She attends the AANA Mid-Year Conference on Capitol Hill and Maryland Lobby Days in Annapolis, Maryland, annually and encourages students to attend to see firsthand the impact advocacy has on the profession. On Aug. 14, she will be inducted as an inaugural Fellow of AANA during the organization's Annual Congress, in Austin, Texas. As a Fellow, she will be recognized as one of the most accomplished leaders in the nurse anesthesia profession.
Amos earned a bachelor's degree in sociology from the State University of New York at Albany in 1996. She then received her Bachelor of Science in Nursing in 1999, her master's degree in Community/Public Health Nursing in 2000, and her master's degree in Nurse Anesthesia in 2007, all from UMSON. In addition, she earned her PhD in Health Policy from University of Maryland, Baltimore County in 2002.
Amos succeeds Joseph Pellegrini, PhD, CRNA, FAAN, the second director in the history of the Nurse Anesthesia specialty, who began serving in the role in 2011. "The program is the most selective specialty in the School and is also the most diverse, and Dr. Pellegrini should be proud of both of those accomplishments," Idzik said.
# # #
The University of Maryland School of Nursing, founded in 1889, is one of the oldest and largest nursing schools in the nation and is ranked among the top nursing schools nationwide. Enrolling nearly 2,100 students in its baccalaureate, master's, and doctoral programs, the School develops leaders who shape the profession of nursing and impact the health care environment.