Unlocking the Power of the Mind
July 14, 2021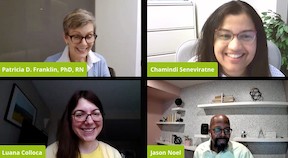 Nearly 500 researchers from 24 countries joined an online conference to discuss these topics, as well as the impact of placebos on pain management and addiction, during the 3rd International Conference for the Society for Interdisciplinary Placebo Studies (SIPS), hosted virtually by the University of Maryland, Baltimore (UMB).
SIPS was founded in June 2014 at the Brocher Foundation, a Swiss conference center on the shores of Lake Geneva. Researchers from around the world were attending a conference to discuss psychotherapy and the placebo effect. During an outdoor after-dinner wine reception one evening, the idea for the society arose among a group of 12 conference attendees, including Luana Colloca, MD, PhD, MS, professor, Department of Pain and Translational Symptom Science, UMSON, and adjunct professor, Department of Anesthesiology, UMSOM, who would become a founding member.
For several years, Colloca and UMB collaborators have studied the role of placebo mechanisms for optimal pain management and treatment of alcohol and drug use disorders. She and other researchers believe placebo effects are a way to reduce health care's reliance on addictive opioids and that the brain's own power may be a solution to the opioid crisis. In 2018, she offered a TEDx talk at UMB on the topic "Are Placebos the Solution? Tackling the Opioid Epidemic in the Decades Ahead.