UMSON's Class of 2023 Sets Sights on Path of Success
May 19, 2023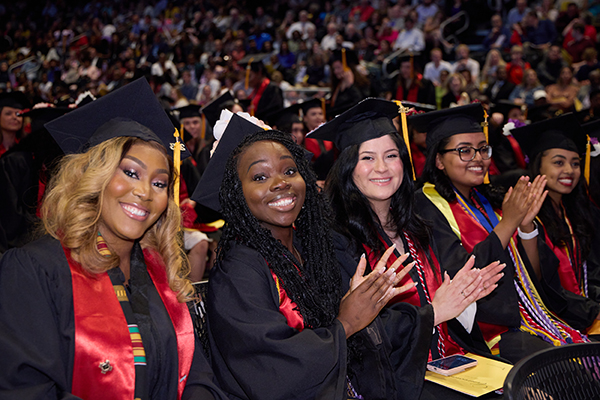 Baltimore, Md. – Friends and family of the Class of 2023 gathered on a beautiful day under blue skies to celebrate the accomplishments of 464 graduates at the University of Maryland School of Nursing's (UMSON) Convocation ceremony, May 18 at UMBC Chesapeake Employers Insurance Arena in Baltimore County, Maryland. During the ceremony, 216 Bachelor of Science in Nursing (BSN) degrees, 98 master's degrees, 141 Doctor of Nursing Practice degrees, 4 Doctor of Philosophy degrees, and 16 certificates were conferred.
"Very few professions afford you the privilege of having as significant an impact on the lives of individuals, families, and communities as nursing does," said Jane Kirschling, PhD, RN, FAAN, the Bill and Joanne Conway Dean of the University of Maryland School of Nursing, in her opening remarks. "On behalf of the School, I hope you will be as happy and fulfilled in your nursing careers as I have been."
As a special tribute and surprise to Kirschling, who will soon retire after more than 10 years as UMSON's dean, a four-member pipe and drum band led this year's ceremony. She had remarked over the years how nice it would be to have bagpipes kicking off the festivities.
Kirschling received a standing ovation after University of Maryland, Baltimore President Bruce E. Jarrell, MD, FACS, thanked her for her dedicated commitment to the School.
"This is an exciting day for all of you," he told the graduates. "I hope that you appreciate you live, work, and study in a terrific school with terrific faculty, terrific staff, terrific fellow students. You also work in a school that has a terrific dean. We have been comrades in arms in many ways. I hope you will all show her your appreciation with more than a round of applause."
Student speaker Sarah Khan, a BSN graduate, congratulated her fellow students for staying true to their path despite challenges and obstacles.
"I know that when many of us started, we could not envision the road ahead," she said. "The speed bumps and potholes, the tiny curves and unexpected crashes. Despite all of this, I can say it's been one hell of a ride.
"As we go forth in our careers, I urge you to embrace the steady passage of time. Embrace the baby steps and the big leaps, the winding roads and the scenic routes, but also embrace the world, for without it, it is impossible to reach your highest potential."
During the ceremony, the 2023 Dean's Medal for Distinguished Service, which each year recognizes someone external to the School who has demonstrated an exceptional commitment to advancing UMSON and its mission, was presented to retired faculty member Mary Etta Mills, ScD, MS '73, BSN '71, RN, NEA-BC, FAAN. Mills is the sixth recipient of the Dean's Medal, which each year is hand crafted by Jarrell, an accomplished metal artisan. Mills joined the School of Nursing in 1988 as an associate professor and was promoted to professor in 2005. She retired in June 2022 after a distinguished career, during which she held numerous academic leadership positions, including chair of the Department of Education, Administration, Health Policy, and Informatics and associate dean for academic affairs. She also served as interim dean of the School from September 2019 to January 2020. While at UMSON, she developed what became the first master's program in nursing informatics in the nation in 1998 and the first doctoral program in nursing informatics in the world in 1991.
Earlier in the day, the Honorable Shirley Ann Nathan-Pulliam, DHL (Hon.), MAS, BSN '80, RN, FAAN, received the degree of Honorary Doctor of Public Service from the University of Maryland, Baltimore, during the University's commencement ceremony. This degree is conferred by the president of the University on behalf of the chancellor of the University System of Maryland upon the approval of the system's Board of Regents. Senator Nathan-Pulliam was nominated for this honor by Kirschling.
The DAISY Award for Extraordinary Nursing Students was awarded to Nia Koolman, a graduate of the BSN program, and to Michal Gold, a graduate of the Clinical Nurse Leader master's option. DAISY awards are given each fall and spring to two graduating entry-into-practice students who demonstrate outstanding compassion and care to patients and their families.
Kirschling sent the graduates forth saying, "Today, we launch you out into the world with a mission to do good, endowed with the necessary expertise. We wish you success! Make no mistake: You hold the future in your hands!"

###
The University of Maryland School of Nursing, founded in 1889, is one of the oldest and largest nursing schools in the nation and is ranked among the top nursing schools nationwide. Enrolling nearly 2,100 students in its baccalaureate, master's, and doctoral programs, the School develops leaders who shape the profession of nursing and impact the health care environment.