UMSON Faculty Members Awarded Nearly $1 Million in State Education Grants
September 28, 2023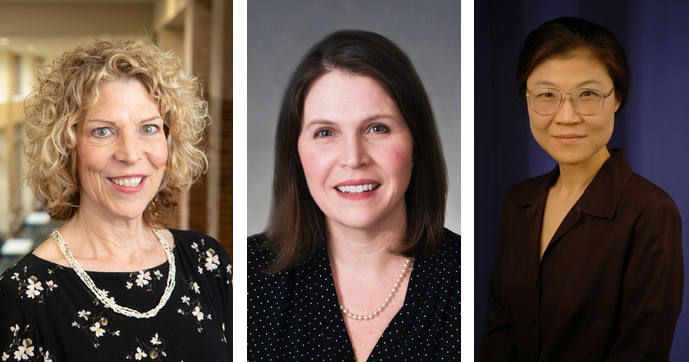 Baltimore, Md. – Three University of Maryland School of Nursing (UMSON) faculty members have been awarded Nurse Support Program II (NSP II) grants totaling nearly $1 million. NSP II grants aid in increasing nursing capacity in Maryland by implementing statewide initiatives to grow the number of nurses prepared to serve effectively in faculty roles and by strengthening nursing education programs at Maryland institutions.
Grants are funded through the Maryland Health Services Cost Review Commission and administered by the Maryland Higher Education Commission (MHEC).
The NSP II grants awarded to UMSON beginning in Fiscal Year 2024 include:
Lori A. Edwards, DrPH, BSN '80, RN, CNS-PCH, BC, assistant professor and associate dean for the Master of Science in Nursing (MSN) program - Expansion of BSN and MSN Pre-Licensure Programs ($621,831 over three years)
Prior to fall 2024, UMSON admitted 100 Bachelor of Science in Nursing students at each of its Baltimore and Universities at Shady Grove (Rockville, Maryland) locations twice a year in the fall and spring semesters, and it admitted 56 entry-into-practice MSN students in Baltimore twice a year. With the help of NSP II funds, the project seeks to expand these admission cohorts by 20 additional students for each program in each location every year, or an additional 60 students in three years. Grant funds will be used to provide administrative support to expand clinical sites and create novel clinical experiences with limited available faculty; develop strategies to increase practice-ready graduates by improving NCLEX first-time pass rates; hire a full-time administrator at UMSON's primary clinical partner, the University of Maryland Medical System; and hire an additional graduate teaching assistant to support faculty and the entry-into-practice program directors and associate deans as they develop clinical sites and experiences.
Shannon K. Idzik, DNP '10, MS '03, CRNP, FAANP, FAAN, professor and associate dean for the Doctor of Nursing Practice (DNP) program - Planning Grant for Nurse-Managed Health Center ($139,706 for one year)
This planning grant seeks to address clinical site shortages, the largest risk to building the nursing workforce, Idzik wrote in her grant proposal. Her grant award will be used to explore and plan for a sustainable nurse-managed health centers (NHMC) model with a goal of increasing statewide nursing clinical capacity and increasing enrollment. NMHCs provide accessible, affordable, quality health care and critical health services to underserved populations while also educating nurses and nurse practitioners for the future. According to the American Academy of Nursing, data shows that NMHCs produce equal or better outcomes at equal or lower costs when compared with health outcomes and costs in the aggregate. Currently, schools of nursing rely on a volunteer preceptor model to provide opportunities for outpatient clinical training. Faculty shortages have the potential to worsen exponentially as pay in the clinical environment remains artificially elevated due to the pandemic and to the bedside nursing shortage. Faculty practices in NHMCs are a viable approach to increasing clinical capacity, decreasing dependence on volunteers, and increasing faculty satisfaction.
Eun-Shim Nahm, PhD '03, RN, FAAN, FGSA, professor and associate dean for the PhD program - RWD-PR Certificate ($149,902 for two years)
Grant funding will be used to develop and implement a Real-World Data and Pragmatic Research (RWD-PR) doctoral-level certificate program that will catalyze current doctoral-level education and prepare nurse scientists to solve major health care challenges, such as care quality and staffing shortages. The grant project focuses on the use of RWD-PR approaches to improve patient and nursing outcomes and collaboration between UMSON's PhD and DNP programs. The program and its courses will be available to PhD, DNP, and MSN students as electives.
###
The University of Maryland School of Nursing, founded in 1889, is one of the oldest and largest nursing schools in the nation and is ranked among the top nursing schools nationwide. Enrolling more than 2,000 students in its baccalaureate, master's, and doctoral programs, the School develops leaders who shape the profession of nursing and impact the health care environment.