UMSON Announces New Associate Dean for Development and Alumni Relations
March 25, 2022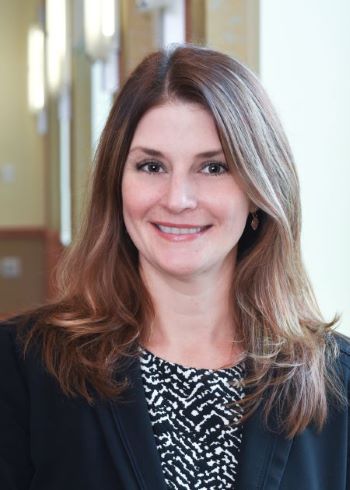 Baltimore, Md. – The University of Maryland School of Nursing (UMSON) has named Stacey Conrad, MBA, as the new associate dean for development and alumni relations. She succeeds Laurette Hankins, BA, who retired at the end of 2021 after 14 years in the position.
As the School of Nursing's chief fundraising officer, Conrad will lead the School's engagement efforts with donors and its more than 23,000 alumni, overseeing major and planned gifts, annual giving, and stewardship.
Conrad's career in development spans 16 years; she began her tenure at UMSON in 2008 as assistant director of development. Since then, she has assumed the roles of associate director, senior associate director, director, and executive director of development. Conrad has been instrumental in the cultivation and stewardship of the transformative series of philanthropic gifts that has created the Conway Scholars Program, which at the conclusion in 2027 of the most recent pledge will have funded over 830 Conway Scholars.
"Ms. Conrad brings an in-depth knowledge and understanding of the culture of the School of Nursing and the full range of its development and alumni programs, as well as an excellent working relationship with countless donors and members of the Alumni Association and the School's Board of Visitors," said Jane Kirschling, PhD, RN, FAAN, the Bill and Joanne Conway Dean. "I have every confidence that she will continue and build upon the many past successes of the Office of Development and Alumni Relations."
Conrad earned her bachelor's degree in Spanish and communications arts from Salisbury University and her master's degree in Business Administration from the University of Maryland University College.
# # #
The University of Maryland School of Nursing, founded in 1889, is one of the oldest and largest nursing schools in the nation and is ranked among the top nursing schools nationwide. Enrolling more than 2,100 students in its baccalaureate, master's, and doctoral programs, the School develops leaders who shape the profession of nursing and impact the health care environment.