Technology continues to evolve the world of nursing
August 23, 2023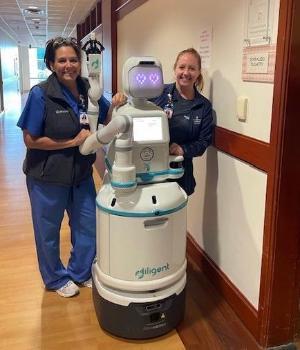 Today, clinical practice guidelines are mostly developed by clinicians taking data and coming up with high level population course guidelines.
But, Suchi Saria, PhD, MSc, says, this method isn't especially effective in a real-time setting because it doesn't account for any level of nuance or exceptions. And often patients are that exception.
"What you really need for these kinds of real-time guidelines to be effective is to take these course guidelines and make it refined to the lens of a single patient — and that's why AI [artificial intelligence] and machine learning [ML] are really good," said Saria, the director of the Machine Learning, Artificial Intelligence and Healthcare Lab at Johns Hopkins University.
"So, I see the future as a combination of using AI and ML to improve and individualized practice guidelines."
Healthcare professionals like Saria, a machine learning expert and health AI pioneer who founded Bayesian Health, a company that's spent over a decade researching, building, and validating a state-of-the art AI/ML platform that helps physicians make the best care decisions, are looking to see just where that technology fits into their day-to-day work.
Saria was one of more than 40 speakers sharing their insights at the 32nd Summer Institute in Nursing Informatics (SINI): Capturing the Value of Informatics Across the Health Care Continuum on July 20-21 at the University of Maryland School of Nursing (UMSON), an event that focused on how this technology is being incorporated. Sessions included everything from telehealth to robots in nursing to AI in the health care field to virtual reality in pain management, and more.
SINI, first introduced in 1990 at UMSON after the implementation of the nation's first master's program in nursing informatics, is a nonprofit international event that provides an opportunity to deliver multiple-level learning experiences to meet the needs of nurse and health care informaticians across the spectrum of practice.
"We celebrate this role and reputation as the place to come to expand one's knowledge of informatics and to learn about the latest developments in the field,"Yolanda Ogbolu, PhD '11, MS '03, BSN '04, NNP, FNAP, FAAN, the Bill and Joanne Conway Dean of UMSON, said in her welcoming remarks kicking off the conference July 20. "It is a place to explore emerging challenges and to network with colleagues."